A couple of weeks ago I heard from a long-lost friend via Facebook. I've known Jessica since preschool but haven't seen her since she moved away in junior high. She's now living in Mexico and can't find a lot of the ingredients I use here, but Mexico has many of its own unusual foods. I spotted one of the ingredients she mentioned, prickly pear fruit, in my local supermarket and jumped at the chance to make something she could try in Mexico City.
Prickly pear, also known as opuntia and Paddle Cactus, is a cactus that is native to Mexico (in fact, it's depicted in the Mexican coat of arms). They grow 2 edible parts: nopales (the young stem segments, to be featured in a Kitchen Adventure at a later date) and fruit (sometimes called cactus figs). Here in California they are marketed as "prickly pears," which is confusing but I'm going to stick with that name. To eat a prickly pear, you need to peel the outer layer. The inside part, including the seeds, is all edible and an incredible bright red color. They taste remarkably like watermelon, but with a texture more like a mango.
Along with the prickly pears, I couldn't resist buying some passion fruits that were right next to them. For a while I've been itching to try making macarons, the infamously difficult and finicky but delicious French cookies. While researching the best way to make macarons, I found Mactweets, a blog dedicated to macarons. They are having a Spring Fling Mac Attack challenge: make macarons inspired by spring flowers. Everything fell perfectly into place as I realized I could combine these 2 tropical fruits to make macarons inspired by the beautiful peach and yellow tulips I got at the market last week.
To make successful macarons, I recommend doing some research. At the recipe I included a link to a useful video that goes over the process of making the batter. It's easiest if you have an electric mixer, sifter and/or food processor, a kitchen scale and a piping bag.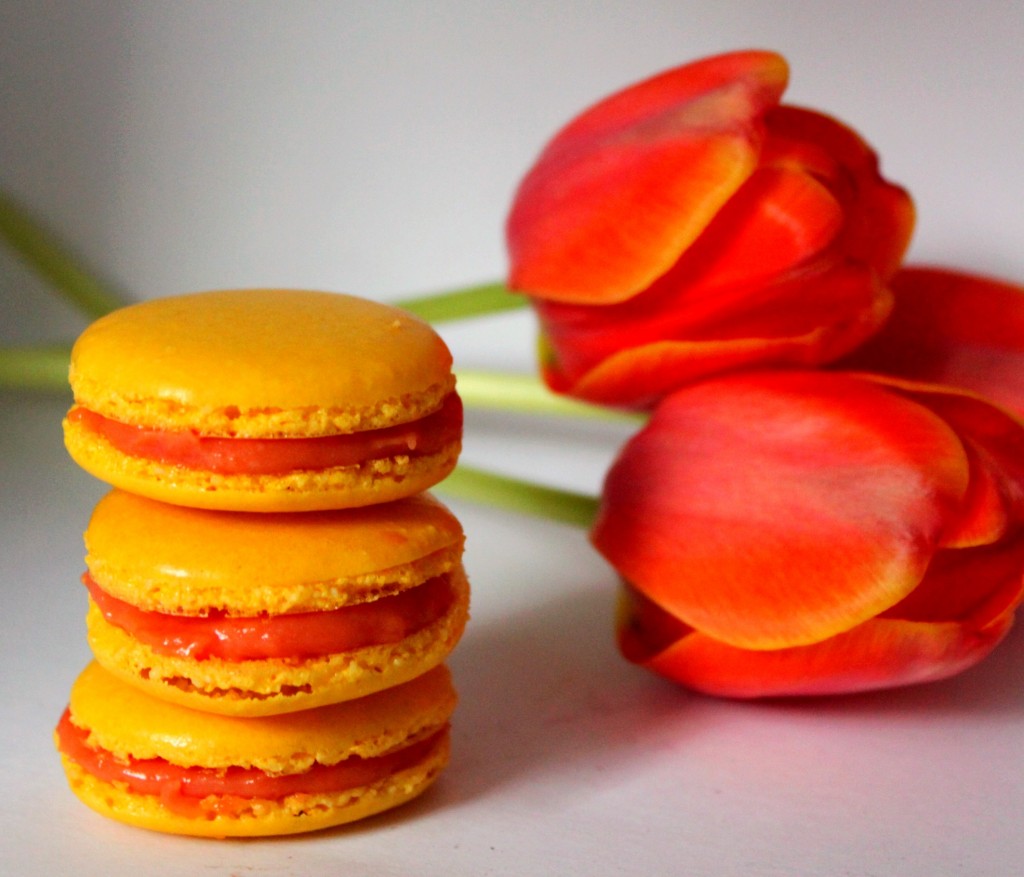 If you're too intimidated to try making macarons, you can definitely use the prickly pear and passion fruit curd in many other ways. I'll be posting another recipe using the curd this week, and you can always spread it on toast or use it as a filling or topping for other cookies, cupcakes or cakes.
Basic Macaron Batter
90g egg whites (~3 medium eggs), aged for 24 hours at room temperature
25g caster sugar
Powdered food coloring (optional)
130g almonds, finely ground (or almond flour)
200g powdered sugar
First, don't forget to leave the egg whites out in a bowl uncovered for 24 hours. This may sound gross, but it helps evaporate some of the moisture. Alternatively, you can try microwaving the egg whites for 10-15 seconds or adding dried powdered egg to them, but I haven't tested these methods.
Whip the egg whites at a high speed for several minutes while slowly adding the caster sugar. When you have a soft peak, stop and add in your powdered food coloring. Continue to whip until you have a stiff peak. Do not over whip.
Sift together the almond flour and powdered sugar. You can run these through your food processor to make them even finer (you don't want any lumps in the batter!). Add about 1/4-1/3 at a time to the egg whites and fold in by hand with a spatula. Mix carefully and slowly at first so everything is incorporated, then mix more roughly so that the eggs deflate. Test your batter; if it flows like slow molasses, you are ready to put it in your piping bag (watch the video posted below to see what it should look like).
Pipe the batter onto a Silpat or parchment paper placed on a baking sheet. Make the rounds as evenly sized as possible, since they will need to be matched up later. If you use parchment paper, you can trace perfectly sized circles beforehand as a template. Make sure they are far enough apart that they won't touch if the batter spreads a little. Let the batter rest for 30-45 minutes, or until it is no longer sticky to touch.
Preheat oven to 300°. Bake for 10-15 minutes, turning the baking pan around halfway through. Let them cool completely before removing from pan. You can pour a little water underneath the Silpat/parchment paper to help release the macraons easily (the steam helps).
Match up pairs that are the same size and spread a little filling between them. Store in the refrigerator. If you can keep yourself from eating them right away, they're better once they've sat overnight. I've also read that they are good if you store them in the freezer.
Tip: Watch this YouTube video to see how macarons are made step by step.
Prickly Pear & Passion Fruit Curd
1/3 C passion fruit juice (~7-8 passion fruits)
1/4 C prickly pear juice (~1-2 prickly pears)
1/4 C caster sugar
6 egg yolks
1/4 t vanilla extract
8 T (1 stick) butter, divided
To juice the fruits: Cut passion fruits in half and squeeze the pulp, seeds and juice through a fine mesh strainer. For the prickly pears, cut the ends off, make a cut lengthwise across the fruit and peel the outer layer off. Place the remaining fruit in a food processor and puree. Place the puree through a fine mesh strainer using the back of a spoon.
In a saucepan, bring water to a simmer. Place a heatproof bowl or double boiler on top, and whisk together both juices, sugar, egg yolks and vanilla. Once they are combined, add butter 1 tablespoon at a time, whisking constantly until each piece has melted.
Continue to stir constantly for approximately 10 minutes, or until mixture has thickened and can coat the back of a wooden spoon. Let sit and thicken for an hour or two, then spread between cooled macarons. Cover leftovers and store in refrigerator.
More recipes you'll love: