After doing research, trying out some new things, and using your ideas, I've come up with the Ultimate Bacon Chocolate Cupcakes: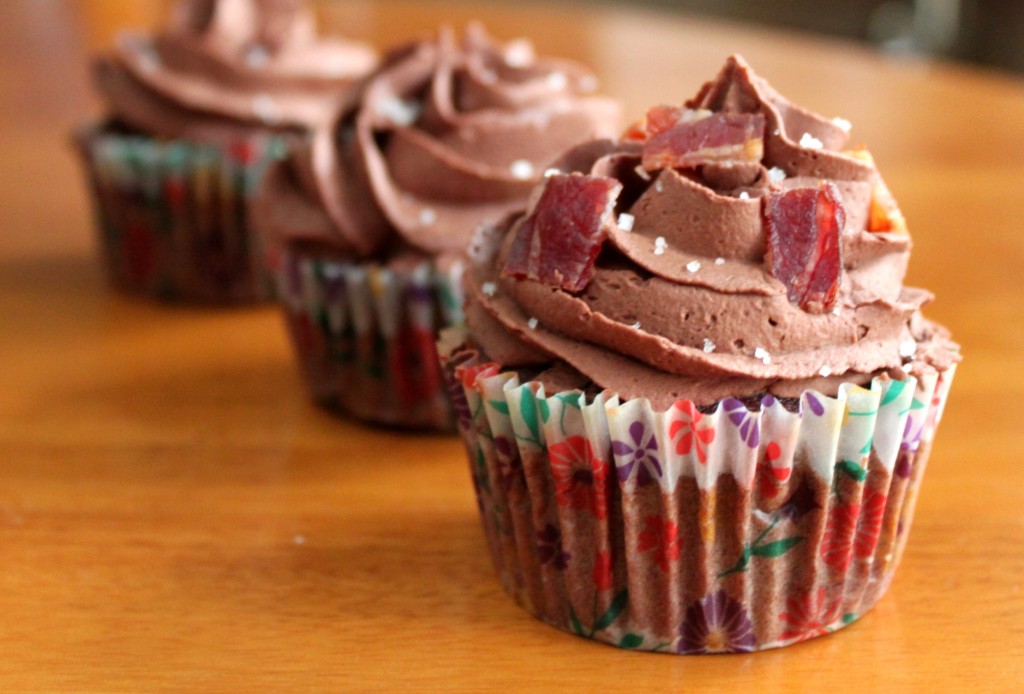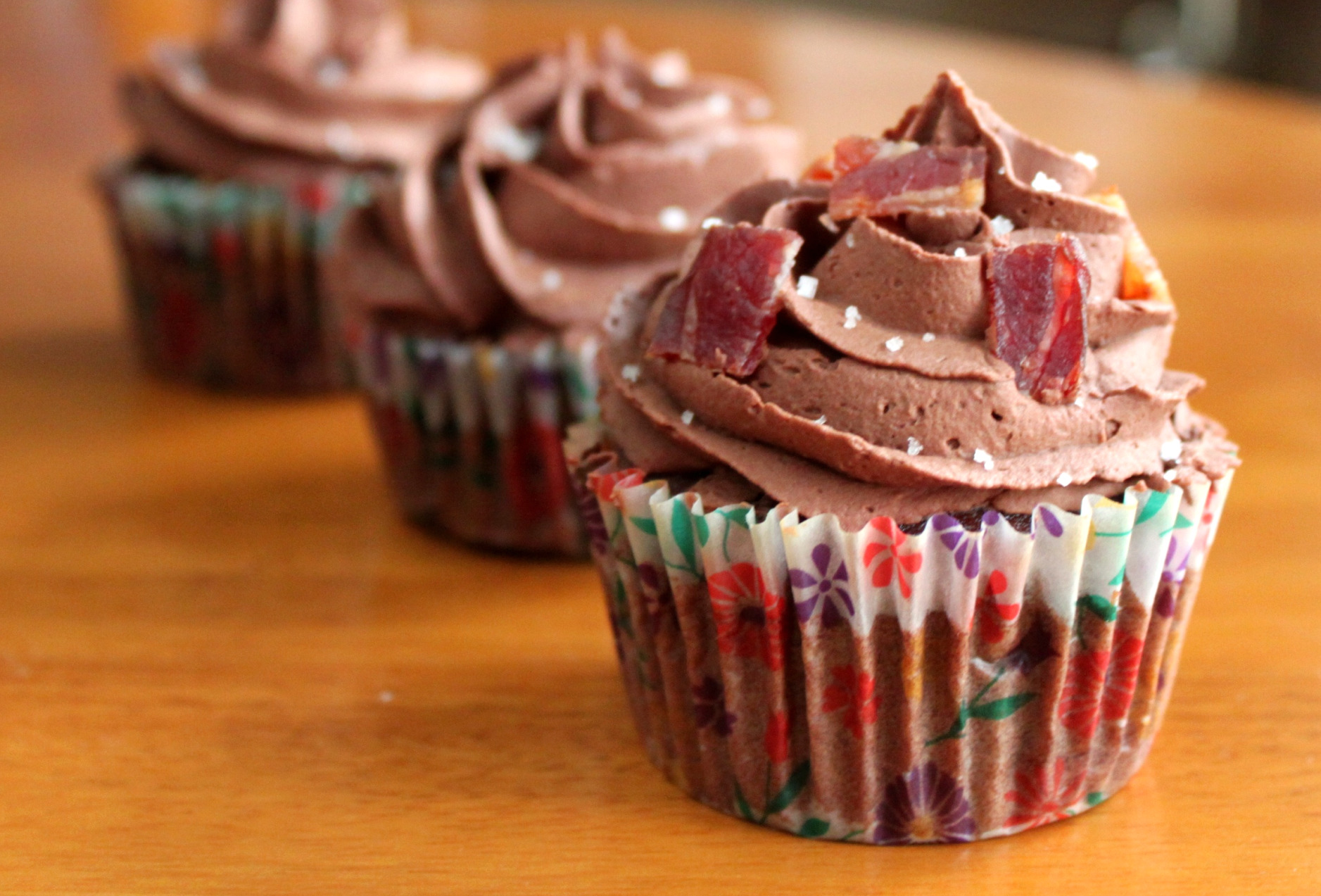 First, I cooked some bacon and reserved the fat drippings, which were used to replace half the butter in the chocolate cupcake batter. The bacon was then diced and dipped into milk chocolate, creating savory/sweet chocolate bacon chips to put inside the cupcakes. And last but not least, fleur de sel was sprinkled on top of the batter just before it was popped in the oven. The result? The perfect balance of sweet, salty and savory in one cupcake.
To top it all off, I made a rich chocolate buttercream and sprinkled fleur de sel and some chopped bacon on top. These are seriously to die for.
The Ultimate Bacon Chocolate Cupcakes:
Adapted from Joy of Baking's chocolate cupcake recipe
Makes around 15-16 cupcakes
Bacon Chocolate Cupcakes
1/2 C unsweetened cocoa powder
1 C boiling water
1 1/3 C flour
2 t baking powder
1/2 t salt
1/4 C rendered bacon fat, at room temperature
1/4 C unsalted butter, at room temperature
1 C sugar
2 eggs
2 t vanilla extract
1/2 C Bacon Chocolate Chips*
Fleur de sel
Preheat oven to 375°F. Grease cupcake pan or line with paper liners.
Combine boiling water and cocoa in a heatproof bowl. Whisk until smooth and let cool to room temperature.
In a large bowl, whisk together flour, baking powder and salt.
In a separate bowl, cream bacon fat, butter and sugar together until light and fluffy. Add eggs, one at a time, mixing thoroughly in between. Mix in vanilla extract. Add flour mixture and beat until just combined. Add room temperature cocoa mixture and mix until smooth. Stir in chocolate bacon chips.
Fill each cupcake 2/3 full and sprinkle the top with a pinch of fleur de sel. Bake for 15-18 minutes, or until cupcakes are springy to touch and a toothpick insert in the middle comes out clean. Let cool before applying frosting.
*Save bacon fat from this recipe to use in the cupcake batter. Also, the chocolate bacon chips can be made a few days ahead of time and stored in the refrigerator.
Chocolate Buttercream
4 oz unsweetened chocolate
2/3 C unsalted butter, at room temperature
1 1/3 C powdered sugar, sifted
1 1/2 t vanilla extract
Fleur de sel
1 slice of bacon, chopped
Set up a double boiler: heat water in a saucepan over high heat. Chop chocolate and place into a heatproof bowl set on top of the saucepan of simmering water. Whisk until chocolate is completely melted and smooth. Remove from heat and let cool to room temperature.
In a large bowl, beat butter until creamy. Add powdered sugar and beat until light and fluffy. Mix in vanilla and melted chocolate. Beat on high speed until frosting is smooth and glossy. Spread or pipe onto cooled cupcakes and sprinkle the top of each with a pinch of fleur de sel and chopped bacon pieces.
More recipes you'll love: