Passion fruit. It just sounds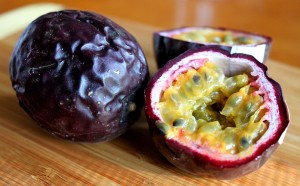 good (who doesn't want some passion?). When I saw some of the deep purple fruits at the store, I knew what I'd be using this week as an unusual ingredient.
Passion fruit has a surprisingly tangy and tart flavor. There are two varieties: a bright yellow fruit, which is smooth and can be as large as a grapefruit; and a dark purple fruit, which is the size of a small lemon and has a richer aroma and flavor. Purple passion fruits are the ones you'll most likely find at the market. Wait until the skin has wrinkled (like the one shown above) for sugar levels to rise and enhance the flavor and aroma.
Fresh passion fruit is high in many important nutrients: potassium, vitamin C, beta carotene, dietary fiber, and iron. They are also said to be good for people with high blood pressure and cancer. The fruit is grown in many different countries, in areas that are frost-free. Besides simply enjoying the juice, it is often added to dishes to enhance their aroma. It's used in many desserts (cheesecake, creme brulee, mousse), main dishes and beverages. I made a simple and flavorful margarita out of a few fresh passion fruits.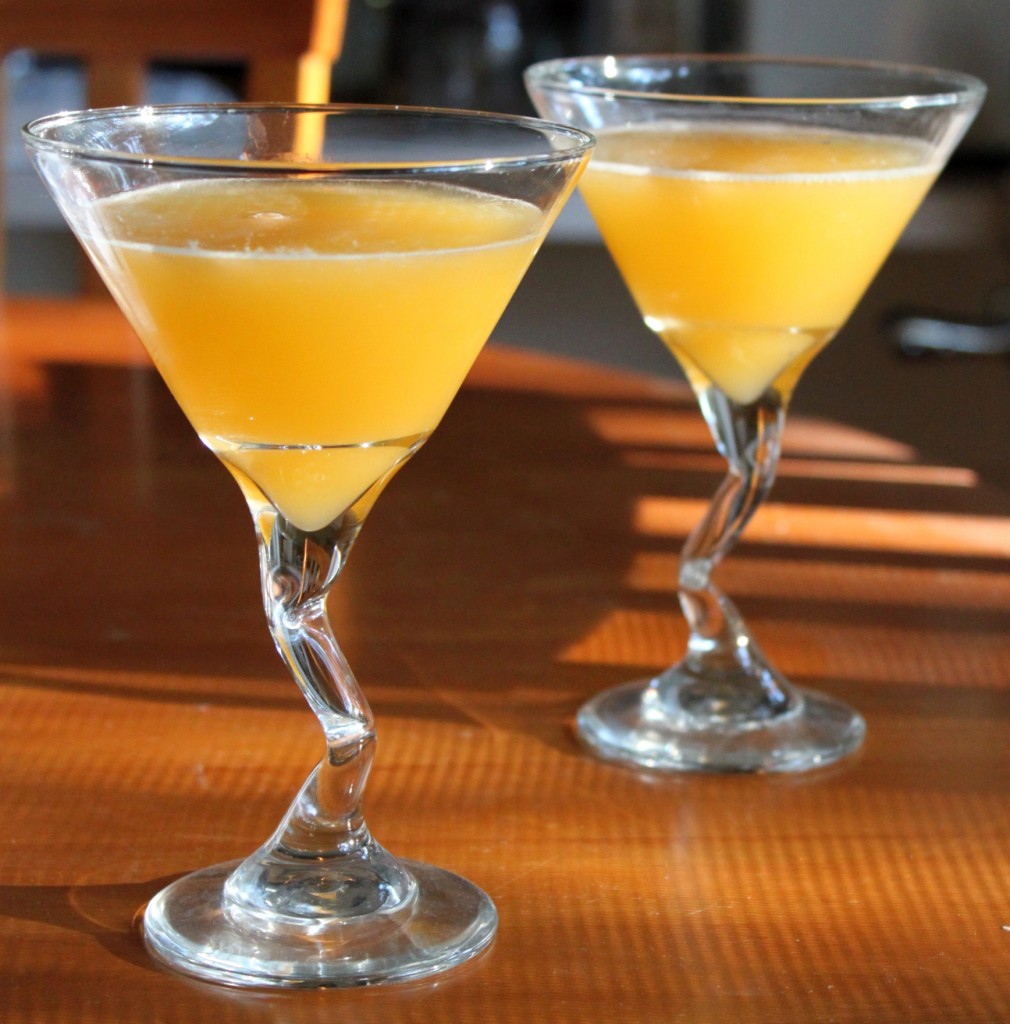 These passion fruit margaritas are the perfect summer cocktail: light and fruity, without being overly sweet. You can actually make them any time of year with canned passion fruit pulp, but if you can find fresh fruit, simply slice them in half and put all the pulp and seeds through a sieve to strain.
Passion Fruit Margaritas
Makes 2 cocktails
1 1/2 ounces passion fruit pulp (about 4-5 passion fruits, strained)
3 ounces tequila
1 1/2 ounces triple sec
1 1/2 ounces simple syrup
1 T lime juice
Ice for mixing
Combine all ingredients in a cocktail shaker and mix thoroughly. Pour out through a strainer and serve immediately.
Optional: rub a lime along the edge of the glass and dip in sugar.
More recipes you'll love: