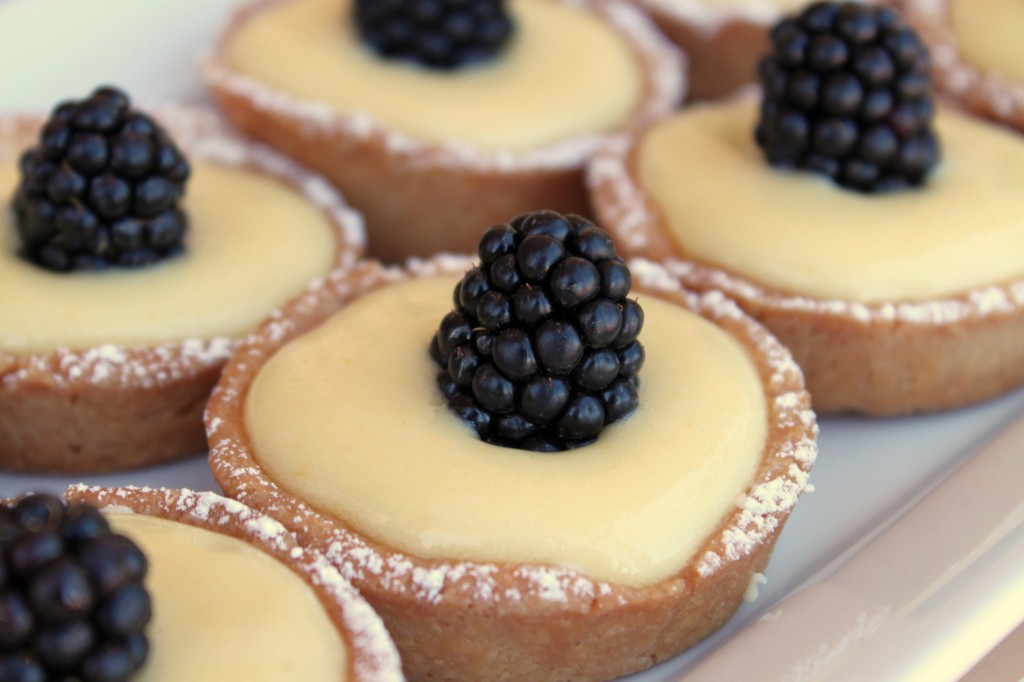 I love doing Wordless Wednesday posts; they're simple mouth-watering food porn (at least on this site). However, they're often a big tease and after an overwhelming response from this week's post, I requested the recipe for the mini citrus tarts shown above.
Lisal, a pastry cook who recently relocated to the San Francisco bay area, made these beautiful tarts for the bridal shower I hosted last week. She cites Blackmarket Bakery, where she was trained in Southern California, as her inspiration. Thank you for sharing your amazing recipe Lisal!
Mini Citrus Tarts
Lemon Cream
Yield: ~ 2 cups
3 whole eggs
3 egg yolks
1/2 c. sugar
1/2 c. lemon juice
3 T. lemon zest
Pinch of salt
4 T. unsalted butter
In a large stainless steel bowl, whisk together eggs, yolks, and sugar.  Then whisk in lemon juice, zest and salt.  Set the butter aside for later.  Place the bowl over a pot of barely simmering water and gently cook, whisking constantly to avoid scrambling the eggs.  This should take about 10 minutes, until the cream thickens enough to coat the back of a spoon.  Remove bowl from heat, and whisk in the butter.  Strain the mixture into a clean bowl.  Set the bowl over an ice water bath and whisk until cool.  Cover and refrigerate until cold.  It will keep at least four days in the fridge.  To increase the complexity of flavor, you may substitute all or part of the lemon juice and zest with other citrus fruits (a combination of lemon, grapefruit and lime were used in mine).
Pate Sucre (Tart Dough)
Yield: ~50 cupcake sized tarts
1 lb. unsalted butter, room temperature
8 oz granulated sugar
3 egg yolks
1 whole egg
1 lb. 8 oz flour (use pastry flour if you have it)
In a bowl, mix butter and sugar just until incorporated (do not cream until light and fluffy).  Add eggs one at a time, mixing until smooth before adding the next egg.  Then add half of the flour, and mix until most of the flour is incorporated, then add remaining flour.  Mix until all the flour is fully incorporated.  To make the dough easier to work with, chill in the refrigerator/freezer.
Tart Shells & Filling
To form the tart shells, you can use tartlet molds, or even cupcake pans.  Roll the dough to 3-4 mm thick, using plenty of flour, and cut and place into the molds, being sure to press out any air pockets.  Alternatively, you can skip the rolling, and just press the soft dough into shape using your fingers.  If you are using cupcake pans make sure they are deep enough to hold your filling!  Dock with a fork to allow any remaining air pockets a chance to escape once placed in the oven.  Chill the dough in the tartlet molds or cupcake pans until firm.   Bake at 350 degrees until the edges are golden brown and the center of tart shells are lightly golden brown and firm to the touch (about 15 minutes).  Don't forget to rotate pans for even baking.
If the tart shells will sit with a "wet" filling (e.g., lemon cream) for an extended period of time before serving (e.g., overnight) paint the insides of the shells with melted white chocolate, and chill for 5 minutes before filling.  If desired, dust unfilled shells with powdered sugar.  Pipe lemon cream into tart shells using a pastry bag or a large zip-top bag and garnish with fresh berries or white chocolate shavings.
More recipes you'll love: