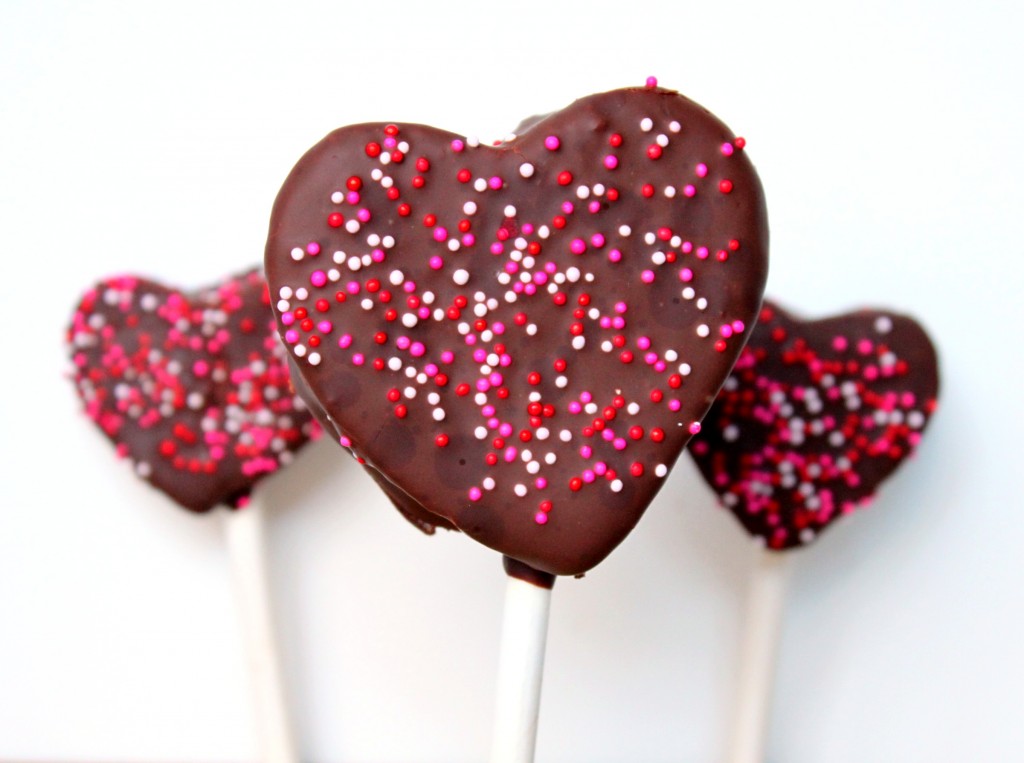 Valentine's Day – some people hate it, some people love it, some spend exorbitant amounts on overpriced flowers. Personally, I can take it or leave it. It's lovely idea to have a day to celebrate love, but it shouldn't be just one day out of the year. Anyway, whether you like the holiday or not, homemade marshmallows are fluffy and delicious, and you can make them in any shape you want.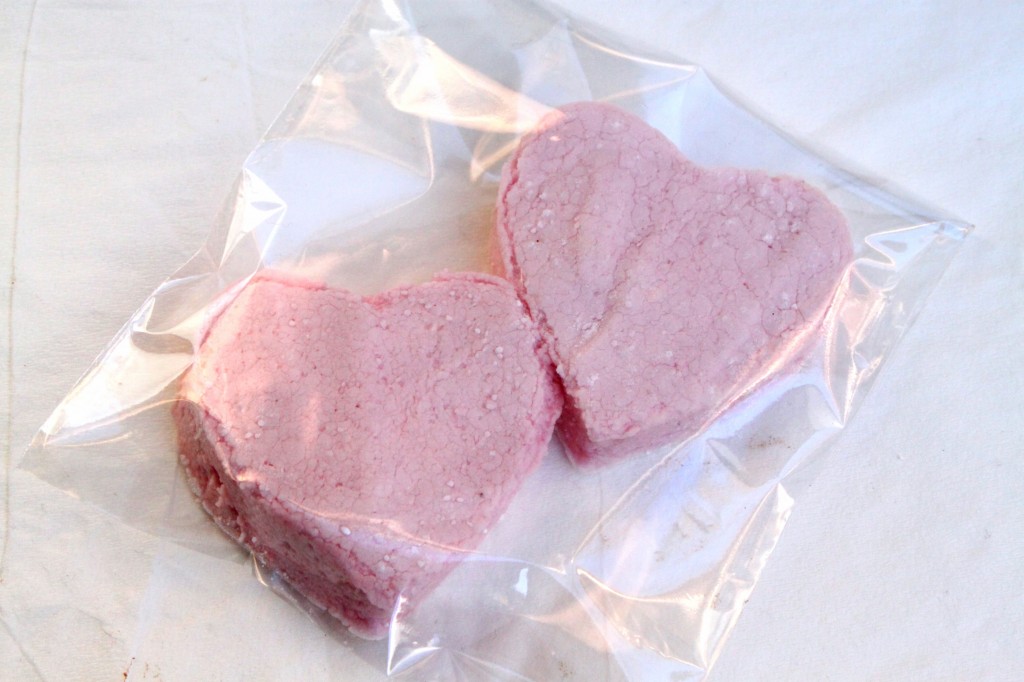 I used raspberry puree to color these pink, and it also gave them a great raspberry flavor. Using heart shaped cookie cutters, I made big and small hearts, some of which ended up packaged up for gifts (above), while the thicker ones ended up becoming something else: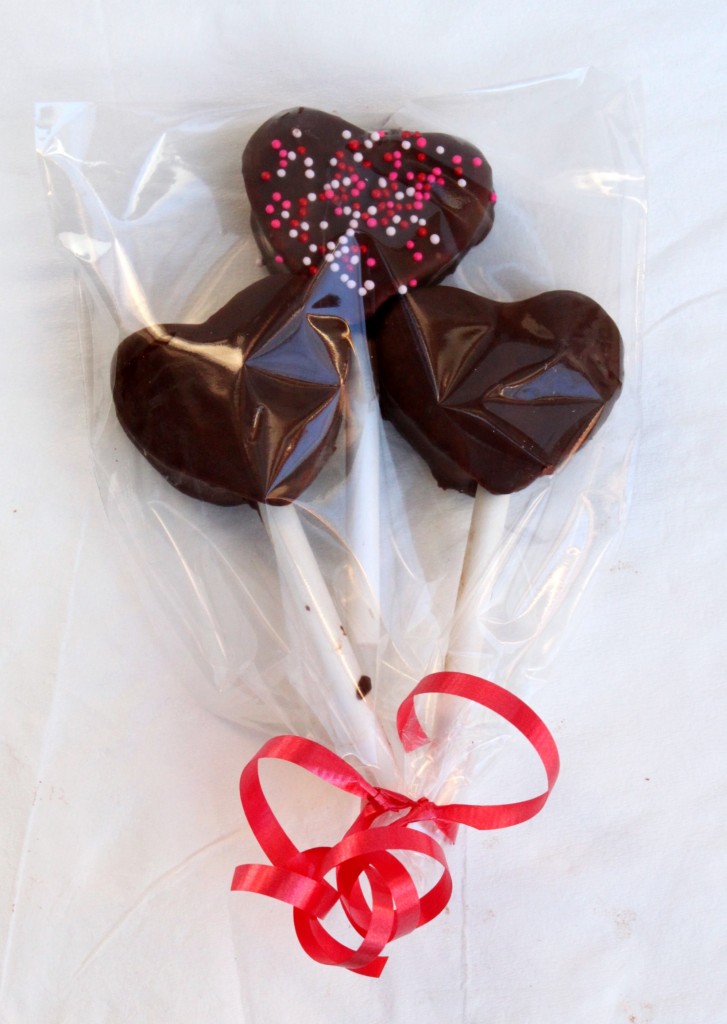 I dipped the marshmallows in chocolate and sprinkles and put them on lollipop sticks. And the chocolate covered raspberry marshmallow pops were born! These are amazing. A thin chocolate shell cracks to reveal the soft, sweet marshmallow inside. Adding sprinkles gives a nice crunch to each bite.
If you have an electric or stand mixer and a candy thermometer, you have to try these. Skip the overpriced flowers and low-quality chocolate this year and try something special. These are a wonderful gift for that special someone, friends, family and also to treat yourself!
Are you doing or making anything special for Valentine's Day?
Recipe:
Raspberry Marshmallows
1/4 C powdered sugar
1/4 C cup cornstarch
3/4 oz. gelatin (3 packets)
1/2 C water
1/3 C raspberry puree, strained (I used about 2 C frozen raspberries)
2 C sugar
2/3 C corn syrup
1/4 t salt
1/4 C water
Line the bottom of a 9″x13″ pan with parchment paper. Combine powdered sugar and cornstarch. Lightly spray with non-stick spray and sprinkle with powdered sugar and cornstarch mixture (save the remainder to sprinkle on top of the marshmallow).
Combine gelatin with 1/2 cup water in a large bowl (the bowl of your stand mixer, if you have one). Let sit for 15 minutes to set. Meanwhile, combine sugar, corn syrup, salt and 1/4 cup water in a small saucepan. Cook over medium heat until sugar dissolves, then turn heat up to high. Don't stir the mixture but let it boil and cook until temperature reaches 240°F (soft-ball stage).
Mix raspberry puree into gelatin mixture after it has set. Set mixer to low and slowly pour in hot sugar mixture. Set speed to high and mix for 10-15 minutes. The mixture should slowly lighten to a light pink color, double in size and become thick and shiny.
Pour into the prepared pan and smooth with a spatula (you may want to spray it with non-stick spray first). Sprinkle the top with the remaining powdered sugar and cornstarch mixture. Let it sit overnight to set up.
Once set, take marshmallow out of pan and place on a surface lightly dusted with powdered sugar. Use cookie cutters or a pizza cutter to slice into smaller marshmallows, coating the sticky sides with powdered sugar.
Chocolate Glaze
12 oz. chocolate (I used a combo of bittersweet chocolate and semi-sweet chocolate chips)
2 oz. canola oil
Put a large piece of wax paper on an even surface. Place chocolate and oil in the top of a double boiler over barely simmering water. Whisk until melted and smooth. Dip marshmallows in chocolate, letting excess drip off, then lay on wax paper.
Be careful while dipping marshmallows in the chocolate – if it gets too hot, they will melt.
More recipes you'll love: