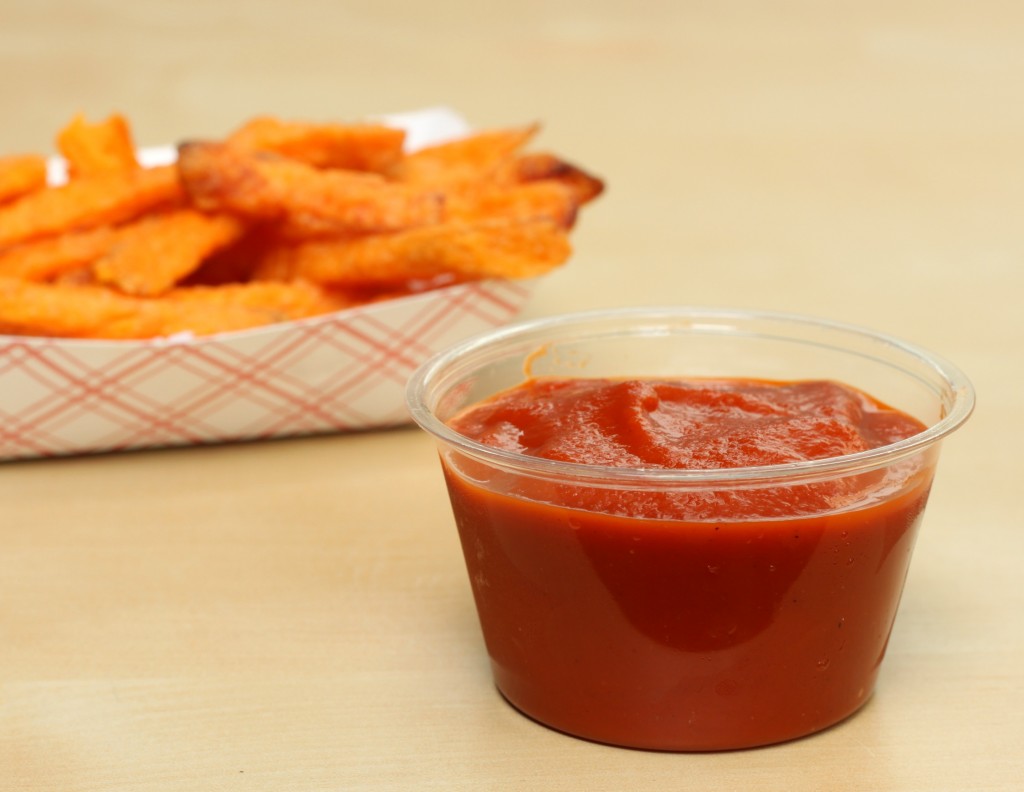 Ketchup. I love it with fries, burgers, potatoes and eggs. I think this is an American thing mostly (I know there's lots of international readers out there – do you eat much ketchup?), but I can't quite imagine enjoying some French fries without it. Now there's even a word for people who overuse ketchup: disrespectchup. As in, "when my wife took my lovingly grilled lime pork tenderloin and added ketchup, it was a disrespectchup."
But this post isn't about overusing ketchup – it's about making your own! No longer do you need to buy the store-bought stuff that is filled with high fructose corn syrup, corn syrup (why do they need both?) and "natural flavors." I don't know what "natural flavors" are, and I don't know why they can't just spell them out if they're so "natural." Anyway, take some tomato puree and paste, along with some sugar, vinegar, spices and onion and you can make your own in no time.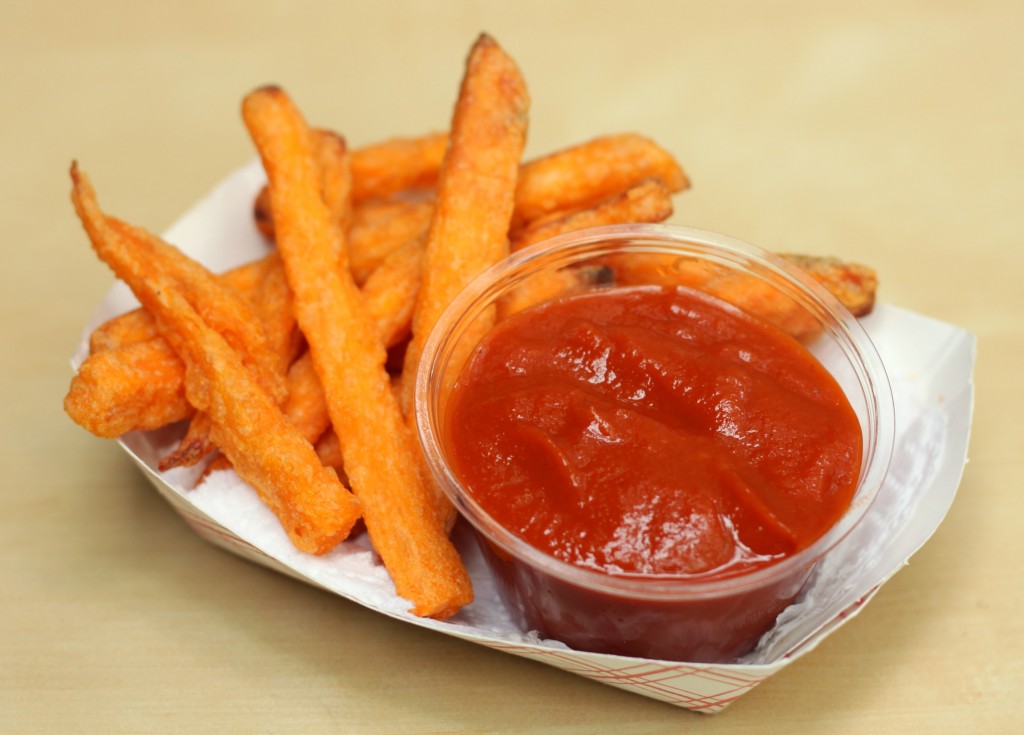 The quality of the tomato puree and paste will definitely affect your end product, so use a brand you trust. I used organic products that I found on sale. Next time I might add a little less tomato paste. I also found that I needed additional salt and vinegar to cut down on the sweetness of the finished ketchup, but your tomato products will affect the flavors of yours. Taste it once it's done and add spices as needed. 
My plan to make lots of homemade versions of store-bought items this month has resulted in homemade Nutella, chocolate peanut butter, Hostess cupcakes, funfetti cupcakes, and now ketchup. Up next: homemade BBQ sauce and Oreos. What other foods that you would typically buy in the store would you like to see me make?
Recipe:
Homemade Ketchup
From Serious Eats, with my notes added
2 T olive oil
1 medium onion, chopped
1 clove garlic, minced
1 28-oz. can tomato puree
1 T tomato paste
1/2 C packed dark brown sugar
1/4 C apple cider vinegar (I added another 2 T)
1/2 t kosher salt (I added another 1/4 t)
1/2 t ground mustard
1/8 t ground cloves
1/8 t allspice
1/8 t cayenne pepper
Over medium heat, heat oil in a medium saucepan until shimmering. Add in chopped onion and cook, stirring occassionally, for 5-8 minutes, until the onion is softened but not browned. Stir in garlic and cook until fragrant (about 30 seconds). Add tomato puree, tomato paste, brown sugar, vinegar, salt, ground mustard, cloves, allspice and cayenne pepper. Stir together and bring mixture to a boil, then reduce heat to low. Simmer, stirring occasionally, until reduced to thickness of ketchup (around 45-60 minutes).
Place mixture into a blender or food processor and process until completely pureed and smooth. Place a fine mesh strainer on a large bowl and push ketchup through (you will need to force it through with a spatula, but the vast majority should be able to pass through). 
Taste finished ketchup and add additional seasonings to taste. I added additonal vinegar and salt at this point. 
Store ketchup in an air-tight container in the fridge for up to 3 months.
More recipes you'll love: