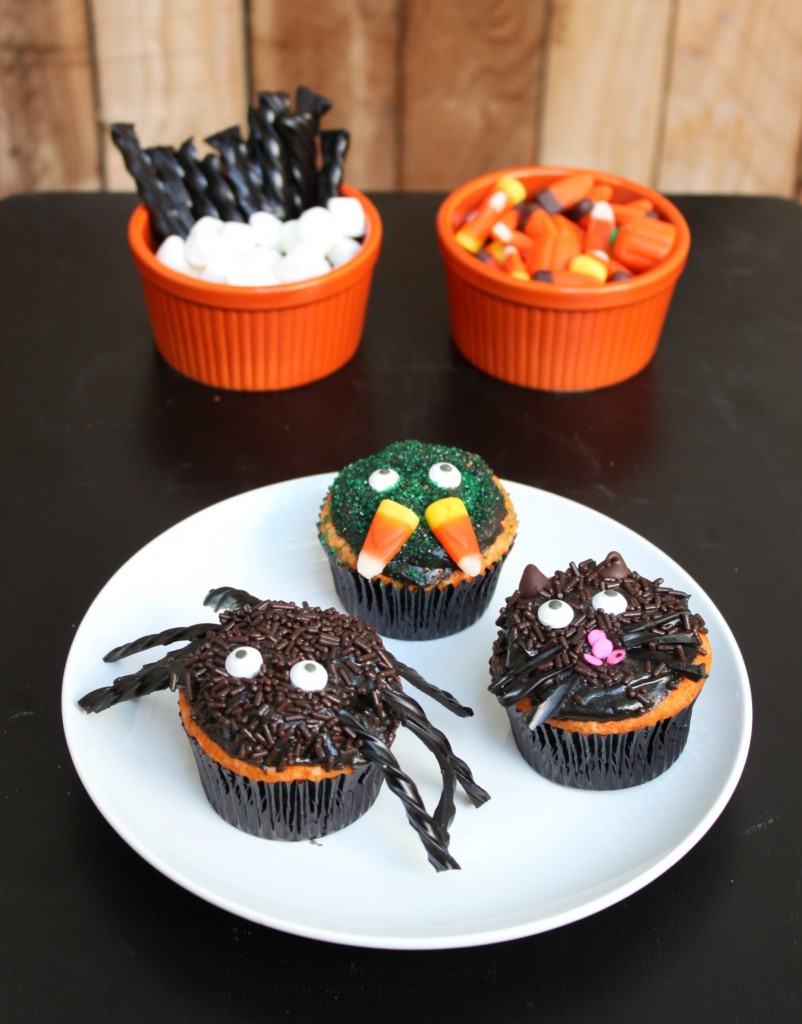 It's finally fall, my favorite season! Besides beautiful weather and pumpkin flavored everything, that means the mother of all sugar-coated holidays: Halloween. Halloween is all about candy, fun, costumes, and more candy.
To celebrate this fun and sugary holiday, I teamed up with Kitchen Play and McCormick to bring you some Halloween treats and a little party inspiration. You all know how much I love cupcakes, and a big part of that is because they are perfect individual portions. This makes them an excellent edible canvas for a party. Whip up a batch or 2 of my simple orange cupcakes and you have a reason to invite over all your kids' friends (or your friends – cupcake decorating is fun at any age!).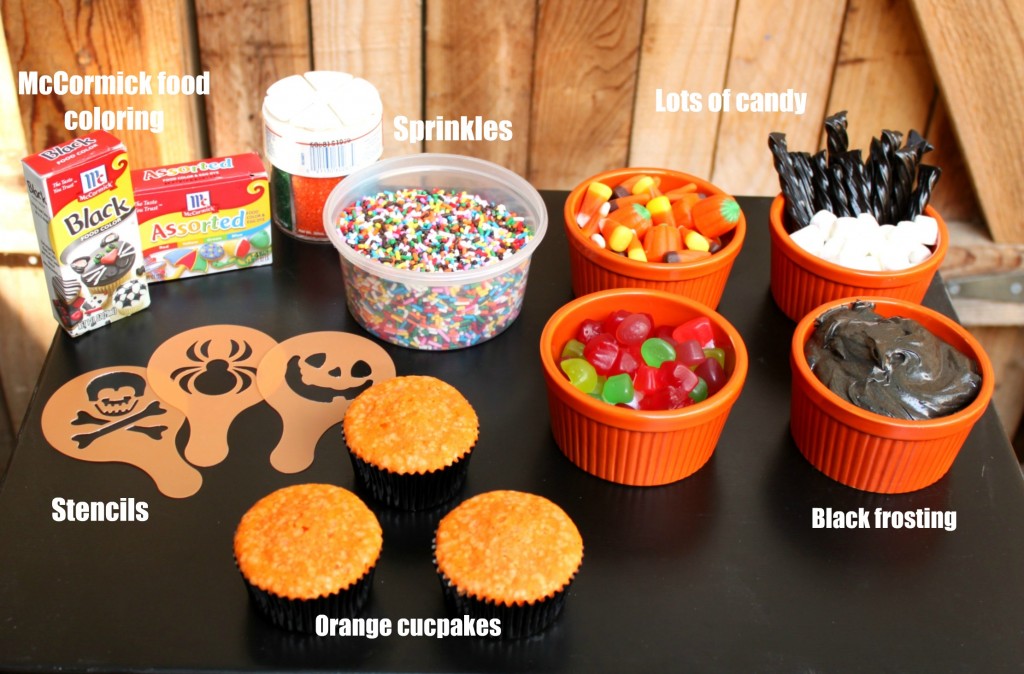 What you'll need: food coloring, sprinkles, lots of candy, black frosting and orange cupcakes (see recipes below).
(The stencils didn't work that well on the cupcakes but I think they'll be good for Halloween cookies so stay tuned for that!)
McCormick provided me with Black and Assorted Food Colors and Pure Vanilla Extract. I found a very simple white cake recipe and used some yellow and red coloring to turn it bright orange. I couldn't pass up a chance to make my popular Nutella buttercream and it was easy to turn it a spooky black color with the McCormick Black Food Color. These recipes are pretty easy and I can practically guarantee that your guests will enjoy them.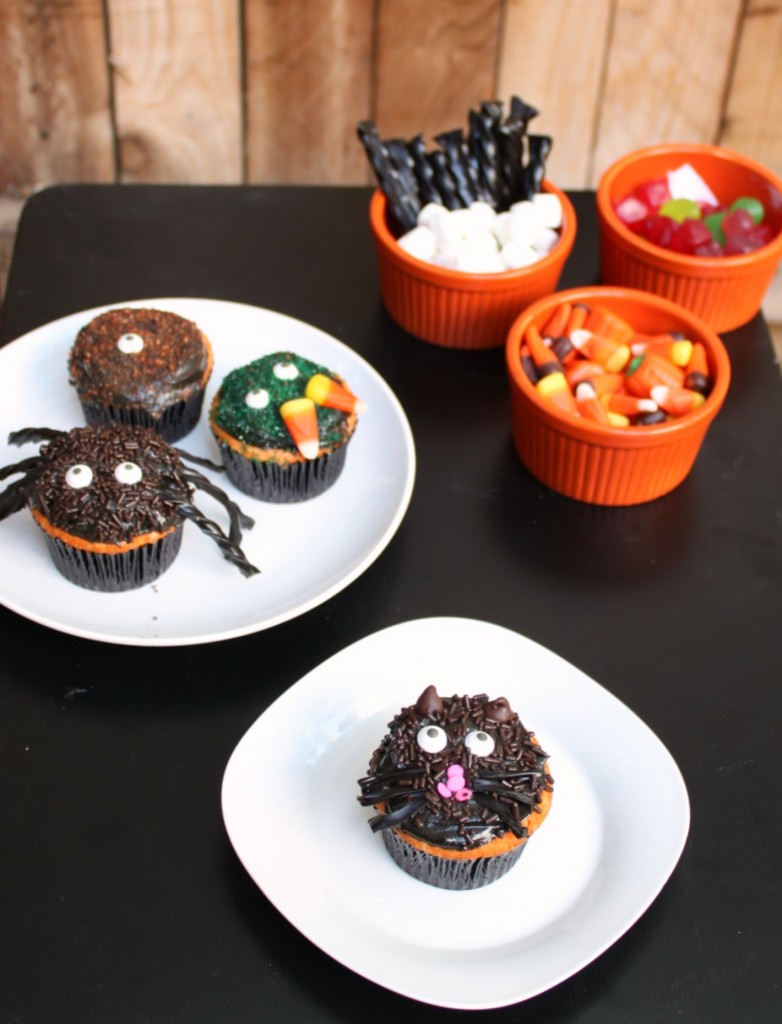 Once you have the cupcakes and frosting prepared, all you have to do is prepare your table (an easily washable or disposable tablecloth comes to mind) and put them out with tons of candy and sprinkles. Let everyone go wild and be creative.
Plan some activities for the inevitable sugar rush (some ideas: a bat pinata, squash bowling or mummy wrapping game) and sugar crash (maybe a scary movie). I also recommend balancing out all the cupcakes and candy with some healthy and festive snacks like finger foods in festive colors (baby carrots, orange slices, cheddar cheese cubes, blackberries, fruit kabobs with purple grapes and orange melon cubes) and soft sandwiches cut with Halloween cookie cutters. Here's a great list of creepy and healthy snack recipes for Halloween.
I think you should let your creativity flow, but if you want to know what I used for the cupcakes pictured above, here you go:
Cat: chocolate sprinkles, black licorice, chocolate chips, pink confetti sprinkles and candy eyes (I found them in the Target baking aisle)
Spider: black licorice, chocolate sprinkles and candy eyes.
Monsters: orange and green sprinkles, candy eyes and candy corn.
Recipe:
Creepy Cupcakes
Ominous Orange Cupcakes
A simple white cupcake turned a festive orange
Makes 12 cupcakes
1 cup white sugar
1/2 cup butter
2 eggs
2 teaspoons McCormick Pure Vanilla Extract
1 1/2 cups all-purpose flour
1 3/4 teaspoons baking powder
1/2 cup milk
15-20 drops McCormick Red Food Color
25-30 drops McCormick Yellow Food Color
Directions Preheat oven to 350 degrees F. Line a muffin pan with paper liners.
In a medium bowl, cream sugar and butter together. Beat in the eggs, one at a time, then stir in the vanilla. Combine flour and baking powder and mix into butter mixture. Beat in milk and food coloring until batter is smooth and orange. Fill liners 3/4 full with batter. Bake for 20 to 25 minutes or until a toothpick inserted in the middle comes out clean.
Nightmarish Nutella Buttercream
Makes enough for 12 cupcakes
1/2 C butter, room temperature
1 C Nutella
1 C powdered sugar, sifted
1-2 T milk
1/2-1 teaspoon McCormick Black Food Color
Beat butter until smooth. Add Nutella and beat together until thoroughly combined. Slowly add powdered sugar, mixing until combined. Add 1 tablespoon of milk and 1/2 teaspoon of black food coloring. Add additional milk or powdered sugar as needed to reach desired consistency. Add additional food coloring as needed to reach desired color.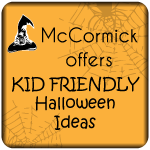 McCormick is also sponsoring a wonderful giveaway at Kitchen PLAY. Simply recreate any one recipe from this month's SideCar Series, post about the experience on your blog and provide a link to your post on Kitchen PLAY to enter. All qualifying bloggers in each course will be entered to win $50 (10 prizes total).  The deadline is October 31, 2011. Please review the complete contest rules before entering. Good luck!