Halloween is over and odds are you probably have some extra pumpkins laying around your house. Don't toss them out! I have a simple recipe to make the seeds into a healthy and tasty snack, and next I'll post a recipe to make pumpkin butter out of the flesh.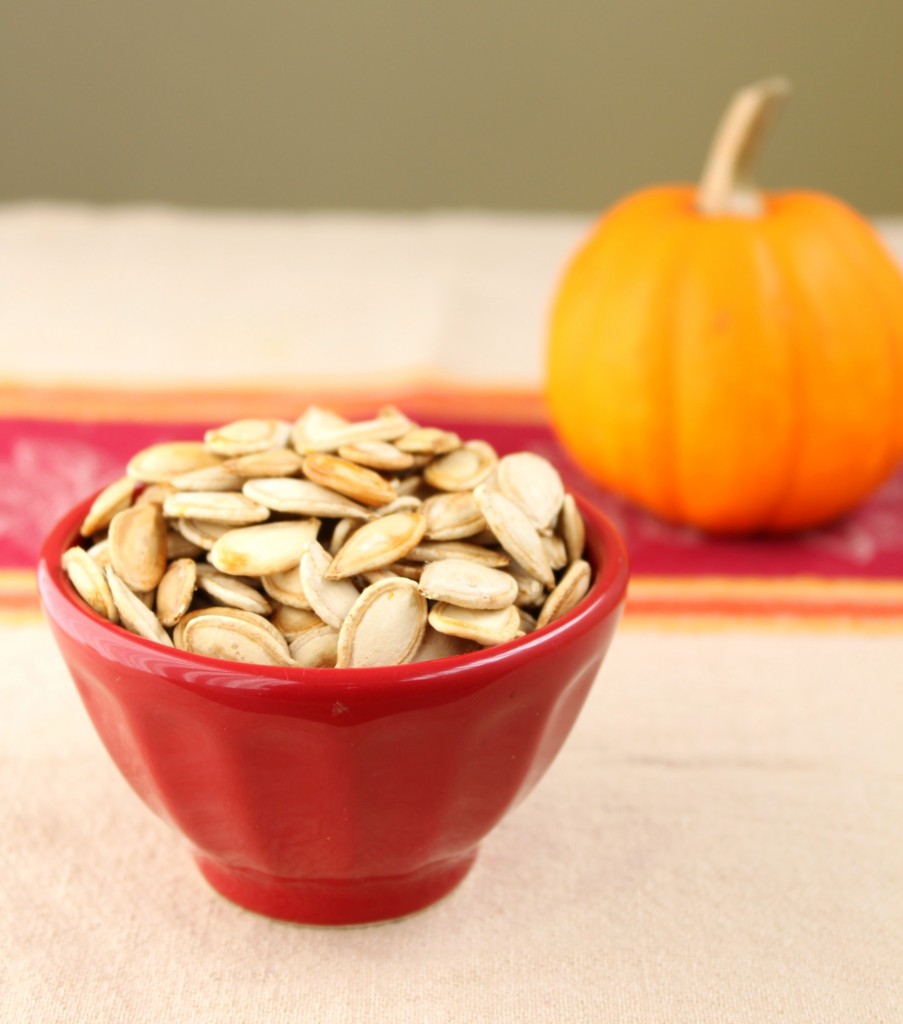 We have a bunch of pumpkins, squash and gourds in my classroom and at the end of last week a child discovered that one of the pumpkins was getting soft on the bottom. Time to cut it open and see what's inside!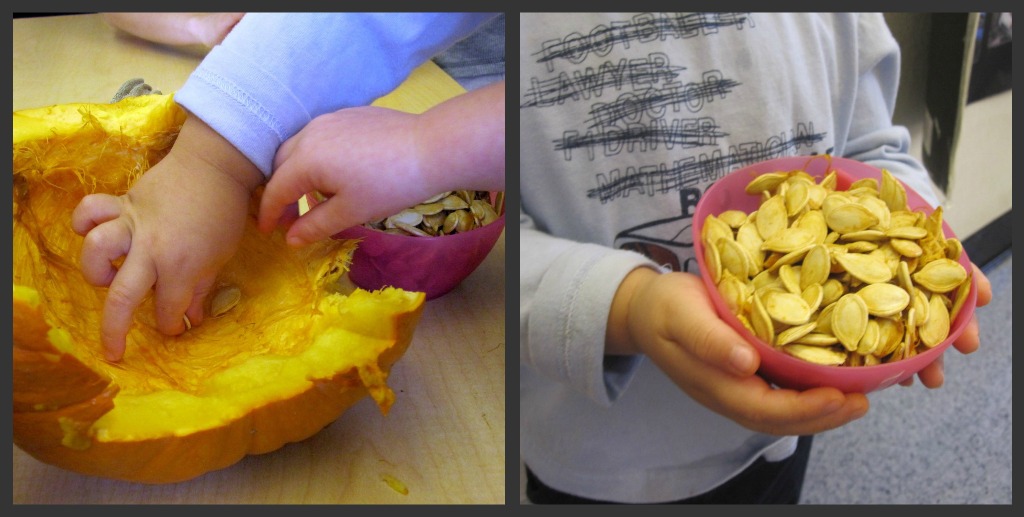 We found stringy orange flesh and lots of seeds. Several little hands helped collect all the seeds and I mentioned that I could cook them and then we could eat them. "Cook?" asked one little boy. "Cook!" He said, thrusting the bowl at me. "Cook, cook!" I roasted them at home over the weekend and brought them back on Halloween to eat at snack.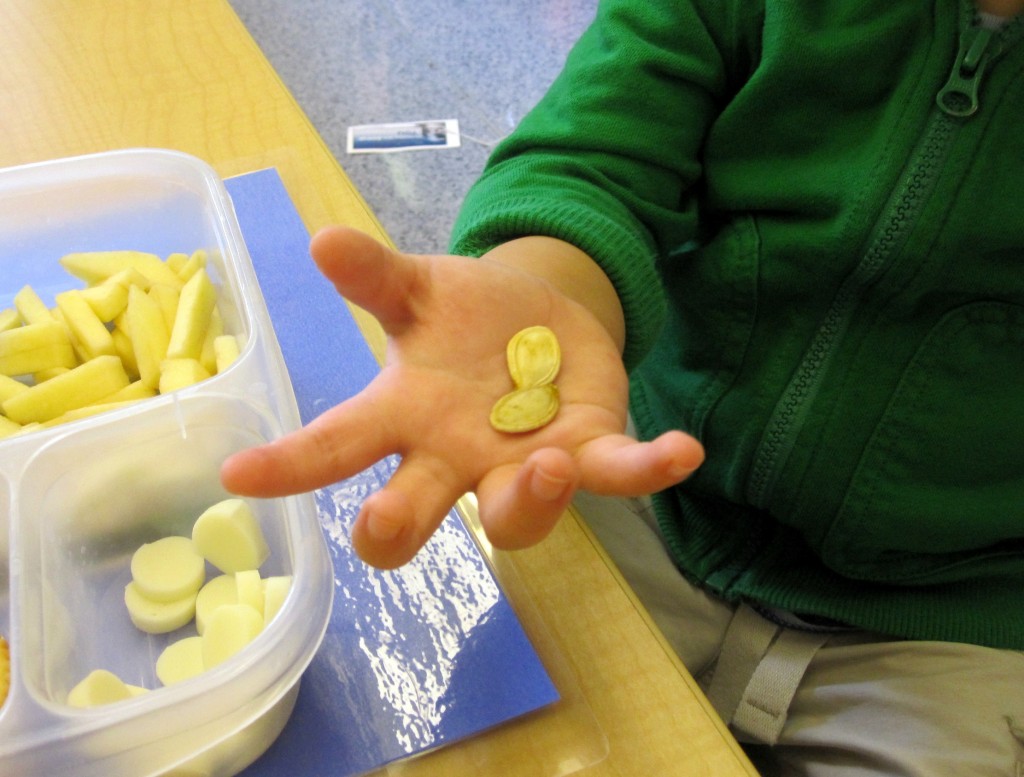 The same little boy who was excited about me cooking the seeds (in fact, the one whose hands are in all the photos) particularly enjoyed the seeds at snack time. Many of the other toddlers weren't as impressed, but I think he was happy that I followed through with my promise to cook the seeds.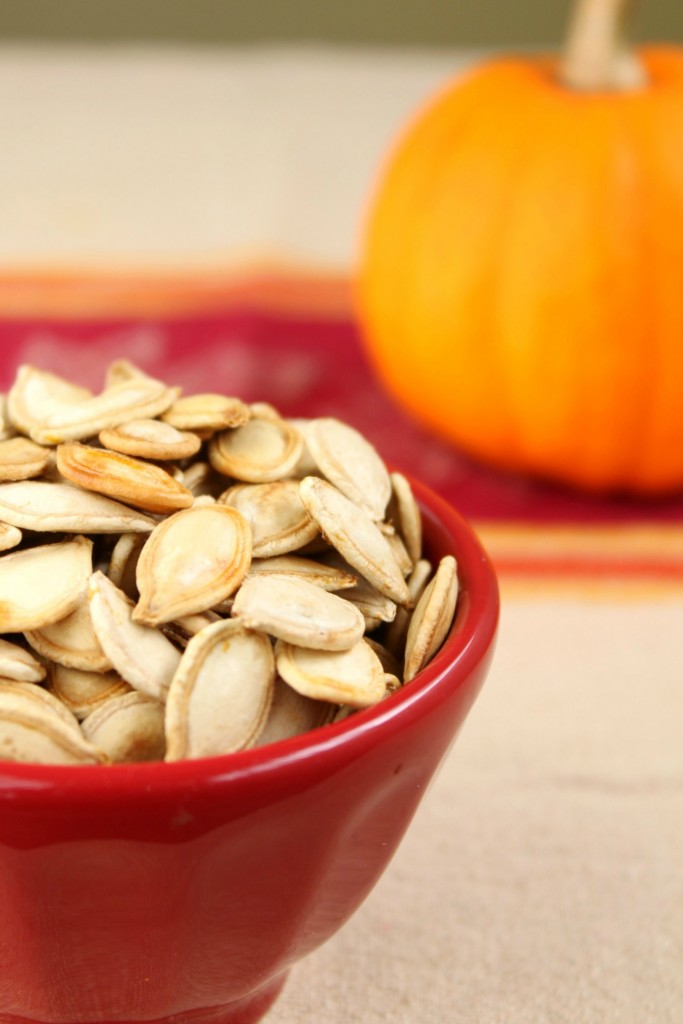 This recipe is a little different from other roasted pumpkin seed recipes I've tried. Instead of tossing them in oil and salt, I boiled them in salted water first, then spread them on an oiled pan. The salted flavor really sticks to them that way. I wonder if this method would work with nuts too (I've found that a lot of the salt falls off them the other way).
What spices do you like putting on pumpkin seeds?
Recipe:
Roasted Pumpkin Seeds
1 (or more) pumpkin(s)
Salt
1 tablespoon of olive oil
Preheat oven to 400°F. Cut pumpkin(s) in half. Scoop out stringly flesh and seeds. Rinse the seeds, removing as much of pumpkin flesh as possible. 
Measure your seeds. For every half cup of seeds, add 2 cups of water to a medium saucepan. Add a tablespoon of salt for every 2 cups of water. Add seeds to salted water and bring to a boil. Simmer for 10 minutes, then remove from heat and drain.
Spread olive oil across a baking sheet and spread seeds on top in a single layer. Bake for 10-20 minutes (until seeds begin to brown). Remove from oven and let cool. Eat whole or crack and eat just the inner seed.
More recipes you'll love: