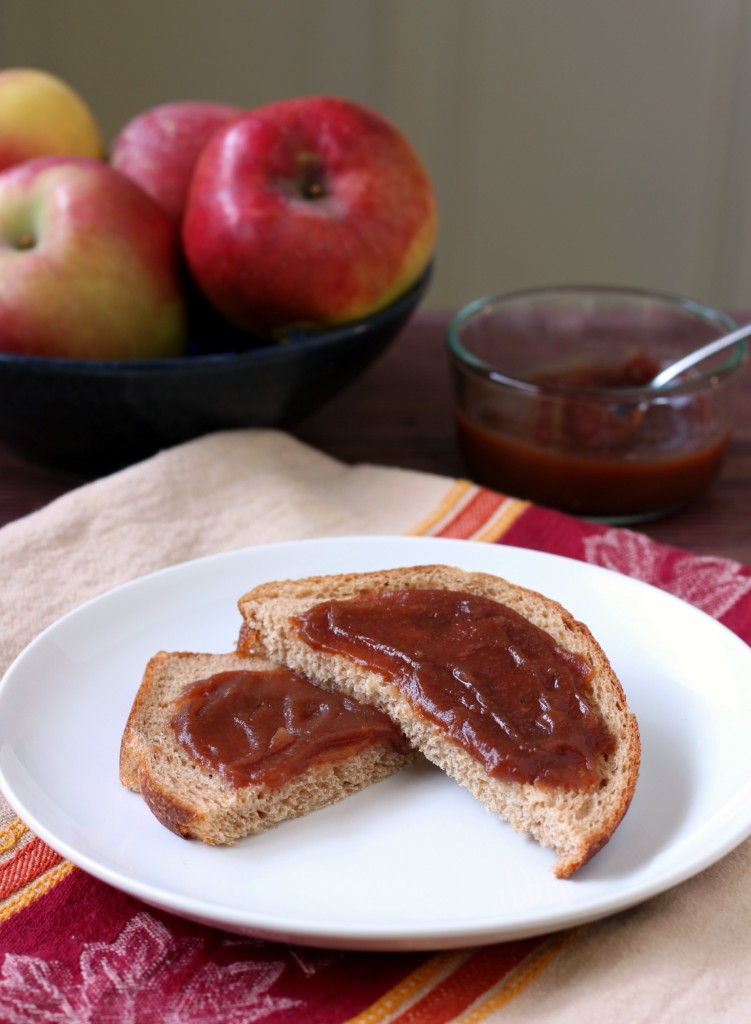 On Saturday I asked my Facebook fans a simple question: pumpkin butter or apple butter? Both were popular choices and the votes ended up being pretty much split down the middle. Luckily, everyone wins: today is apple butter day and Wednesday is pumpkin butter day!
I like both kinds of fruit butter and I actually tried a combination apple-pumpkin butter when I visited Apple Hill last month. It was a great balance of the two flavors and I might try my hand at making that next.
If you're not familiar with fruit butters, they don't actually contain butter. A fruit butter is when fruit is cooked down then pureed into a thick, creamy spread. This is the third time I've made fruit butter in my slow cooker – I made some wonderful blueberry lavender butter with fresh berries and frozen berries last summer.
Apple butter tips:
There are 3 kitchen appliances that make this process so much easier:
 A slow cooker of course (although you can make this on the stove instead).
One of those old-fashioned peeler/corer/slicers cuts prep time in more than half.
An immersion blender (AKA hand blender, blender stick, etc.) to puree the apple butter right in the pot. I like to avoid pouring boiling hot stuff into my blender and back. I'm too clumsy to safely do stuff like that.
Speaking of slow cookers, Crock-Pot is unveiling a brand new design tomorrow night at 8pm EST. This is an exclusive for their Facebook fans – RSVP to the event and get the link to the tab on their Facebook page. In addition to seeing the new Crock-Pot, you'll also get to watch a live performance by country singer Sarah Darling and have a chance to win a trip to Nashville!
Do you have a favorite kind of fruit butter?
Recipe:
Slow Cooker Apple Sauce
Makes 3 1/2-4 pints
6 1/2 pounds apples, peeled, cored and thinly sliced*
1 1/2-2 cups brown sugar, lightly packed
1 tablespoon ground cinnamon
1/2 teaspoon nutmeg
1/4 teaspoon ground cloves
1/4 teaspoon salt
1 tablespoon pure vanilla extract
Place prepared apple slices in a 6 quart slow cooker. Add brown sugar and spices, then stir to mix everything together. Cook on low for 8-10 hours, stirring occasionally, until mixture is dark brown and thickened. Uncover, add vanilla and stir to combine. Cook uncovered on high for around 2 hours. Puree using a hand blender or by transferring to your blender in 2 batches and returning to pot.
For immediate use or freezing: Pour into clean containers and refrigerate for up to 2 weeks or freeze.
To can:
 Pour into sterilized jars, leaving 1/4″ headspace. Seal and process in boiling water for the amount listed below. Remove from water and let sit for a day. Check to make sure jars sealed.
(If you want more information on canning, see my photo tutorial on canning jam.)
Recommended process time for Apple Butter in a boiling-water canner.

Jar Size

Process Time at Altitudes of

0 – 1,000 ft

1,001 – 6,000 ft

Above 6,000 ft

Half-pints or Pints

5 min

10

15

Quarts

10

15

20
*I used 3 Granny Smith apples and equal parts McIntosh and Jonagold apples. You can use whatever apples you like, but some types are better than other for apple butter. McIntosh are very soft and tart Granny Smith counterbalance the sweet flavors, adding some depth.