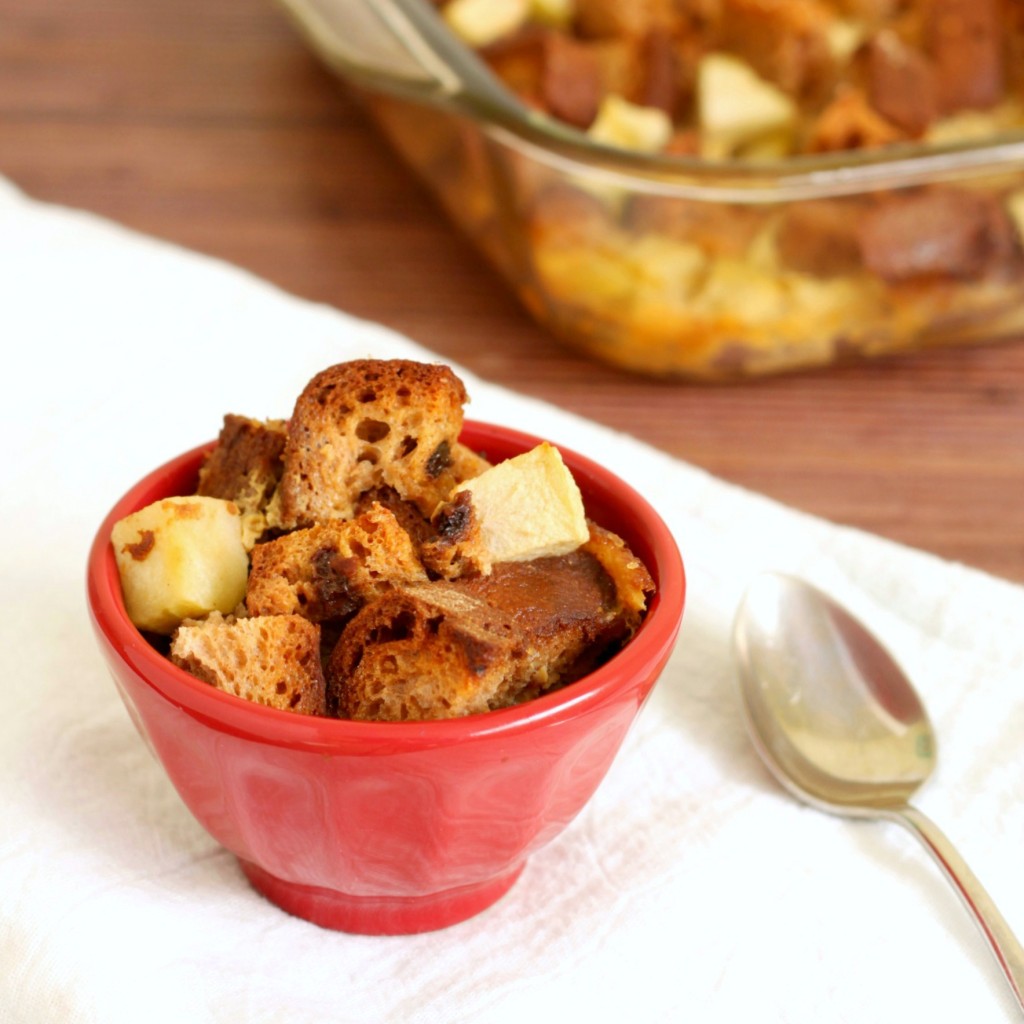 Odds are, you know someone who doesn't eat gluten. Some people have celiac disease, which is gluten intolerance, while many more are sensitive to gluten. It's become a bit of a trendy diet in the last few years, which makes it seem silly or unnecessary to some, but many people really do benefit from eating gluten-free. I think Helene at Tartelette described it well in this post, so if you're questioning the fad, please go read it to see what people with gluten sensitivities go through.
I'm thankful that I don't have any food allergies or sensitivities, but my sister and her wife are both gluten-free, so at the holidays we try to make everything gluten-free for them. When Udi's Gluten Free Foods reached out to me about making a GF holiday recipe using their bread, I knew it was the perfect opportunity to come up with something for Thanksgiving.
I used Udi's cinnamon raisin bread to make a cinnamon raisin bread pudding. You could substitute in regular cinnamon raisin bread if you don't need to make it gluten free, but I was pleasantly surprised at how great the bread (and the pudding) tasted. It tasted like normal cinnamon raisin bread to me – I really couldn't tell it was gluten free. This is a pretty easy dessert recipe that could be made ahead and reheated for a holiday dinner (and also reheated again in the morning for a indulgent post-holiday brunch).
Are you planning anything special for an upcoming holiday meal?
Recipe:
Gluten-Free Cinnamon Raisin Bread Pudding
4 eggs
2 cups of milk (I used 1%)
1/3 cup brown sugar
1 teaspoon ground cinnamon
1 tablespoon vanilla extract
1 cup raisins
2-3 Granny Smith apples, peeled, cored and cut into 1″ pieces
1 loaf of Udi's cinnamon raisin bread, toasted and cut into 1″ cubes
Turbinado sugar for sprinkling on top (optional)
Preheat oven to 350°F. Lightly coat a 9″x13″ casserole dish with non-stick spray.
In a large bowl, whisk eggs, milk, brown sugar, vanilla extract and cinnamon together. Add raisins, apples and bread to bowl and stir to combine, pushing bread into the wet ingredients to absorb. Pour everything into prepared dish and spread into an even layer. Sprinkle turbinado sugar on top, cover dish with aluminum foil and bake for 45 minutes or until set. Remove foil and bake another 15 minutes until top is crisp.
Disclaimer: I received Udi's bread for free. All opinions are my own.