It's beginning to look a lot like Christmas…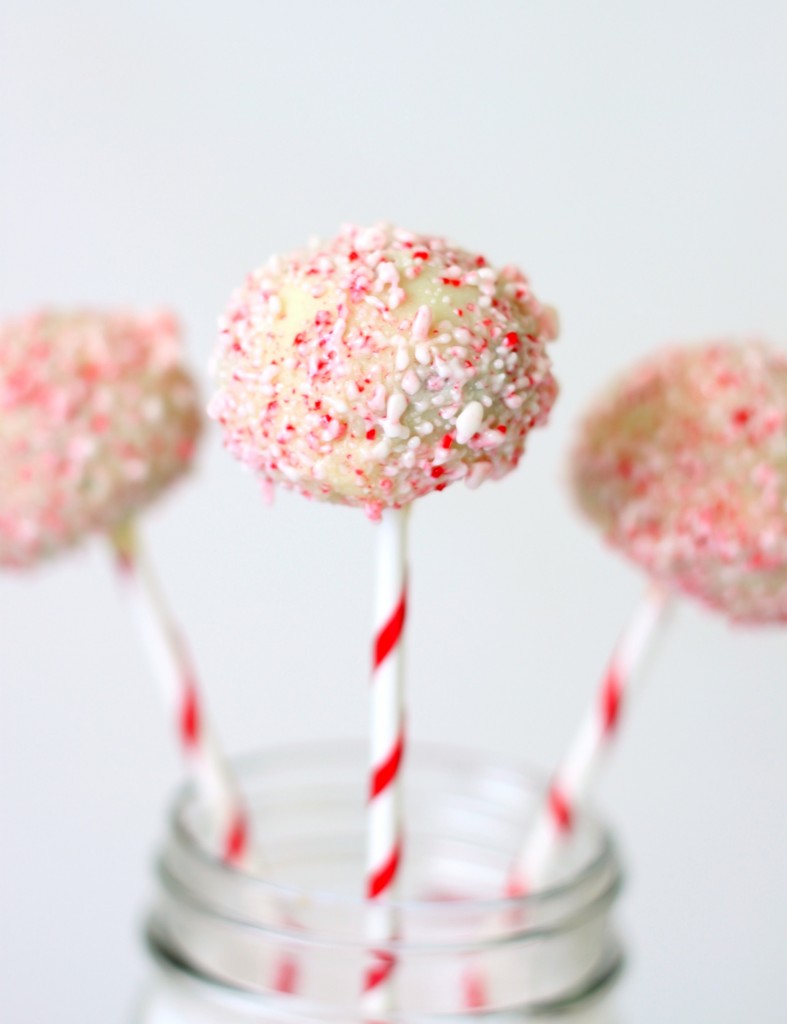 Which means it's time for cookies, gingerbread houses, and everything peppermint chocolate! To kick off the holiday season, I decided to recreate Starbuck's new holiday cake pop, peppermint brownie. No offense to them, but I was pretty sure I could make a better version at home and with fewer hard to pronounce ingredients too. These pops were more time consuming to make than I had anticipated, but it was well worth the effort.
The recipe makes 50 pops, so I was able to bring them to both of my workplaces and share them with friends, and everyone raved about them. As one coworker put it, they're really moist inside, with just the right amount of crunch on the outside from the candy coating.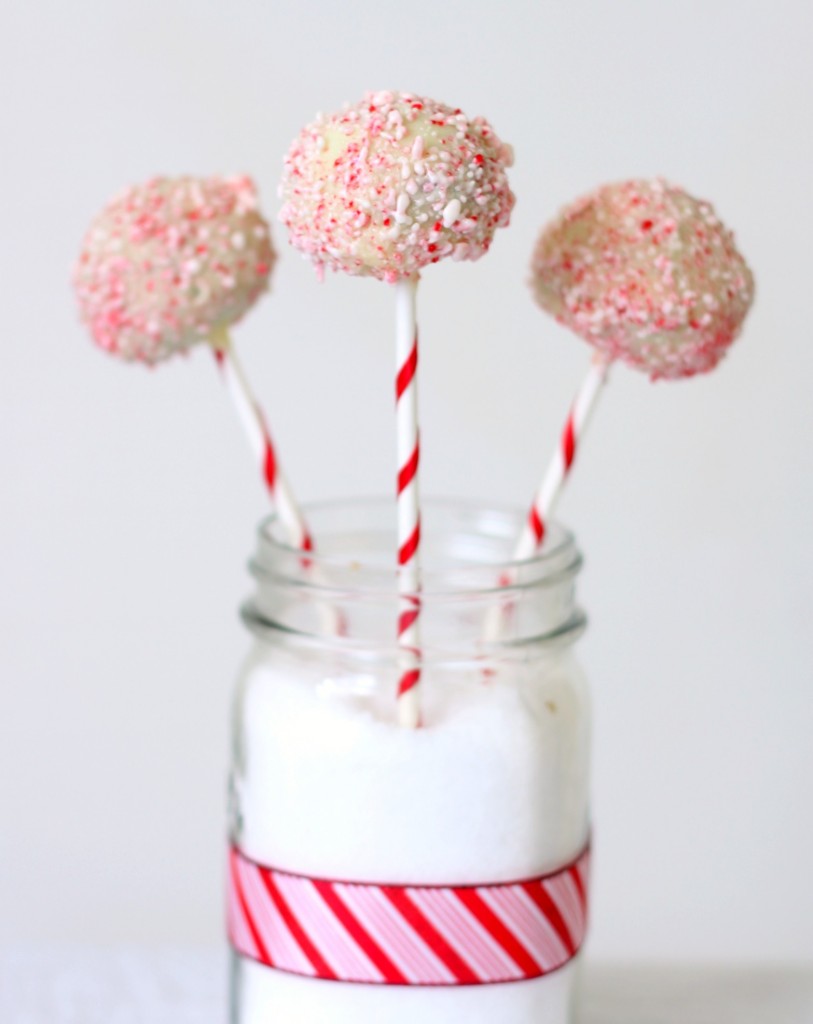 I forgot to take a photo of the inside of the pops (what can I say, I was eager to eat them) but the inside is chocolate cake mixed with a chocolate peppermint buttercream. The cake and frosting are combined, rolled and then dipped in white chocolate and rolled in crushed candy canes.
These pops would make a great gift in lieu of holiday cookies – simply wrap each pop in a little cellophane bag and tie with a festive ribbon. To make the sticks look like candy canes, buy the thinnest red ribbon you can find and wrap it around each stick, putting a dot of glue on each end. If you're bringing them to a party, you could display them in a styrofoam block (you can buy them at craft stores) or in jars (the one above is filled with salt and sugar would work too).
What are you baking this holiday season?
Recipe:
Chocolate Peppermint Cake Pops
Makes 40-50 cake pops
Chocolate Cake
Adapted from King Arthur Flour
2 1/4 cups all purpose flour
1 1/2 teaspoons baking powder
1/2 teaspoon baking soda
1/2 teaspoon salt
3/4 cup unsweetened cocoa
1 3/4 cups granulated sugar
1/2 cup unsalted butter, very soft
1/3 cup vegetable oil
1 teaspoon vanilla extract
1 cup milk
1/2 cup water
4 large eggs
Preheat the oven to 350°F and lightly grease a 9″ x 13″ pan.
In a large bowl, combine flour, baking powder, baking soda, salt, cocoa, and sugar.
Add butter to the dry ingredients and mix at low speed for a minute. Keep the mixer running while you add the oil and mix until the mixture looks like sand.
In a small bowl or measuring cup, combine vanilla with milk and water. Add to sand-like mixture and mix for a couple of minutes at low speed.
Add eggs one at a time, beating at medium speed between each one until thoroughly combined.
If needed, scrape the sides of the bowl and mix for a minute more. At this point, the batter will be thin.
Pour batter into prepared pan and bake for around 35 minutes. When the cake is done, the sides will just begin to pull away from the edge of the pan and the top will spring back when lightly touched. You can also test it by inserting a toothpick, which should come out clean.
Peppermint Buttercream Frosting
3/4 cup butter, at room temperature
1 teaspoon vanilla extract
3 cups powdered sugar, sifted
1-2 tablespoons of milk
4 candy canes (around 6.5 tablespoons), crushed to powder in a food processor or blender
In a large bowl, cream butter and vanilla until combined.
Adding 1 cup of sugar at a time, mix into butter until thoroughly combined.
Mix in milk until you reach the desired consistency.
Add crushed candy canes and stir until combined.
Assembling the cake pops
18 oz. white chocolate
1/8 cup canola oil (you can use less for a thicker coating/more for a thinner coating)
40-50 lollipop sticks (I used 6″ but I think 4″ would work too)
6 candy canes (around 3/4 cup), crushed
Styrofoam block
Once cake is completely cooled, cut into 6 pieces. Using your hands, crumble each piece into a large bowl (you could use a food processor instead).
Add frosting to bowl and mix with the back of a spoon or your clean, dry hands until thoroughly combined.
Roll into 1 1/2-inch balls (I used a cookie scoop to measure the cake and rolled it with my hands).
Place cake balls on a baking sheet covered in wax paper and chill for several hours in the refrigerator or for 15 minutes in the freezer. (I found it worked best to chill in the fridge until I was ready to dip them and then put them in the freezer while I melted the chocolate.)
In a double boiler or in a microwave, melt the chocolate and oil together, stirring until all lumps are gone.
Once chocolate is melted, remove from heat and pour into a small cup. Let cool for a few minutes.
Place crushed candy canes in a bowl and set aside.
Remove cake balls from freezer. One at a time, dip the tip of a lollipop stick in the melted chocolate, then insert the stick straight into a cake ball, pushing almost all the way through.
Hold the lollipop stick and dip the entire cake ball into the melted chocolate until it is completely covered and quickly remove.
Hold pop over cup while excess chocolate drips off (if needed, tap your wrist with the opposite hand to help the process).
Once excess and dripped off, let chocolate set for a few moments and then roll in crushed candy cane.
Push stick into styrofoam and let chocolate harden.
Once all cake pops are completed and cooled, cover and store in refrigerator.