Congrats to Janet D., winner of the Yufit giveaway!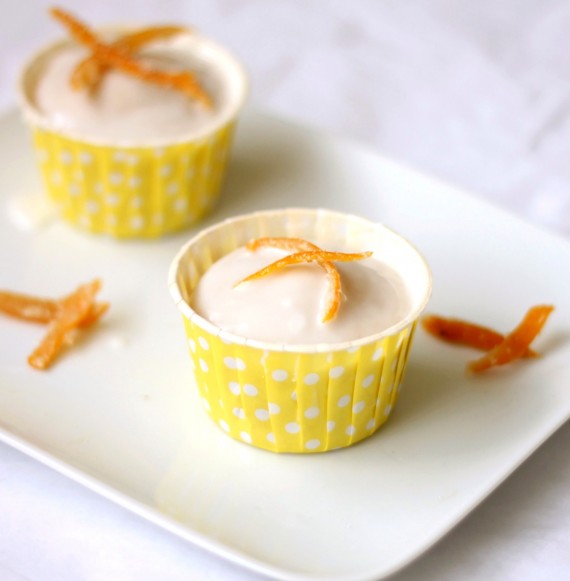 Last year a close friend of mine was diagnosed with several food allergies after having health problems and discomfort for years. Turns out she's allergic to eggs, dairy and yeast, foods she used to eat on a regular basis. A few weeks ago she came to visit, which coincided with me receiving a bag of Meyer lemons from my brother's tree. I knew I wanted to bake something, but I had to avoid some major players in baked goods.
You probably know where I'm going with this, since you've seen the title of this post, but the easiest way to avoid eggs and dairy is…bake vegan! I actually have a great vegan cupcake cookbook, but it doesn't have a simple lemon cupcake recipe. I was pretty set on using my surplus of Meyer lemons, so I found a vegan lemon cupcake recipe on another blog and adapted it.
By just tasting them, I don't think anyone would guess that these cupcakes are vegan. They're extremely light and fluffy and have a subtle lemon flavor. By topping them with a simple lemon glaze, the cupcakes remain light and lemony, a satisfying dessert that won't leave you feeling weighed down. I garnished them with candied Meyer lemon peels for an extra lemon punch. You can make this with regular lemons too, and I'm sure it would be just as good. (If you're not familiar with them, Meyer lemons are a cross of lemons and oranges, so they're a bit sweeter and milder than regular lemons).
Do you bake for any people with food allergies or special diets?
Recipe:
Vegan Meyer Lemon Cupcakes
Adapted from Livvie's Limelight
1 cup milk alternative (I used almond milk; soy or rice would work too)
1 teaspoon apple cider vinegar
1 1/2 cups flour
1/2 teaspoon baking powder
3/4 teaspoon baking soda
1/4 teaspoon salt
1/4 cup canola oil
2/3 cup sugar
1 teaspoon vanilla extract
1/4 cup Meyer lemon juice*
1 Tablespoon Meyer lemon zest*
Preheat oven to 350°F. Line a muffin tin with liners.
In a small bowl, stir together milk and apple cider vinegar. Let sit for 5 minutes.
In a large bowl, combine flour, baking powder, baking soda and salt.
In a separate large bowl, combine milk, oil, sugar, vanilla, lemon juice and zest.
Add dry ingredients to wet and stir until well combined.
Pour batter into lined muffin tin until each is 3/4 full.
Bake 18-20 minutes or until a toothpick inserted in the center comes out clean. Let cool completely before frosting.
Meyer Lemon Glaze
Combine powdered sugar and juice in a small bowl and stir until smooth.
Add additional sugar or lemon juice to taste and to reach desired consistency.
Spoon onto cooled cupcakes and top with candied peel.
*You could use regular lemon instead of Meyer lemon
More recipes you'll love: