This isn't a regular Slow Cooker Monday post. Instead of posting a slow cooker recipe, I'm excited to tell you about the newest Crock-Pot slow cooker. Crock-Pot revealed their latest design a few months ago and it's nothing like any kitchen tool I've ever seen. It's more like scrapbook meets kitchen appliance.
What does that mean? Check it out: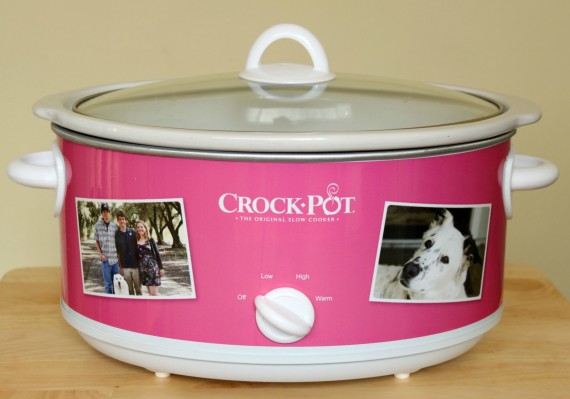 Front of the Create-A-Crock
It's a customizable Crock-Pot! The "Create-A-Crock" lets you choose from a variety of colors and designs for the background. Then you upload 4 of your favorite photos and they're printed right onto the Crock-Pot! I've never seen a personalized kitchen appliance like this before – have you?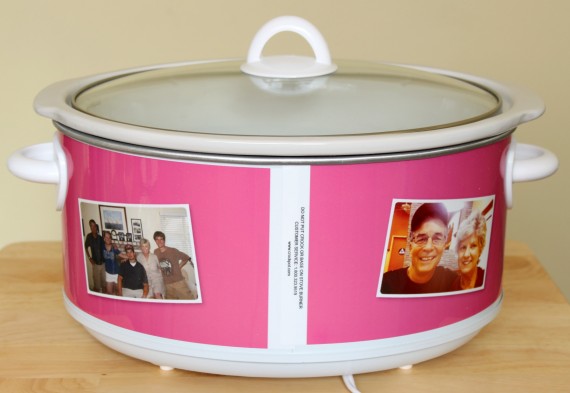 Back of the Create-A-Crock
I worked with Crock-Pot in the fall for their Crock-Star Confessions campaign. Last month they contacted me to tell me about the new Create-A-Crock and see if I wanted to try it out. I already have 2 fairly large slow cookers, 3.5 and 6 quarts, and I didn't really need another one at 5.5 quarts. But I couldn't give up on this great opportunity for the ultimate present.
If you know what I look like (there's a photo of me at the top of the right column over there –>) then you'll realize I'm not actually pictured on this slow cooker. That's my dear friend Annie and her family.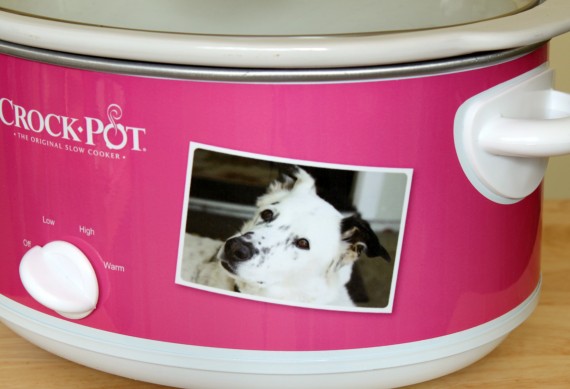 Close-up of the photos on the front (that is the world's best dog, Cosmo, by the way)
I wanted to surprise her so I downloaded photos off of her Facebook page instead of asking her to send me some. I was worried they wouldn't be high quality enough and would print out fuzzy, but they look great! The website wouldn't let me upload certain photos, citing poor quality, so you can trust that it will only let you use ones that are good enough.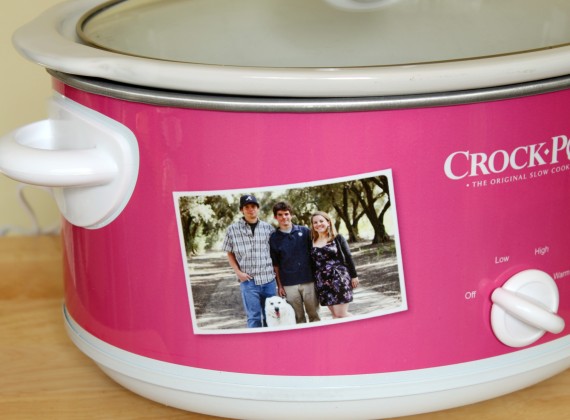 Annie and her "little" brothers from a Mother's Day photoshoot I did for them last year
I couldn't be happier with the way the Crock-Pot came out. It does take 3-4 weeks to be made after you order it, so keep that in mind. It ended up arriving after Christmas, so it became a belated gift, but one worth the wait.
Annie and I met half-way between our cities to do a little outlet shopping and I finally was able to give it to her. (On the ground, in the middle of a parking lot – I tell you this only to explain the next photo.)
Annie's reaction says it all: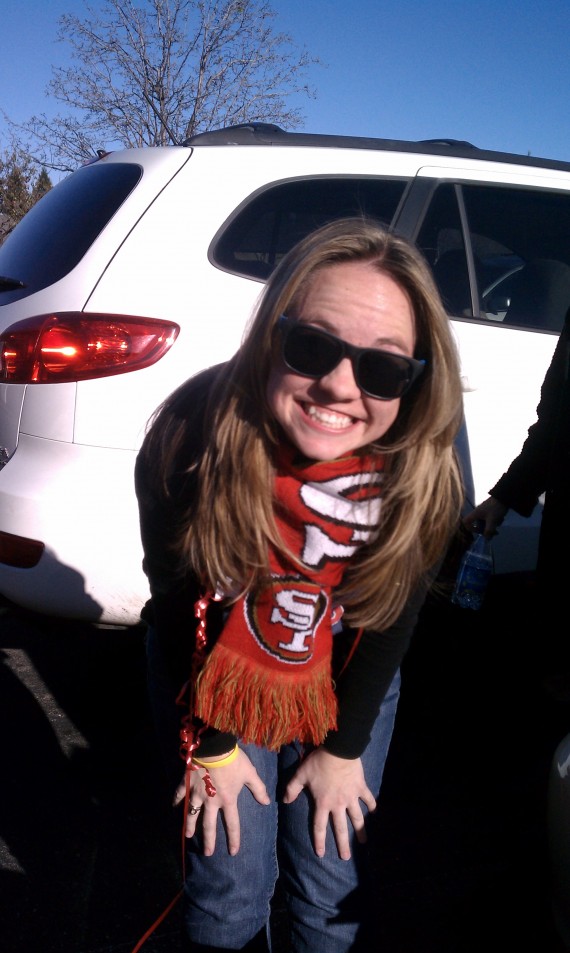 Happiness!
She says: "This is an awesome present for anyone because it's so personalized. Pink and pictures?! Could not ask for a better present."
Since it was a present, I didn't try using it, but I have a Crock-Pot 6 quart slow cooker and it works great. If Annie has any feedback after she uses the Create-A-Crock, I will update this post to reflect her observations.
If you're interested in getting a Create-A-Crock for yourself (or for an awesome gift), check out the Crock-Pot website. I think it would make a great present for a wedding, bridal shower, birthday, or really any occasion. It would also be handy if you use slow cookers while you're entertaining or if you bring them to potluck parties. You can make one to match your decor and no one will ever mistakenly take yours home with them!
I received the Create-A-Crock slow cooker from Crock-Pot to review. The views and opinions expressed are purely my own.