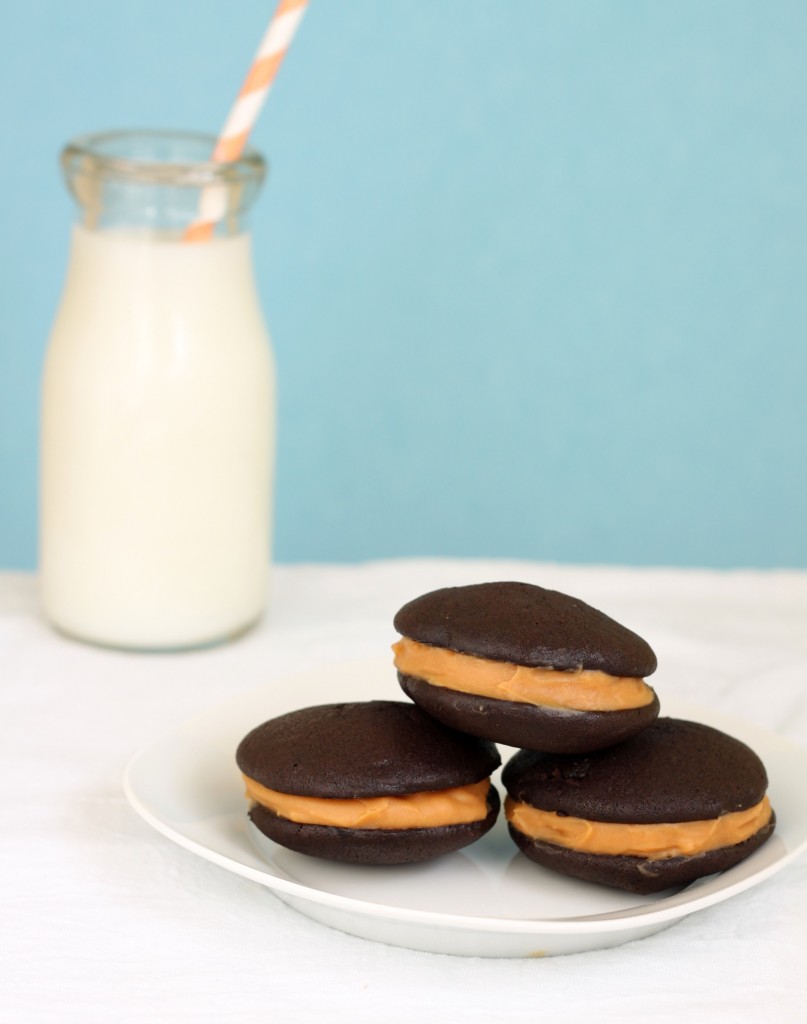 I'd never had a whoopie pie until I made these bad boys. They were so good that I made the chocolate whoopie pies again, filled them with peppermint frosting, dipped them in chocolate, and stuck a lollipop stick in them, creating whoopie pie pops.
I'm not sure I'd even heard of whoopie pies until the last year or two. When I had some leftover salted caramel filling from salted caramel macarons, I couldn't let it go to waste. I kept seeing whoopie pies pop up around the blogosphere, in bakeries and even in Starbucks, which can only mean they're a trendy dessert.
What is a whoopie pie anyway? They're considered cakes, cookies or pies by different people. They consist of cake-like cookies (perhaps originally made with cake batter leftovers) sandwiched around a sweet, creamy filling (often like buttercream frosting). So, they're pretty much like a mini cake that's shaped like a cookie. How did pie get involved?
A fun fact I read on Wikipedia: According to food historians, Amish women would bake these desserts (known as hucklebucks at the time) and put them in farmers' lunch pails. When farmers would find the treats in their lunch, they would shout "Whoopie!"
That's the cutest food history fact I've ever heard. Plus, whoopie pies are a way better name than hucklebucks. That just sounds…unappetizing.
Have you ever had a whoopie pie?
Recipe:
Salted Caramel and Chocolate Whoopie Pies
Note: I used half of the filling recipe to fill salted carmel macarons and half to fill the whoopie pies. If you're only making whoopie pies, double the cookie recipe or halve the filling recipe.
Chocolate Whoopie Pies
Adapted from Joy of Baking
Makes 15-18 whoopie pies
1 3/4 cups all purpose flour
3/4 cup Dutch-processed cocoa powder
1 teaspoon baking powder
1/4 teaspoon baking soda
1/4 teaspoon salt
3/4 cup unsalted butter, room temperature
3/4 cup granulated white sugar
1 large egg, room temperature
1 teaspoon vanilla extract
1/4 cup buttermilk
1/2 cup lukewarm water
Preheat oven to 375℉. Line baking sheet with parchment paper or a silicone baking mat.
In a large bowl, combine flour, cocoa powder, baking powder, baking soda and salt. In a separate large bowl, beat butter and sugar until light and fluffy. Add egg and vanilla extract, beating until combined. Combine buttermilk and water. Turn mixer to low speed and alternately add flour mixture and buttermilk mixture in 3 additions, beginning and ending with flour.
Drop heaping tablespoons (I used a small cookie scoop) of batter onto prepared baking sheets, leaving around 2 inches of space in between them. Using the back of a spoon (or your clean, moistened fingers), smooth the tops of the cookies. Bake for 9-10 minutes, or until the tops of the cookies spring back when lightly pressed. Let cool completely before adding filling.
Salted Caramel Filling
Adapted from Baroque Patisserie
250g heavy cream
350g castor sugar (fine granulated sugar)
10g fleur de sel
350g butter, cut into small cubes
Place cream into a small saucepan. Pour sugar into a medium saucepan and set aside. Cook cream until it just begins to boil, then remove from heat. Begin cooking the sugar, stirring occasionally so it caramelizes evenly. Once the sugar reaches a dark copper color, remove from heat and pour in hot cream, continuing to stir with a spatula.
Let mixture cool to around 115°F. Add fleur de sel and butter, a few cubes at a time, while continuing to stir the caramel. Once all the butter has been incorporated, pour the caramel into a shallow container and let cool in the fridge. Once cooled, beat the mixture until light, shiny and smooth.
If you're not going to fill the cookies right away, you can store the filling covered in the fridge. When ready to use, soften it slightly in a warm water bath, then whisk vigorously until it thickens to a buttercream consistency.
Assembling the whoopie pies:
Pair up cookies of similar sizes. Spread a heaping teaspoon of filling onto the flat side of a cookie and top it with it's matching cookie, pressing gently until filling spreads to the edges.
Store covered in the fridge. Serve cold or at room temperature.
More recipes you'll love: