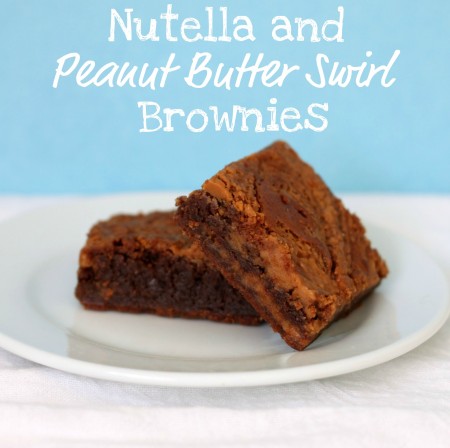 The other day I was looking at my calendar and suddenly realized that I have made four Nutella based recipes in the last couple of weeks. Four! Um, that's a bit excessive, no? Apparently you guys don't think so though – when I broke the news on my Facebook page and asked if that made you happy, almost 60 people "liked" the status.
Let's figure out what happened here. About two weeks ago, I posted cinnamon chocolate cupcakes with Nutella frosting. I share them on Facebook, where Melissa from Best Friends for Frosting declared me the "Queen of Nutella." (Enter subconscious need to live up to that title?) Then I went to Costco, where they sell twin-packs of 26.5 ounce Nutella jars. (Oh Costco, how I love thee.)
Yeah, that explains a lot. Let's just blame Costco.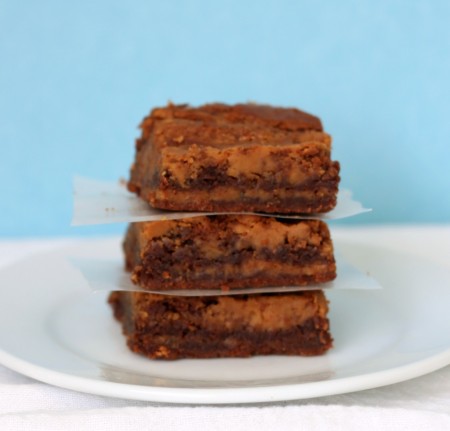 Anyway, on to the brownies. On Facebook I asked you guys to guess what two ingredients I put into brownies and got some fabulous responses: salted caramel & toffee, Nutella & bacon, Nutella & cinnamon, peanut butter & chocolate chips, Andes mints & almonds…yum! I will have to try some of these ideas out later. 20 delicious guesses later and my sister-in-law Annie finally got it: Nutella & peanut butter!
I made Nutella brownies last year, which are dense and fudge-like. When I made them again recently for a fundraiser, I thought I ought to add something to make them a little thicker and less dense. I couldn't resist combining my two favorite nut butters into one pan of marbled deliciousness. This did the trick perfectly – they're thick, fudgy and by swirling dollops of peanut butter filling into the Nutella brownie batter, you get a bit of each flavor in every bite.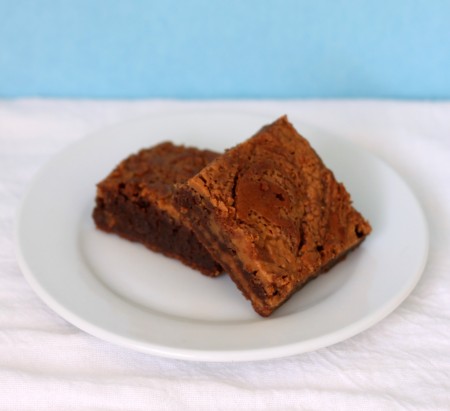 Speaking of Costco – what's the best thing you've ever bought in bulk?
RECIPE:
Nutella & Peanut Butter Swirl Brownies
Nutella brownies:
1/2 cup unsalted butter, softened
1 cup sugar
2 eggs
1 teaspoon vanilla extract
1/4 teaspoon salt
1 cup Nutella
3/4 cup flour
Peanut butter swirl:
4 tablespoons unsalted butter, melted
1/2 cup powdered sugar
3/4 cup smooth peanut butter
1/4 teaspoon salt
1/2 teaspoon vanilla extract
Preheat oven to 350°F and grease an 9″x9″ baking dish.
Make Nutella brownies:
In a large bowl, beat butter until light and fluffy. Add sugar, eggs, vanilla and salt to bowl and mix until thoroughly combined. Mix in Nutella and stir until mixture is creamy. Add flour and stir until just combined.
Make peanut butter swirl:
In a large bowl, stir butter, powdered sugar, peanut butter, salt and vanilla together until smooth.
Prepare brownies:
Pour 1/3 of Nutella brownie batter into prepared pan and spread into an even layer. Drop spoonfuls of peanut butter filling on top of batter, about 1 inch apart. Pour remaining brownie batter on top and gently spread across the pan. Drop spoonfuls of remaining peanut butter filling on top. Using a butter knife, gently swirl the peanut butter filling into the batter by running it lengthwise and crosswise through the layers.
Bake for 35-45 minutes, or until a toothpick inserted in the middle comes out clean (I reduced the temperature to 325°F when the edges got hard but the middle was still uncooked). Let cool completely before slicing.