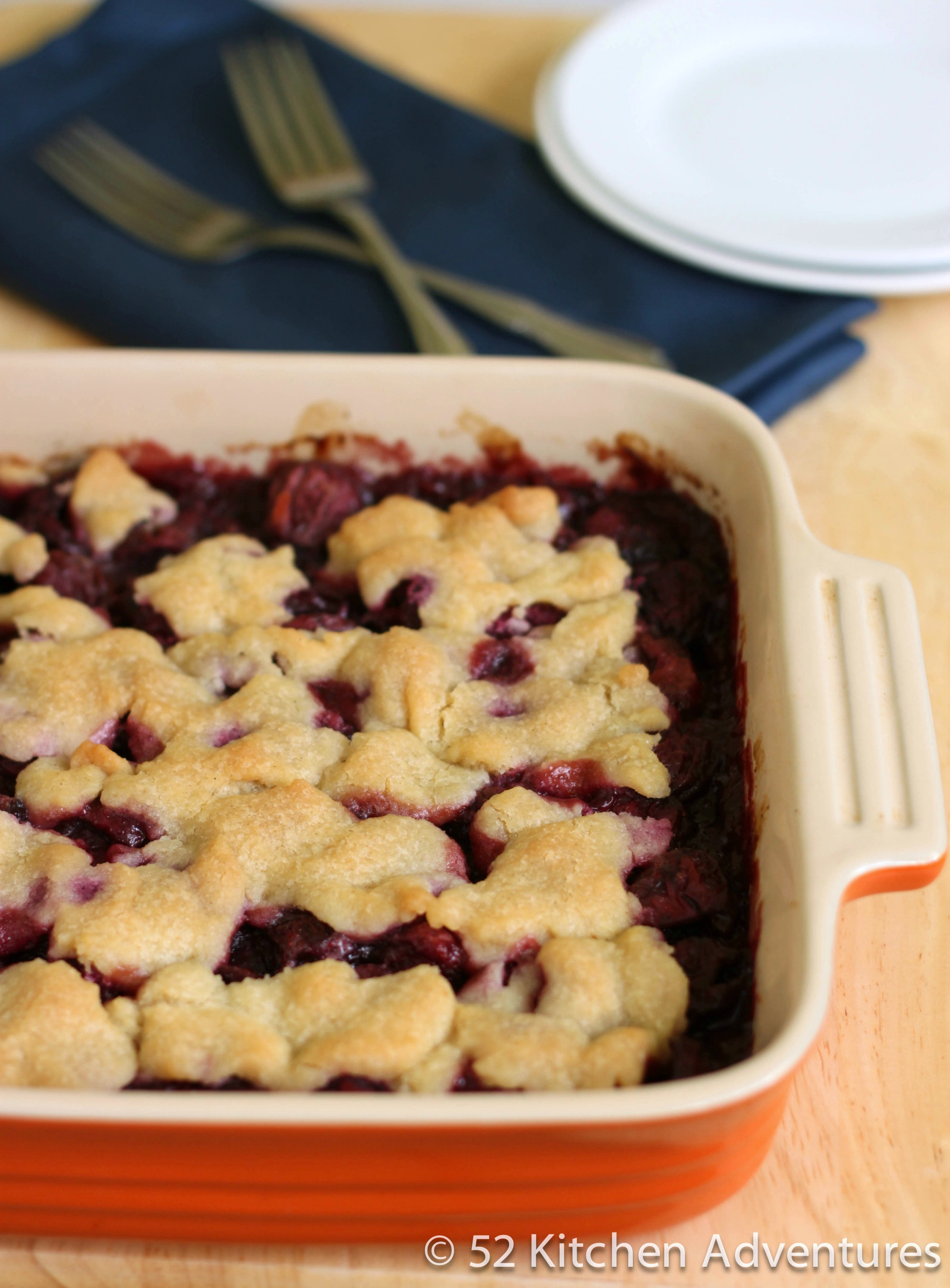 Have you ever had a cooking disaster? Burned sauce, dry meat, over-mixed dough…we've all been there at one point or another. Something I have struggled with is gluten-free baking. The first time I attempted to bake gluten-free, I decided to tackle a pie recipe for Thanksgiving. Oh, and I forgot to mention – this was the first time I'd ever tried making a pie crust from scratch. So, first time pie maker and first time gluten-free baker trying to make a pie crust without any gluten…not a good plan!
If you haven't already guessed, that was a pretty big fail. I don't remember what happened exactly (it was 5 years ago and I think I blocked out the memory) but something disastrous with the dough. All I remember is it was 7am on Thanksgiving day and I had to find an open grocery store and buy a frozen pie crust. I'm not sure what the gluten-free guests did – maybe they just ate the filling (they aren't highly allergic).
That memory of a panicked run to the grocery store on a holiday scarred me and intimidated me to try gluten-free baking again. Since then, I've made flourless cake and flourless cupcakes just to avoid gluten-free flours. It gets so complicated with all the different types of flours -beans, grains, legumes, even grasses- and trying to balance them to make the right mix of protein and starches and all the other variables.
Enter: all-purpose gluten-free flour mixes. I've used Bob's Red Mill All Purpose Gluten-Free Baking Flour
 a couple of times for molten chocolate cookies and chocolate cupcakes. I wanted to do-over my gluten-free pie disaster make a pie with seasonal fresh cherries, but I needed a simple, fast recipe for my busy last week of school. I combined the dough of a pie bar recipe with the filling from a cherry pie recipe and created a bar with a soft, buttery dough filled with a zesty cherry filling.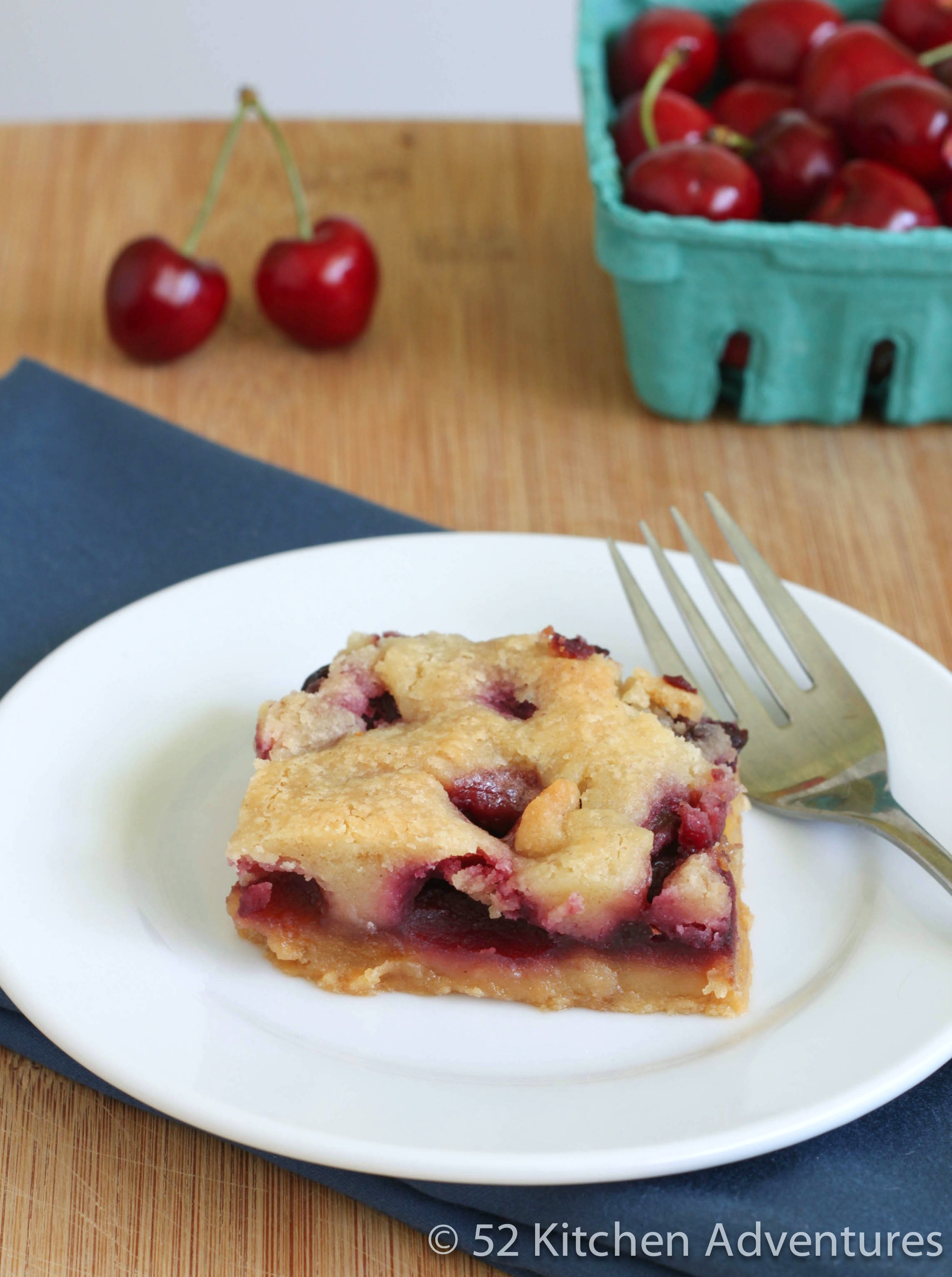 My one problem with these bars is that they fell apart really easily, which made for an unimpressive presentation. Next time I think I'd eat them warm out of the oven with a scoop of vanilla ice cream – might as well get really messy! I would also double the filling so there's two layers of cherries instead of one inside the bars.
I don't have to bake gluten-free very often, just occasionally for family events, so I haven't gotten into making my own flour mixes yet. I recommend checking out Gluten Free Girl and the Chef as well as other gluten-free bloggers to learn more about gluten-free baking.
What was your worst cooking disaster? 
Recipe:
Gluten-Free Cherry Pie Bars
Gluten-Free Pie Crust
Adapted from Huffington Post
Cherry Filling
Adapted from Gluten Free Girl
3 cups cherries, pitted
1/4 cup brown sugar
1 tablespoon lime juice
Zest of 1 lime
Zest of 1 orange
1/2 teaspoon almond extract
2 tablespoons all-purpose gluten-free flour mix
Preheat oven to 350°F and grease or line parchment paper in an 8″x8″ baking pan.
Combine flour, xanthan gum, sugar, and salt in a large bowl. Turn mixer to low and add cubed butter a few pieces at a time until everything is blended into a dough. Reserve around 3/4 cup of dough for topping (place in refrigerator while you bake the crust).
Press the remaining dough into the bottom of the prepared pan, making an even layer across the bottom that's around 1/4″ thick. Prick the dough in several place with a fork, then bake for 18-20 minutes, until the crust is lightly golden. Let cool for 10-20 minutes.
While the crust is baking, prepare the cherry filling. In a large bowl, combine cherries with brown sugar, lime juice, zest, and almond extract. Add flour and mix until everything is evenly coated. Set aside to let filling build flavor.
Once crust is cool, pour filling onto it and spread into an even layer. Add remaining dough by breaking it into small pieces and sprinkling over top. Bake for 45-50 minutes, until top is golden brown. Let cool for at least an hour before slicing (or scoop out with a spoon while still warm). Refrigerate for up to 3 days in an airtight container.
This post was sponsored by Frigidaire. When you share your own do-over moment at Facebook.com/Frigidaire, Frigidaire will donate $1 to Save the Children's U.S. programs. Plus, Frigidaire will help cover the costs for one lucky visitor to win the ultimate do-over.