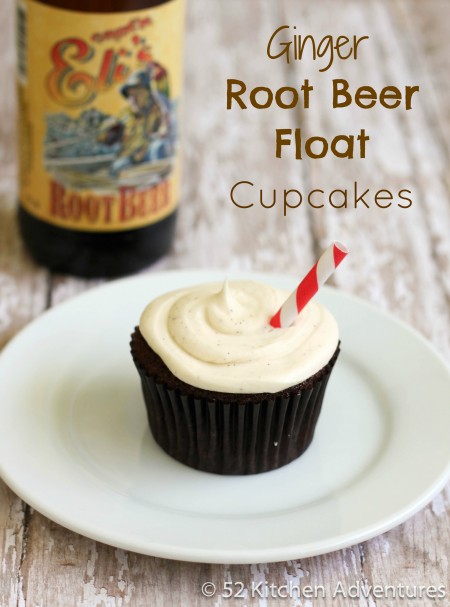 On Sunday, I shared the story of my first baking competition at the Sacramento Chef Challenge. I developed this Ginger Root Beer Float Cupcake recipe to fit the "Hot Summer's Night" theme and also incorporate the secret ingredient, ginger. I tried different combinations of ginger beer, root beer, fresh ginger, and ground ginger, and I found that root beer and ground ginger came together for the best flavor.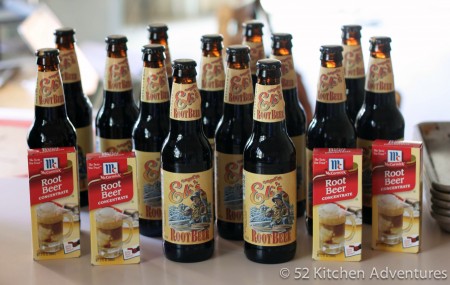 I tried several brands of root beer and settled on Capt'n Eli's Root Beer, which I found locally at Nugget Market. It's sweetened with cane sugar and has wintergreen oil, anise, vanilla and other spices and flavorings, which gives it a strong, spicy root beer flavor. The cupcakes came out extremely moist and light, with a strong root beer flavor at first and lingering ginger aftertaste.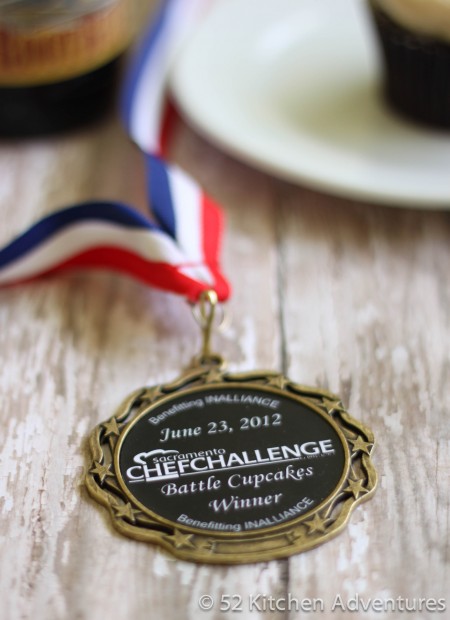 I topped the ginger root beer cupcakes with a vanilla bean buttercream frosting that tastes like vanilla ice cream. This is a winning recipe – literally. The professional judges and 1,000 event attendees voted that this was the top cupcake out of all the contenders, including ones from professional cupcake bakeries.
If you want to read more about my saga of baking 350+ cupcakes in my home kitchen in 2 days, plus how we incorporated the theme into a display (a mini drive-in movie theater for cupcakes), visit my last post Battle Cupcakes: My First Baking Competition.
Recipe:
Ginger Root Beer Float Cupcake
Adapted from Serendipity Mommy
Makes 12 cupcakes
1 cup root beer (I used Capt'n Eli's Root Beer)
1 tsp apple cider vinegar
3/4 cup sugar
1/3 cup canola oil
1/2 tsp vanilla extract
2 1/4 tsp root beer concentrate
1 1/3 cups all purpose flour
3/4 tsp baking soda
1/2 tsp baking powder
1 Tbsp ground ginger*
1/4 tsp salt
Preheat oven to 350°F and line cupcake tin with paper liners.
In a large bowl, combine root beer and vinegar and let stand for a few minutes. Add sugar and oil, then whisk until mixture is slightly frothy. Pour in vanilla extract and root beer concentrate and whisk until combined.
In a medium bowl, mix together flour with baking soda, baking powder, ground ginger and salt. Pour into root beer mixture and whisk until ingredients are just combined.
Fill prepared cupcake tin by pouring 1/4 cup batter into each liner (until 3/4 full). Bake for 15 minutes, or until cupcakes spring back lightly when touched and/or tester comes out clean.
*You can omit the ginger if you prefer a plain root beer cupcake, but I promise it's really good! 🙂
Vanilla Bean Buttercream
Adapted from Cupcake Project
Makes just enough to lightly frost 12 cupcakes – if you like a lot of frosting, double this recipe.
1 stick unsalted butter (1/2 cup), at room temperature
1 1/2 cups powdered sugar
2 tsp vanilla bean paste
Beat butter and powdered sugar together for several minutes until well combined and creamy. Add vanilla bean paste and mix until well combined.
Note: if you beat the frosting for several minutes, it will come together and become creamy. If needed, you can add a tablespoon of milk if it's too thick.
More recipes you'll love: