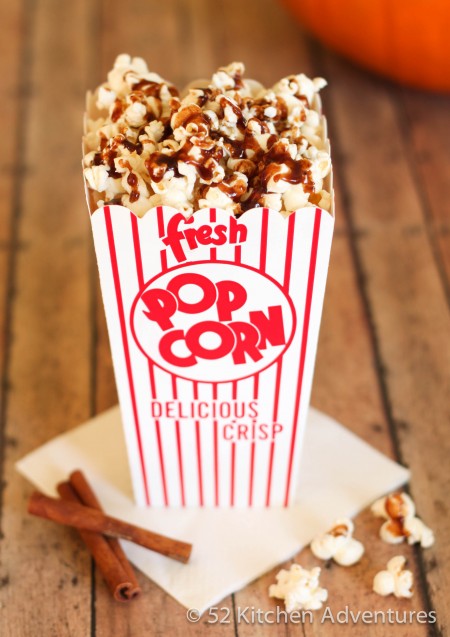 Starbucks has pumpkin spice lattes out. Pumpkins and autumn leaf decorations are all over the stores (not to mention Christmas stuff – hold on, Costco!). I called it last week – it's officially fall. I can't visit a food blog without seeing some mention of pumpkin or other fall flavors and it's given me a craving I had to indulge.
I'm trying to eat healthy these days as I'm in the middle of a Kaia F.I.T. session (a bootcamp style class for women) so baking something didn't seem like the best option. (Lucky for you, I have visitors staying with me this weekend, so I will be baking with pumpkin after all!)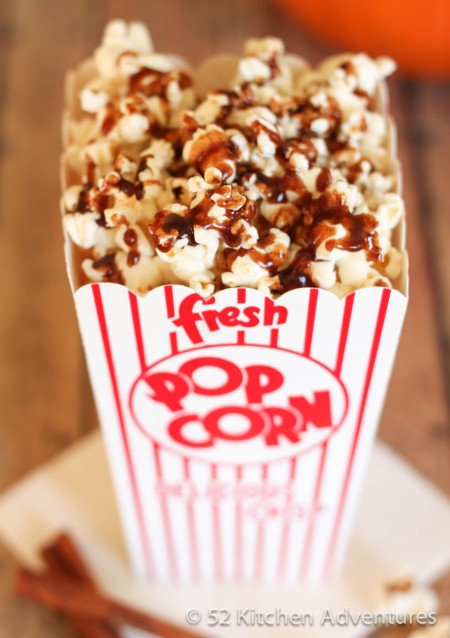 Instead, I opted for a healthier snack: fall spiced popcorn! I made a quick and easy sauce to pour over it with some wonderful fall flavors. Mix maple syrup and pumpkin pie spice (cinnamon, nutmeg, all spice, cloves, ginger – see how to make your own pumpkin pie spice) together with melted butter for a thick sauce that just screams fall.
P.S. If you're looking for more fall/pumpkin recipes, I have so many that they have their own section in my recipe index: Fall Recipes. I kinda have a thing for the fall 🙂
Ingredients
3 Tbsp maple syrup
1 Tbsp butter (I used unsalted)
1 1/2 tsp pumpkin pie spice
1/2 cup unpopped popcorn kernels (around 6 cups of popped popcorn)
Sea salt to taste
Instructions
Combine maple syrup, butter, and pumpkin pie spice in a microwave safe bowl. Cook in microwave for 30-60 seconds, until butter is melted. Stir until all the ingredients are thoroughly combined.
Prepare popcorn in your popcorn maker or on the stove top. Pour popcorn into large bowl. Slowly drizzle the sauce over the popcorn, evenly coating it. Generously sprinkle sea salt on top. Enjoy immediately.
http://www.52kitchenadventures.com/2012/09/13/maple-fall-spiced-popcorn/