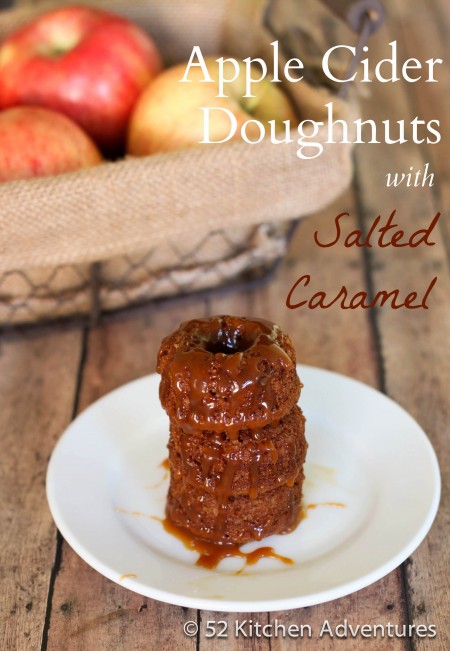 Guys, I'm not what you'd call…very coordinated. Usually this means a spilled glass of water (or wine…). Last week, it meant a sprained ankle. I landed wrong on my foot while I was working out and twisted it badly. Luckily nothing is broken, but I'm stuck on crutches for now, and I'm not sure how much I'll be able to do in the kitchen in the next few weeks.
Lucky for you, I made these bad boys before my accident. As you know, I've been craving fall flavors, which until now has meant pumpkin, pumpkin, pumpkin. Every fall, I take a day trip to Apple Hill, where our first stop is for freshly baked apple cider doughnuts. The trip is still a few weeks away, so I decided to make some similar doughnuts myself.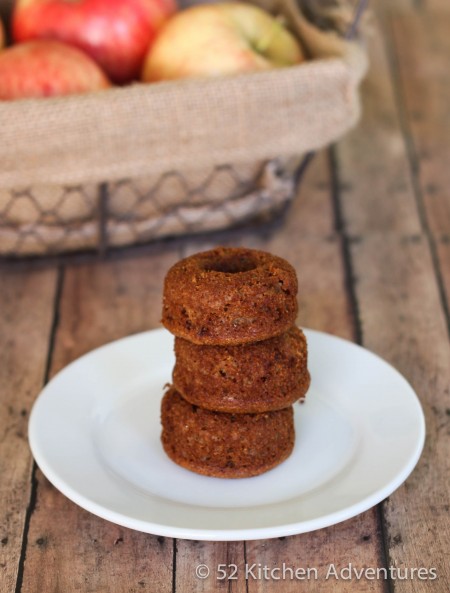 These are baked, not fried, so they aren't quite the same as the ones High Hill, but drizzling them in salted caramel sauce makes them even more tasty. I was feeling lazy, so I bought a jar of Trader Joe's salted caramel sauce, which is similar to this salted caramel spread. It's a little gooey, so I recommend pouring it over the doughnuts right before you eat them. You can also make your own homemade salted caramel sauce.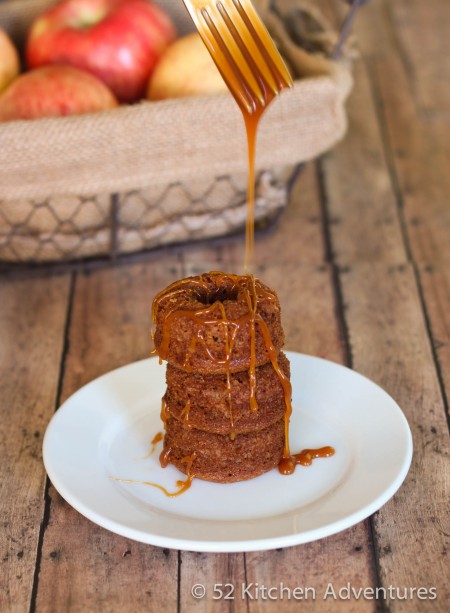 Anyone out there with sprained ankle tips? I'm keeping it elevated, iced, etc…but I'm dreaming about pulling up a tall chair to the counter so I can do some baking. For now though, I'm mostly stuck on the sofa and feeling very thankful for Netflix!
And don't worry, the blog won't go dormant. I'm working on a post for later this week rounding up the best recipes for unique and fun fall treats (if you follow me on Pinterest, that's why I pinned so many yesterday). Next week I have some ideas in the works and hopefully I will be able to bake again soon!
Apple Cider Doughnuts with Salted Caramel
You can make these in a muffin or mini muffin tin if you don't have a doughnut pan
Ingredients
2 cups white whole wheat

or

all-purpose flour
1 1/2 teaspoons baking powder
1 1/2 teaspoons baking soda
1/2 teaspoon salt
2 teaspoons ground cinnamon
1 large egg, beaten
2/3 cup packed brown sugar
1/2 cup apple butter
1/3 cup pure maple syrup
1/3 cup apple cider
1/3 cup plain nonfat yogurt
3 Tablespoons canola oil
Instructions
Preheat oven to 400°F and coat a doughnut pan with non-stick spray.
In a medium bowl, combine flour, baking powder, baking soda, salt, and cinnamon.
In a large bowl, combine egg, brown sugar, apple butter, maple syrup, apple cider, yogurt, and oil.
Add the dry ingredients to the wet ingredients and mix until just combined. Fill cavities in pan each about 3/4 full (if they're completely full, they won't have holes).
Bake 10-12 minutes, until the tops spring back when touched lightly. Let cool slightly, then remove from pan. Drizzle with salted caramel sauce just before eating.
Notes
http://www.52kitchenadventures.com/2012/10/01/apple-cider-doughnuts-with-salted-caramel/
More recipes you'll love: