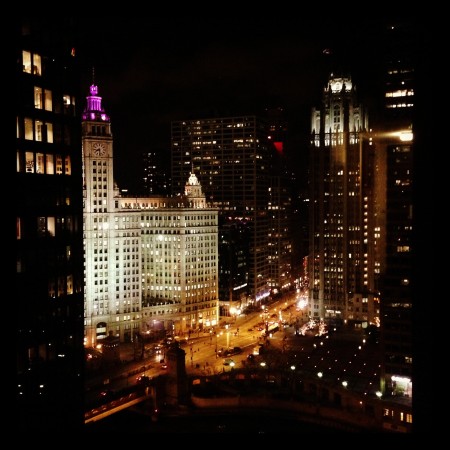 The view from my Hyatt Regency Chicago room – simply gorgeous!
I spent last weekend in the Windy City, learning all about the business of blogging at Bloggy Bootcamp: Brand Edition. It skipped over the basics and dove into real, honest to goodness information about working with brands, PR reps, how to make money freelancing, and much more. In one word: best blogging conference ever! Oops, that was four words. But they were well earned by SITS Girls, the organizers of Bloggy Boot Camp, who brought together experts in PR, social media, blogging, and more to educate us. I can't express how much valuable information I learned–I'm still feeling overwhelmed by it all five days later. If you're a blogger that's been working at it for a while and wants to take blogging to the next level, I recommend attending the next BBC: Brand Edition. Actually, more than recommend–it's a must for anyone who is serious about blogging or using a blog as a portfolio to secure other jobs.
The conference was two days (Friday and Saturday) so I stuck around until Sunday night to get in some sight seeing. The most important thing you can do while sight seeing is eating (right?), especially when a city is known for certain foods. I'd never had real deep dish pizza before, nor a Chicago style hot dog. Those two were definitely on my list, and then I was told I had to try a certain popcorn place too.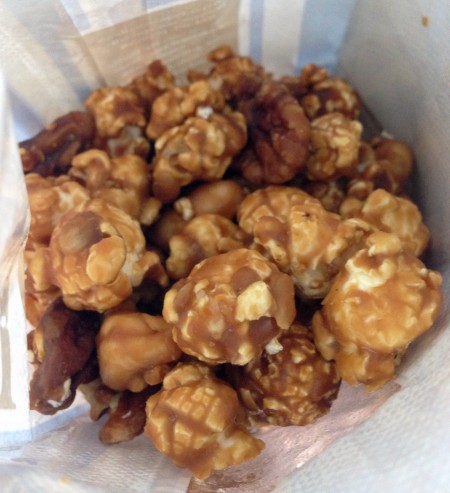 Garrett's CaramelCrunch Popcorn
At the conference, I met the sweet and funny Hillary from Because My Life is Fascinating (and discovered she lives minutes from where I work!). She told me I had to try Garrett's Popcorn…and then convinced me to bring home a bag for her too, since she had to leave early in the morning. I got to Garrett's 25 minutes before it opened and there was already a line. Luckily, Susan from Wild Life in the Woods accompanied me and we had a fantastic time getting to know each other (one of the best perks of conferences – meeting the wonderful people behind blogs!).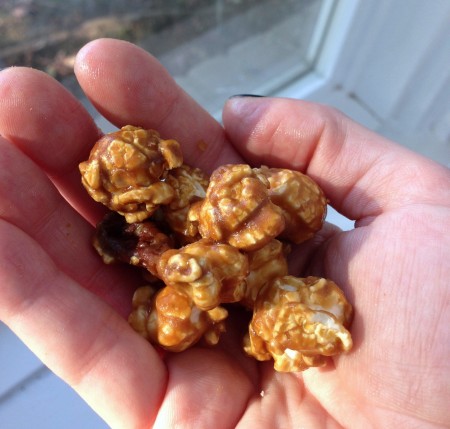 So, I waited over a half hour and then toted a bag of popcorn all over the city for the rest of the day, onto an airplane and back to the West Coast. Was it worth it? YES! It was so good. I totally get why Hillary and her husband wanted some so badly. I got CaramelCrisp with pecans and cashews and each kernel was coated with a crunchy, sweet shell of caramel. Even the nuts were coated with the caramel. Russ and I devoured the bag in one sitting and I immediately wish I'd bought a bigger size! This is something I have to try recreating at home.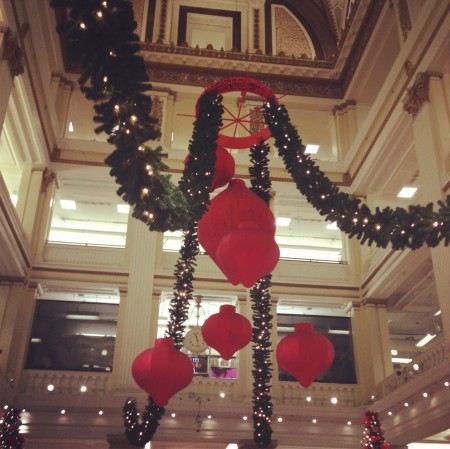 After Garrett's, I parted ways with Susan–she went to meet a childhood friend and I went off to wander downtown Chicago. My first stop was Macy's, which was decorated for Christmas. It was festive and beautiful (I love the holidays!). They had a large Martha Stewart section that made me drool a little. I love her beautiful, functional kitchen products. The cheerful display of colorful bowls particularly caught my eye, and I love these bunny towels and pot lids! The bunny actually looks a lot like my bunny Cinnamon, with upright ears (she has lop ears).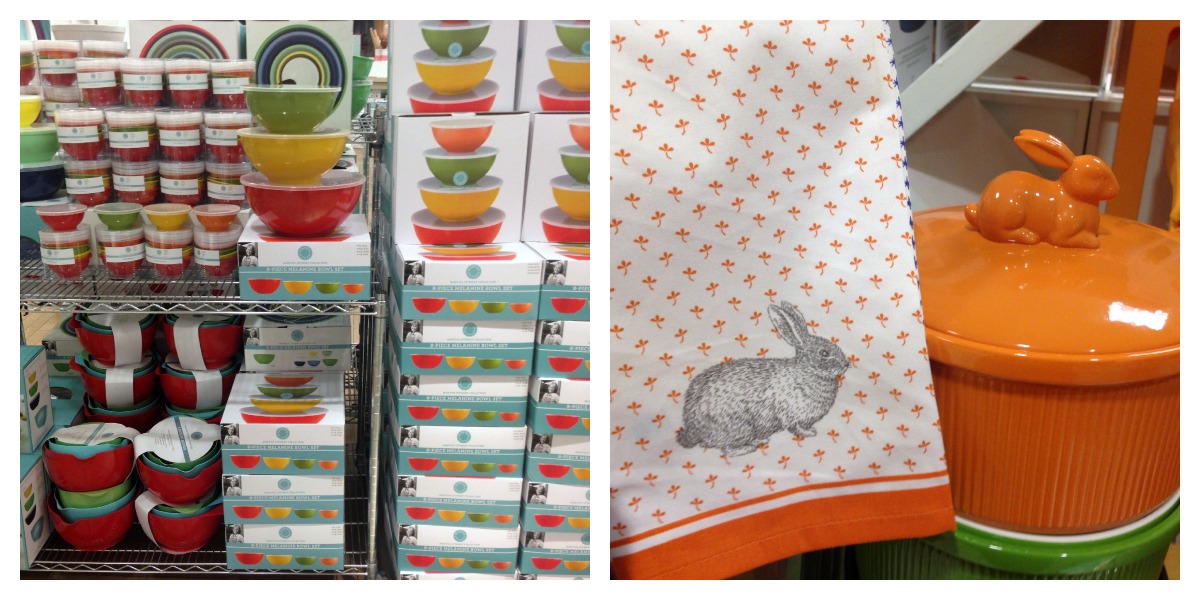 After working up an appetite with some shopping, I walked over to Giordano's for some of their famous deep dish stuffed pizza. I'd never had true Chicago style pizza before. I've never seen anything quite like it in California, or anywhere else for that matter. I wasn't really sure what to expect. I mean, I love thin crust pizza, which is sort of the opposite of this. And sauce on top? What is up with that?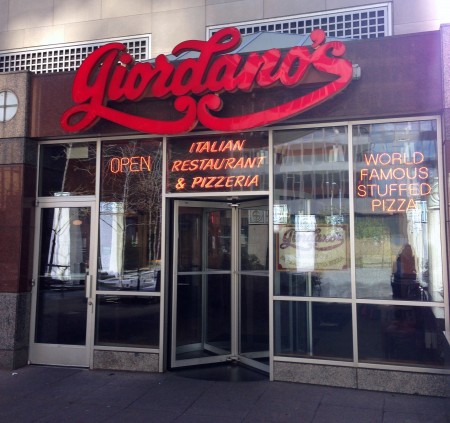 Okay, so that's what I was thinking before I ate it. One bite of that soft, doughy interior and my inner monologue shut up. If you love carbs, you'll love this pizza. It's like a thick hunk of soft bread topped with all the classic pizza flavors, and the outside is perfectly crunchy and crisp. I don't usually eat pizza crusts (I know, it's a crime), but I devoured this entire thing. That's how you know the pizza dough is good!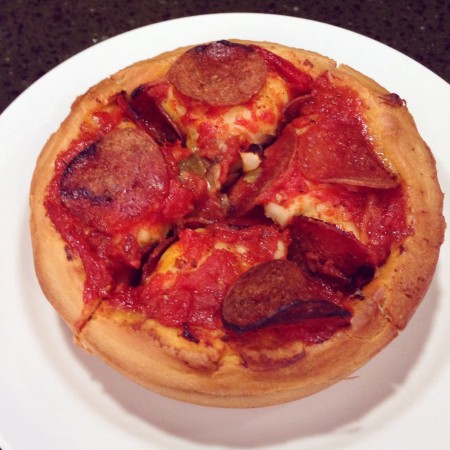 I got the Chicago classic with pepperoni, sausage, green peppers and onions. Word to the wise–they will make a personal size if you ask (it's not on the menu). I barely got through this on my own and I was pretty hungry. If you want to try multiple combos or are by yourself, get the personal size.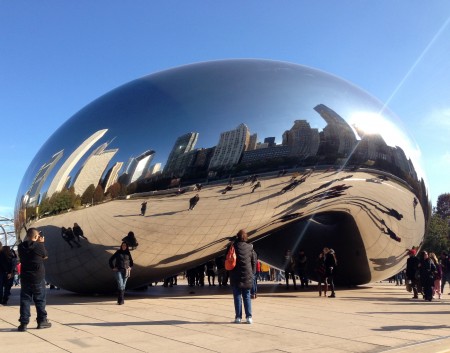 After stuffing myself full of pizza, I walked waddled over to Millenium Park and saw the famous Cloud Gate. It's pretty spectacular in person. I love how it distorts the skyline and kind of looks like a giant snow globe.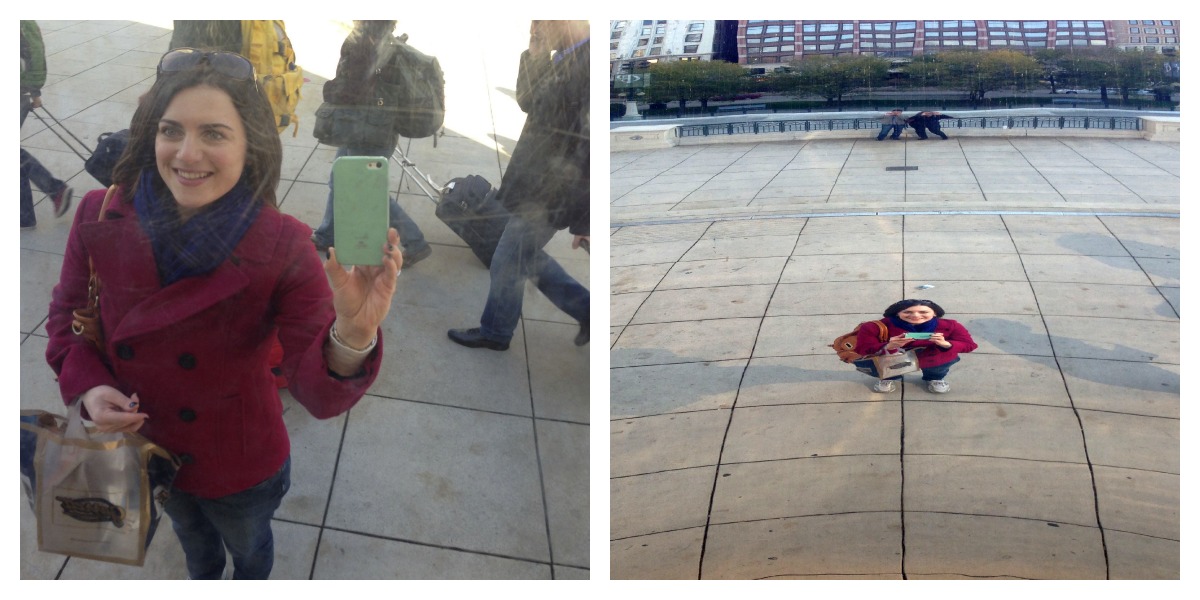 I took the requisite self-portraits, naturally. On the left: With my bag of Garrett's popcorn, of course. Also, note my inability to look in the right direction. I think I'm looking at myself instead of the camera (oops). On the right: If you walk into the arch in the sculpture, you can get some funhouse mirror effects.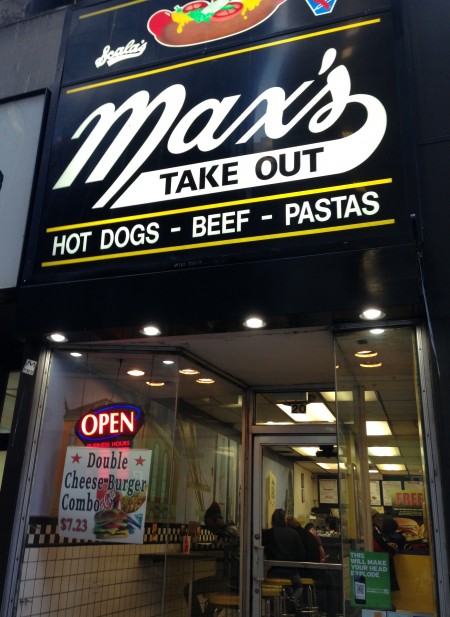 I walked around Chicago a ton after that, shopping, checking out the buildings, and making it as far as the lobby of Willis Tower (formerly Sears Tower), the tallest building in the U.S. The wait was 1 1/2 hours to go to the top, so I opted instead to venture back into the shopping district to do some more browsing and grab one last classic Chicago eat before I had to go to the airport. I knew that hot dogs were big in Chicago, and vaguely knew there was something different about a Chicago style hot dog, but this wasn't quite what I was expecting!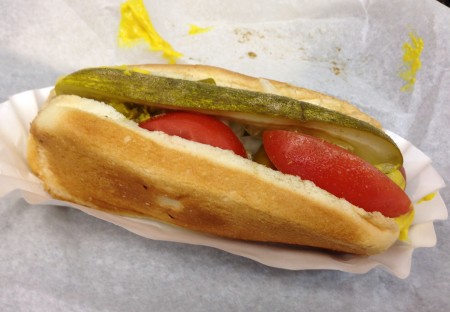 Doesn't it look like a sandwich or something? I got this at Max's Take Out, and ordered everything on it to get the full experience. That's onions, peppers, pickles, tomatoes, relish, mustard, and celery salt on top. I wasn't a huge fan of the cold tomatoes and pickles on my warm hot dog, so I took those off and ate them separately. Everything else came together perfectly with the hot dog. The peppers had a nice kick, the onions were crunchy, and mustard is a classic hot dog flavor. I didn't really notice the celery salt but it probably enhanced all the flavors.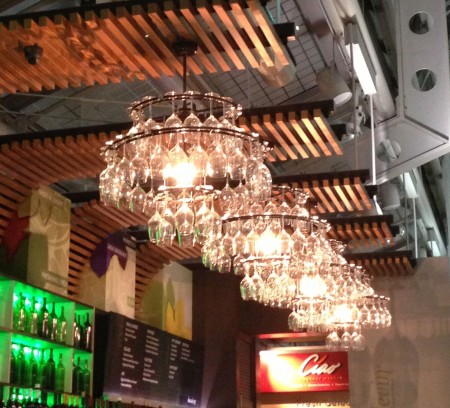 After my day in Chicago trying all the classic foods, I headed back to O'Hare to fly home. I came across these cool wine glass chandeliers at a bar there, and couldn't resist taking a photo. Aren't they just so very Pinterest-y?
Have you ever been to Chicago? Did I try all the classic Chicago eats or did I miss something? I'd love to spend more time in this fabulous city in the future, so please share your recommendations!