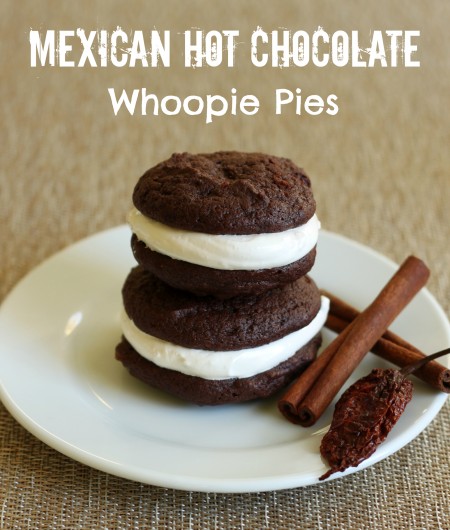 The holiday baking season is here! For most people, that means cookies. I've never had a traditional cookie recipe that I make every year because I love to try new recipes and I'm always baking up different things. So when I was asked to share a special holiday cookie and memory with you for a very neat Cardstore campaign (more on that in a minute), I decided to come up with a fun new cookie for this holiday season.
Have you ever had Mexican hot chocolate? It has plenty of cinnamon and a kick of spice too. I wanted to take those flavors and create an unique cookie. I ended up making whoopie pies in order to highlight all the yummy flavors of spicy hot chocolate.
The day after Thanksgiving was a very relaxing day spent at home, just baking and hanging out. I usually bake by myself, but I took advantage of Russ being home with me and roped him into helping. We had fun tasting the cookie dough and slowly adding tiny bits of spice until it hit just the right amount. My favorite part had to be making the marshmallow filling for the cookies. Hot chocolate isn't complete without marshmallows, right? We made a DIY marshmallow fluff recipe and it was so cool to watch a bowl full of egg whites turn into fluffy marshmallow goodness.
Two of our dearest friends came up from San Francisco to spend the rest of the holiday weekend with us. We went to a Christmas tree farm and cut down our own tree, played board games, and just spent some quality time together. Of course, this included eating plenty of food, including these tasty whoopie pies. We all thought that the spice was just right, except that the chili powder I used had a bunch of other ingredients in it (always read your ingredients lists!). I had thought something was a tad off, but couldn't put my finger on it. Hannah tasted cumin right off the bat and pointed it out. So just make sure you're using pure chili powder!
Other than that, the cookies were a hit. They're rich, moist, and super chocolaty, and the marshmallow fluff is the perfect filling–it stays together well, so it doesn't fall out or get messy when you eat them.
Now, here's the catch: I don't have the recipe for you today. If you want it, all you have to do is leave a comment below and I'll mail you a card featuring the recipe! Plus, Cardstore will share a coupon code for 75% off holiday cards so you can whip up a special batch of cards for the people you love. Just follow these simple steps:
Step 1: Leave a comment below sharing your recipe for a happy holiday
Step 2: When the registration box appears, complete the form
Step 3: That's it! My recipe and a coupon code from Cardstore will be sent to you by mail
I'd love to send each one of you a holiday card, so please comment if you'd like one. Happy holiday baking!
This is a sponsored conversation written by me on behalf of Cardstore. The opinions and text are all mine.
More recipes you'll love: