Edited 12/10/12: The auction is now live! Go bid on my Chocolate Candy Cane Blossoms!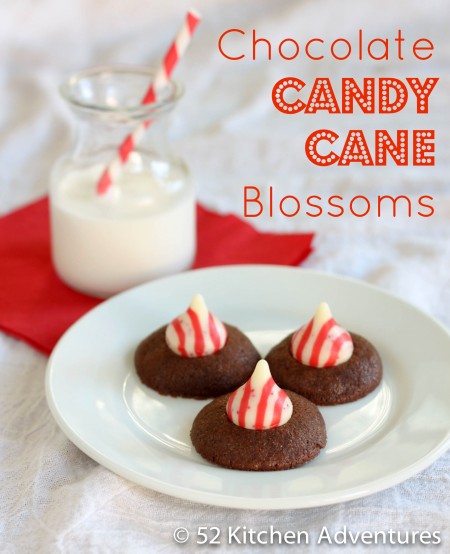 Have you ever had Peanut Butter Blossoms? A lot of people make them around the holiday season. They're simple peanut butter cookies with a Hershey's Kiss stuck right in the middle. They make so many fun flavors of Hershey's Kisses now, and when I ran across the seasonal Candy Cane Kisses, I had to pick up a bag and make something with them. A chocolate candy cane version of blossoms is the perfect holiday cookie for this peppermint chocolate lover.
If you love chocolate peppermint as much as I do, you're in luck! I am donating 2 dozen of these delicious cookies to a holiday auction at Life Tastes Like Food. She is raising funds for a friend, Lori, who was diagnosed with leukemia on October. You can choose to have 50% of the proceeds to go to help Lori pay for medical expenses and 50% to go to The Leukemia & Lymphoma Society, or 100% to go to LLS.
The auction will be live on Monday through Thursday next week. I'll send out an email to subscribers and post to my Facebook and Twitter to remind you all. You don't want to miss out on this amazing auction–besides my cookies, there will be over 40 items available for bidding, including something from Bakerella and Smitten Kitchen!
Chocolate Candy Cane Blossoms
Ingredients
1 cup (2 sticks) butter, softened
1 1/2 cups sugar
2 eggs
2 teaspoons vanilla extract
2 cups all-purpose flour
1/2 cup good quality unsweetened cocoa powder (my favorite is Sharffen Berger)
1/2 teaspoon salt
Instructions
Place Hershey's Candy Cane Kisses into freezer (otherwise they will melt when placed on hot cookies).
In a mixer, beat butter, sugar, eggs, and vanilla until well combined and fluffy.
In a large bowl, combine flour, cocoa powder, and salt. Gradually add the dry ingredients into the butter mixture and mix until just blended.
If needed, cover and refrigerate for 30-60 minutes, until the dough is firm enough to handle.
Heat oven to 350°F and line cookie sheets with parchment paper or silicone baking mat.
Measure out a heaping tablespoon of dough and roll into a ball. Repeat until you run out of dough, placing them 1 inch apart on the prepared cookie sheets.
Bake 8-10 minutes, until set. Remove from oven and place onto a cooling rack. Let cool for 2-3 minutes, then place a frozen Hershey's kiss onto the center of each cookie and lightly press down.
Notes
You can easily cut this recipe in half if you'd prefer only 2 dozen cookies.
http://www.52kitchenadventures.com/2012/12/07/chocolate-candy-cane-blossoms/
More recipes you'll love: