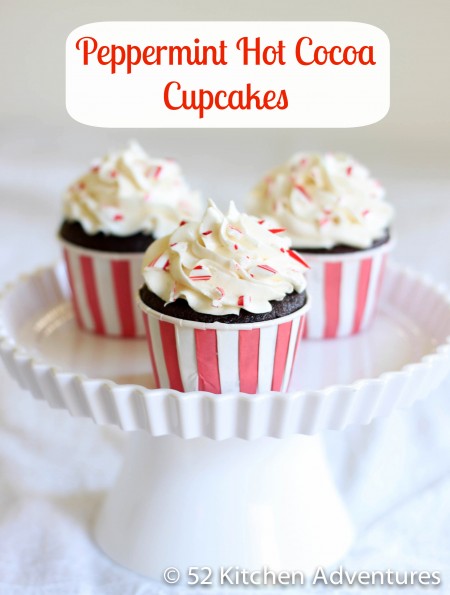 It may seem like any old boring Monday, but I've got something to put a smile on your face. Today I'm participating in a Holiday Treat Party hosted by Molly at CAKEfyi. Click over to her site and you'll find tons of delicious holiday treats from a bunch of different blogs, plus a fun giveaway! Speaking of giveaways, today is the last day to enter my $50 Amazon gift card giveaway, so get on it if you haven't yet!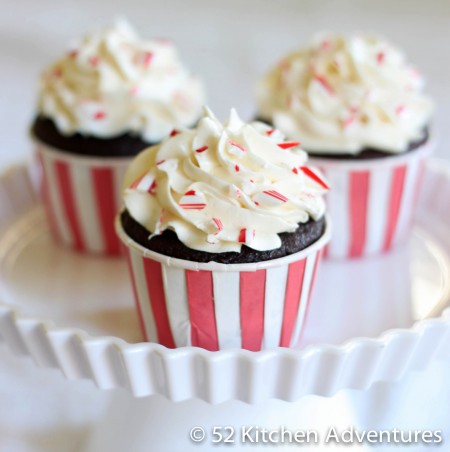 I'm excited to share these cupcakes with you, because not only are they really good, but this was my first time making Swiss meringue buttercream. It takes a little more time, effort, and special equipment than regular American buttercream, but the results were well worth it. The frosting is like silky, fluffy clouds on top of the cupcakes, and it has just the right amount of peppermint. I garnished some with crushed candy canes but they're delicious without them too.
You'll need a candy thermometer and either a stand mixer or electric hand mixer to make the frosting, and it is challenging. A lot of people end up with a soupy mess, but if you just keep beating it (this is where having a stand mixer really helps) it will come together.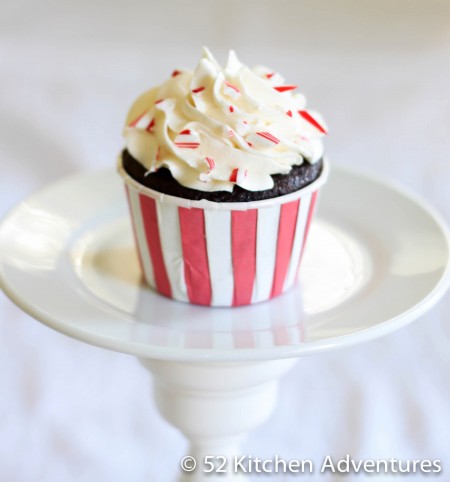 The cake itself is very moist and has a rich chocolate peppermint flavor. The coffee enhances the chocolate, but it doesn't make these taste like coffee at all, so don't worry–they are definitely hot cocoa flavored!
Peppermint Hot Cocoa Cupcakes
Ingredients
Peppermint Hot Cocoa Cupcakes:

2 2/3 cups all purpose flour
2/3 cup unsweetened cocoa powder
2 tsp. baking powder
1 tsp. baking soda
½ tsp. salt
1 cup milk

(I used 2%)

1 cup strong brewed coffee
1 teaspoon peppermint extract
1 cup (2 sticks) unsalted butter, at room temperature
1 cup granulated sugar
1 cup light brown sugar, packed
2 large eggs

Peppermint Swiss Meringue Buttercream:

6 large egg whites
1¾ plus 2 tablespoons granulated sugar
1½ cups (3 sticks) unsalted butter, at room temperature
4 teaspoons peppermint extract
1 teaspoon vanilla extract
Instructions
To make the cupcakes:
Preheat the oven to 350° F and line 2 cupcakes pans with paper liners.
In a large bowl, mix the flour, cocoa powder, baking powder, baking soda, and salt together.
In a small bowl, combine the milk, coffee, and peppermint extract.
Beat the butter and both sugars together until light and fluffy. Add eggs, one at a time, mixing in between until incorporated.
Gradually add dry and liquid ingredients to butter mixture, beginning and ending with the dry ingredients and mixing in between each addition.
Fill prepared cupcake pans 3/4 full with batter. Bake 18-20 minutes, or until a toothpick inserted in the center comes out clean.
To make the frosting:
Place a heatproof bowl over a small saucepan of simmering water. Combine egg whites and sugar in bowl and whisk frequently, until they reach 160°F.
Transfer mixture to a stand mixer fitted with whisk attachment and beat on medium-high until stiff peaks form and mixture has cooled considerably (around 10 minutes).
Reduce the speed to low and 2 tablespoons of butter at a time, mixing in between until incorporated. If the frosting becomes soupy or curdled, increase speed to medium-high for 3-5 minutes, or until smooth again.
Add both extracts and stir until just combined.
http://www.52kitchenadventures.com/2012/12/10/peppermint-hot-cocoa-cupcakes/
More recipes you'll love: