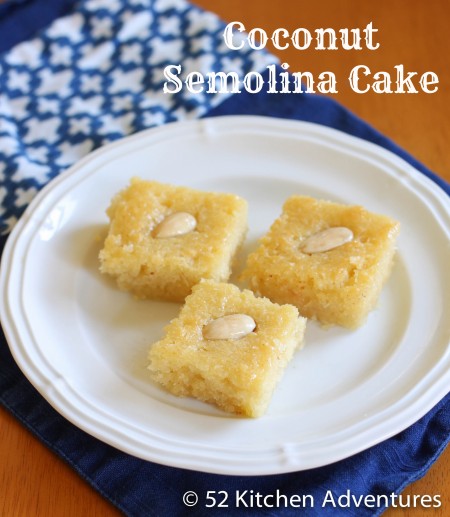 Today I have a unique cake recipe, plus a cookbook review for you-but that's not all. This is the beginning of an innovative Kitchen PLAY Cookbook Tour for a new cookbook, An Edible Mosaic, by Faith Gorsky. I'm joining 5 other food blogs, Bibberche, Kitchen Concoctions, MarocMama, Savory Simple, and The Spiced Life, and together we're hosting a series of blog posts and events to highlight this wonderful Middle Eastern cookbook.
We hope you'll join us-there are a lot of ways you can take part in the fun: try the recipes with us, comment on our posts, take part in our Cook, Tweet and Eat on January 12th, tell your readers, fans and followers about An Edible Mosaic and this Kitchen PLAY program, add An Edible Mosaic to your wish list (or just go out and buy it!). I'll let you guys know when things are happening over the next few weeks.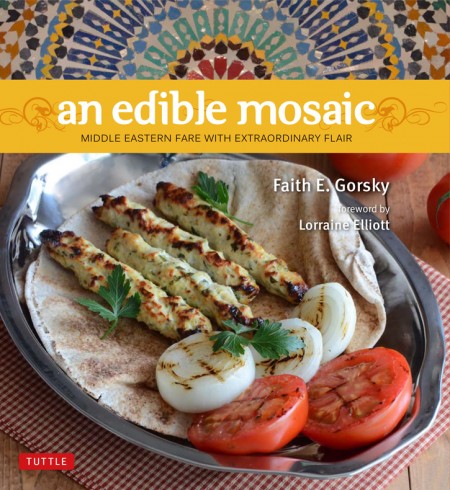 An Edible Mosaic is filled with over 100 Middle Eastern recipes, and includes every single type of dish you could thing of, from salads to desserts, and everything that falls in between, including interesting drinks, vegetarian dishes, and others that include pretty much every kind of meat. Faith includes lots of tips and techniques, so the book feels like a well-rounded introduction to Middle Eastern cooking. While the recipes are authentic, she has adapted them to fit modern cooking and made them more approachable.
What is more impressive is that Faith didn't begin exploring Middle Eastern cooking until she was adult, after marrying her Syrian husband. Her mother-in-law took Faith under her wing and taught her about cooking over a 6 month period. Then Faith began her blog, which further sparked her interest and passion for the Middle Eastern cooking, and continued to deepen her knowledge about the food and culture of her husband's family. Isn't that a wonderful story?
I had the pleasure of trying out her Coconut Semolina cake, which was much different from the cakes I usually make. The semolina adds a unique texture to the cake. It makes the cake very dry, so you pour a scented sugar syrup on it while it's still warm. It soaks into the cake, creating a sweet, moist, dense treat. I enjoyed the texture of this cake; it was rustic and satisfying.
Visit my fellow Cookbook Tour bloggers to see 5 more delicious recipes from An Edible Mosaic. We have 2 appetizers, 2 entrees, and 2 dessert recipes for you, so you can make an entire Middle Eastern feast by mixing and matching your favorites:
Ingredients
Coconut Semolina Cake (Harissa):

2 batches Scented Sugar Syrup (recipe below)
1 tablespoon tahini, to grease the baking pan
2 cups (305 g) fine semolina flour
2 teaspoons baking powder
½ cup (115 g) sugar
½ cup (115 g) unsalted butter, room temperature
1½ cups (375 ml) milk
1 cup (75 g) desiccated, unsweetened coconut
3 tablespoons blanched almonds

Scented Sugar Syrup (Qater):

1 cup (225 g) sugar
½ cup (125 ml) water
½ tablespoon fresh lemon juice
½ tablespoon rose water or orange blossom water
Instructions
Prepare the Scented Sugar Syrup:

Add the sugar, water and lemon juice to a medium, thick-bottomed saucepan, and bring to a boil over medium heat, giving the pan an occasional swirl and skimming off any foam on the surface.
Turn heat down slightly and boil 2 minutes (if you want thin syrup) and up to 5 minutes (if you want thick syrup), swirling the pan occasionally. (The syrup will thicken more upon cooling.)
Turn off heat and stir in the rose water or orange blossom water; cool to room temperature, then use.

Prepare the Coconut Semolina Cake

: Preheat oven to 375°F (190°C); brush the tahini on the inside of a 10-inch (25 cm) round baking pan.
Whisk together the semolina, baking powder, and sugar in a large bowl. Stir in the butter and then the milk until combined, and then fold in the coconut.
Transfer the batter to the prepared pan and spread it out evenly; let it sit for 10 minutes.
Score the batter into 1-inch (2.5 cm) square or diamond shapes with a sharp knife, periodically dipping the knife in hot water and drying it off before continuing to score the batter; place 1 almond in the center of each diamond.
Bake until the sides and top are golden brown, about 30 minutes. (If the sides are brown but the top isn't, you can broil the cake for a couple minutes to brown the top.)
Once out of the oven, cut the cake along the lines you scored. Slowly pour the cooled syrup onto the hot cake. Let the cake sit at room temperature 2 hours to absorb the syrup before serving.
http://www.52kitchenadventures.com/2012/12/18/coconut-semolina-cake/