Updated 12/29/12: If you missed my appearance on Fox40, here's the clip of me making these cheesecakes in a slow cooker!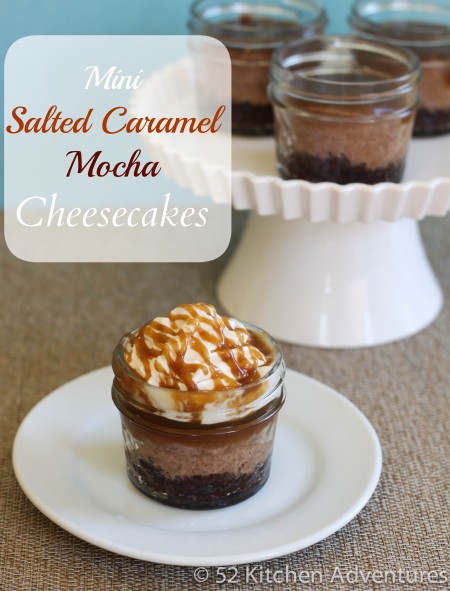 Today I'll be appearing on the Fox 40 morning show for a live cooking segment! I've never done live TV before, so I'm a little nervous, but even more excited. I'll be demonstrating how to make these awesome Mini Salted Caramel Mocha Cheesecakes in a slow cooker. Watch the livestream at 9:20am and 9:55am PST to catch me in action.
If you're visiting after seeing me on Fox 40, welcome! I hope you'll take a moment to check out my recipe index, browse through my many dessert recipes, slow cooker recipes, and all other types of recipes. If you like what you see, sign up to get occasional emails with new recipes, like me on Facebook, and follow me on Twitter and Pinterest.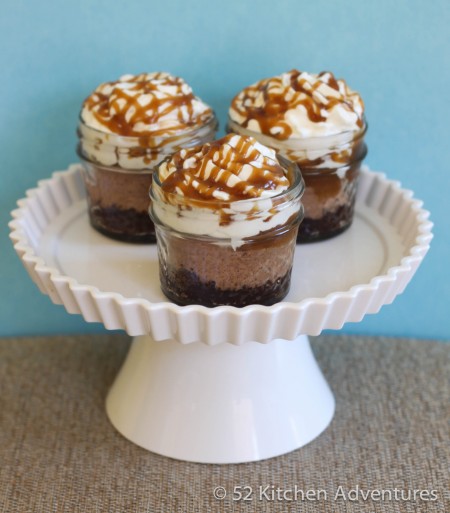 You might recognize these cheesecakes from this post in November, when I announced the recipe was a finalist in a national Crock-Pot contest. (I ended up coming in third!) Since then, I've tried it out in the oven as well, so I'm excited to show you this updated recipe that has directions on how to bake them both ways. Enjoy!
Mini Salted Caramel Mocha Cheesecakes
These adorable mini mocha cheesecakes are topped with an easy 7-minute salted caramel sauce. Bake them in a slow cooker or in the oven, whichever you prefer.
Ingredients
Mocha cheesecake:

1 1/2 cups ground chocolate graham crackers or chocolate wafers

(I used chocolate Teddy Grahams)

1/2 cup (1 stick) unsalted butter, melted
2/3 cup sugar
2 8-oz. blocks of cream cheese, softened
2 large eggs
2 oz. bittersweet chocolate, melted and slightly cooled
1 teaspoon pure vanilla extract
1 teaspoon instant coffee
1/4 teaspoon salt

Salted caramel:

4 tablespoons unsalted butter
1 cup brown sugar, packed
1/2 cup heavy whipping cream
3/4 teaspoon sea salt or Kosher salt
1 tablespoon pure vanilla extract
Whipped cream for serving (optional)
Instructions
To make mini mocha cheesecakes:

Lightly coat 12 4-oz. jars with non-stick spray. Mix ground chocolate crackers or wafers with melted butter and a pinch of salt. Add a tablespoon plus a teaspoon of crust mixture to each jar. Press down crust into an even layer. Repeat with remaining jars and set aside.
In a large bowl, beat sugar and cream cheese until smooth. Add 1 egg at a time, mixing in between. Add melted chocolate, vanilla, instant coffee, and salt, and mix until combined. Pour filling into each jar until 3/4 full.

Bake in slow cooker:

Place jars into a large slow cooker. Carefully pour hot water around the jars until they are 3/4 submerged. Cover and cook on high for 1 to 1 1/2 hours (since slow cooker temperatures vary, check after 1 hour). When done, they should feel solid to the touch and not jiggle. Carefully remove jars from slow cooker and refrigerate for 2 hours.

Bake in oven:

Preheat oven to 350°F. Place jars into a large roasting or baking pan. Carefully pour hot water around the jars until they are halfway submerged. Bake for 20-30 minutes. When done, they should feel solid to the touch and not jiggle. Remove pan from oven, carefully transfer jars from pan and refrigerate for 2 hours.

To make salted caramel:

add butter, brown sugar, heavy whipping cream, and salt to a medium saucepan. Simmer over medium-low heat for 7 minutes, whisking occasionally. Mix in the vanilla and remove from heat. Pour caramel into a jar, then refrigerate until cold.
When ready to serve, briefly microwave caramel sauce until pourable, then pour some over each cheesecake. Top with whipped cream and more salted caramel sauce if desired.
http://www.52kitchenadventures.com/2012/12/28/mini-salted-caramel-mocha-cheesecakes/