Update 1/8/13: RSVP for the Cook, Tweet, & Eat event here.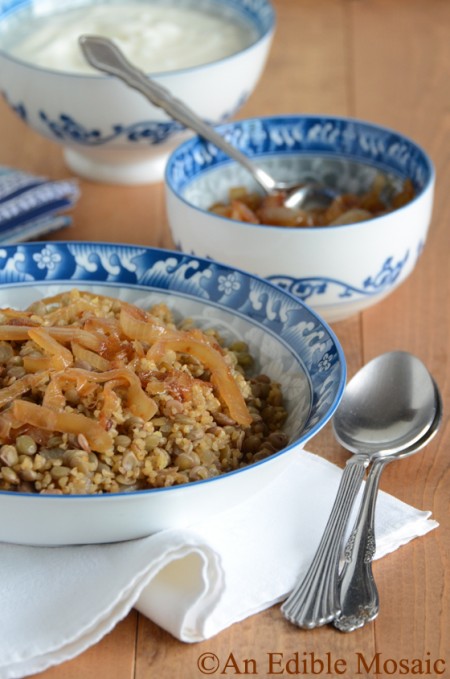 Photo credit: Faith Gorsky
A few weeks ago, I shared this rustic Coconut Semolina Cake as part one of an innovative Kitchen PLAY Cookbook Tour for a new cookbook, An Edible Mosaic, by Faith Gorsky. This week, we are having our first interactive event: join us this Saturday, January 12, at 4 PM EST for Cook, Tweet, & Eat!
5 other food bloggers and I will be taking to Twitter to live tweet as we all simultaneously cook the Lentil and Bulgur Pilaf with Caramelized Onion recipe from An Edible Mosaic. Follow along the hashtag #AnEdibleMosaic and cook with us! We would love to hear from you and see your photos, which will be put together into an album by Kitchen PLAY.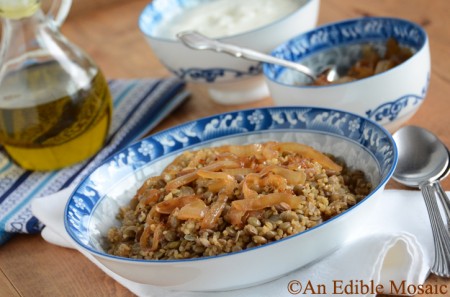 Photo credit: Faith Gorsky
I've live tweeted events before and participated in Twitter parties, but never like this. It will be a lot of fun to see how it turns out with all of us cooking together and tweeting at the same time. Plus, at the end, you get a delicious dish for your dinner! I hope to "see" you on Saturday 🙂
Lentil and Bulgur Pilaf with Caramelized Onion
Ingredients
1 ¹/3 cups (275 g) dried brown lentils (or 2 cans brown lentils, rinsed and drained)
6 cups (1.5 liters) water
2 tablespoons olive oil
2 tablespoons butter
2 large onions, quartered and thinly sliced
1 bay leaf
2 pods cardamom, cracked open
2 cloves
2 teaspoons ground cumin
½ teaspoon ground cinnamon
1 ½ teaspoons salt
¼ teaspoon freshly ground black pepper
1 cup (185 g) coarse-ground bulgur wheat
1½ cups (300 ml) boiling water
Plain yogurt (optional, for serving)
Instructions
Sort through the lentils to remove any small stones or pieces of dirt, and then rinse with cold water in a colander. Bring the rinsed lentils and the water to a boil in a lidded medium saucepan. Cover the saucepan, turn the heat down to a simmer, and cook until the lentils are tender but not mushy, about 20 to 30 minutes, stirring occasionally and adding more water as necessary so that they're always immersed; strain.
While the lentils cook, heat the oil and the butter in a large skillet over moderately-high heat; add the onion and sauté until completely softened but not yet browned, about 10 minutes, stirring occasionally. Transfer half the onion to a small bowl and set aside. Continue cooking the remaining onion until deep caramel in color, about 5 to 10 minutes, stirring occasionally and adding a splash of water as necessary if the onion starts to get too dark. Set aside.
Put half a kettle of water on to boil. Transfer the sautéed onion (not the caramelized onion) to a medium saucepan. Add the bay leaf, cardamom, clove, cumin, cinnamon, salt, and pepper and cook 1 minute. Add the bulgur and cook 1 minute more, stirring constantly. Add the boiling water, turn the heat up to high, and bring to a rolling boil.
Give the bulgur a stir, then cover the saucepan, turn the heat down to very low, and cook until tender, about 10 minutes (do not open the lid during this time). Turn the heat off and let the bulgur sit 10 minutes, then ?uff with a fork and gently stir in the lentils. Taste and add additional salt, pepper, and olive oil if desired.
Transfer to a serving dish and top with the caramelized onion. Serve with plain yogurt to spoon on top, if using.
http://www.52kitchenadventures.com/2013/01/07/lentil-bulgur-pilaf/
More recipes you'll love: