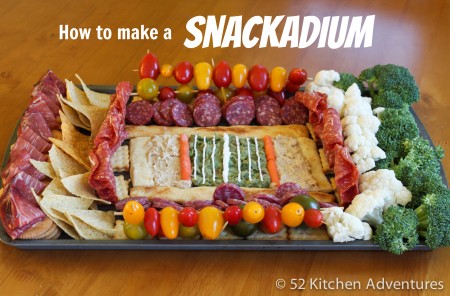 Have you ever heard of a "snackadium"? Snacks + stadium = the ultimate spread for a football party. I'm thinking this is a must for any Super Bowl celebration! I was challenged to create a snackadium using Pillsbury Crescent Rolls and Pizza Crust. Lucky for me, I had a bunch of friends over for New Year's Eve, so I had lots of help creating (and eating) this fun project.
We used a mix of snacks so there are a variety of options, including veggies – just because it's snacks for a party doesn't mean it can't be a little healthy! We used crackers, tortilla chips, cauliflower, broccoli, salami, crescent roll, pizza crust, guacamole, hummus, and more to build our snackadium.
I started by slicing the crescent roll and pizza crust dough into strips and other shapes for putting together the base of the stadium. I chose the strips I wanted to use and built the base on top of a baking sheet. See how I did it: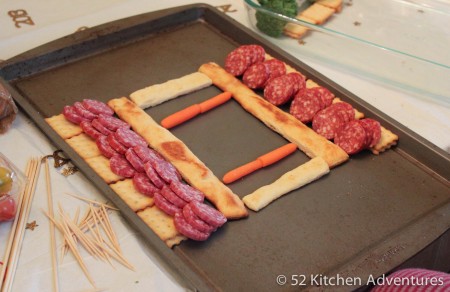 1. Slice pizza dough and/or crescent rolls into shapes for your field and stadium. Bake and arrange on a cookie sheet, then start building your stands (we started with crackers and salami).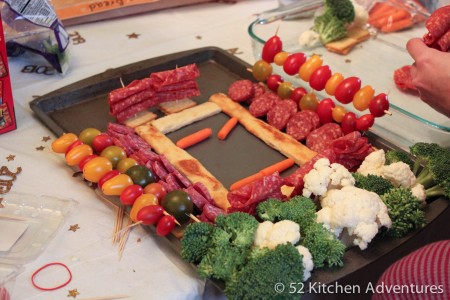 2. Start to fill in the stands. We used skewers to make rows of cherry tomatoes and then stacked the rows using toothpicks. Using more toothpicks, we stacked salami on top of crackers for more height and filled in one side of the snackadium with broccoli and cauliflower. (Note: Chicken in a Biskit crackers have a perfectly sized hole to hold up a toothpick!)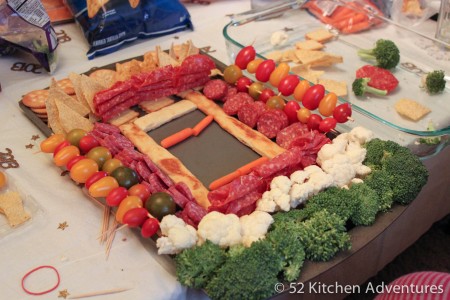 3. Keep filling in with more snacks! At the far end, we stacked Ritz crackers and lined up tortilla chips.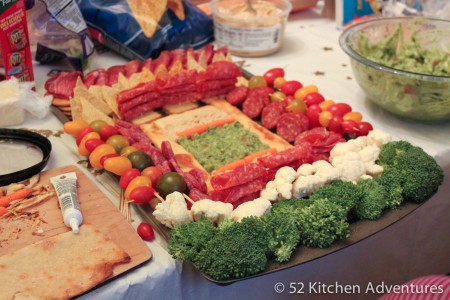 4. Fill in the field. We used homemade guacamole for the "grass," hummus for the endzones, and baby carrots to separate them.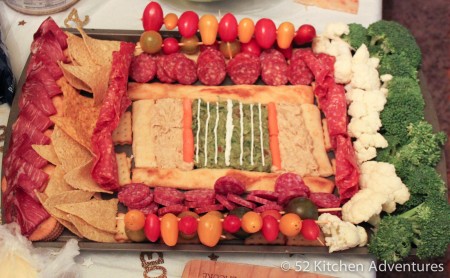 5. Pipe sour cream on the guacamole for yard lines.
Some of my favorite bloggers built their own snackadiums and came up with some awesome ideas! Check out The Wicked Noodle to see her mini pizza field and Crazy for Crust for a DESSERT snackadium (why didn't I think of that?!).

I have partnered with Pillsbury through DailyBuzz to help promote their Crescent Roll and Pizza Crust products. I have been compensated for my time commitment to work with this product. However, my opinions are entirely my own and I have not been paid to publish positive comments. Thank you Pillsbury for this awesome opportunity to create a Snackadium!
More recipes you'll love: