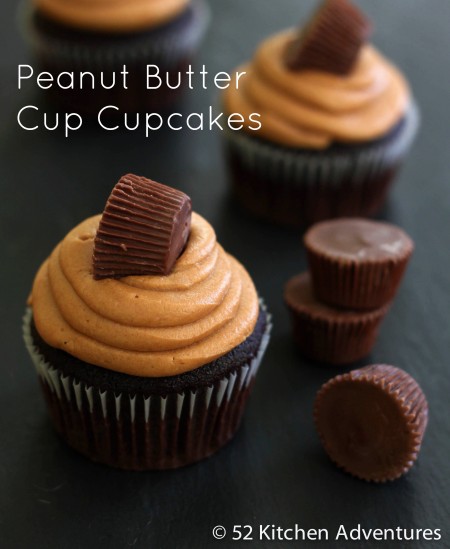 When I arrived at work last Thursday, I was greeted by one of my coworkers, who was surprisingly perky for the early hour. "I got into grad school!" she exclaimed. I've known Hannah for 4 years, since her senior year of college. She was actually my intern during my first year teaching at our school, and helped me navigate my way through the program. After she graduated, she was hired on to join our staff and it's been wonderful watching her come into her own as a teacher. She is incredibly passionate about early childhood education and I know she will excel in her grad program.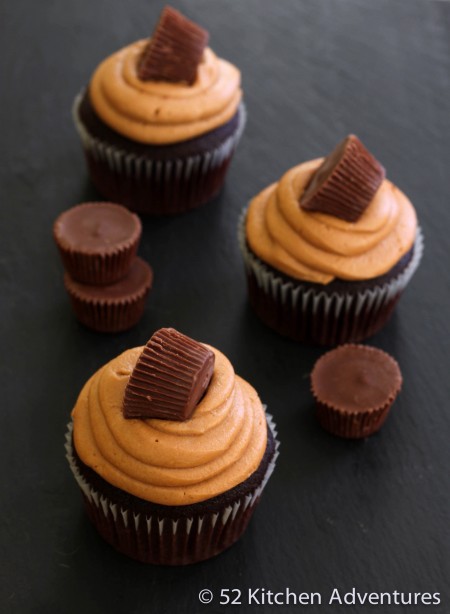 Coincidentally, we had our bi-monthly staff meeting the next morning. Hannah loves it my cupcakes, so I was determined to celebrate her news by baking something that night. When I found out that Friday was National Peanut Butter Lover's Day, that cinched it: peanut butter cupcakes were on the menu!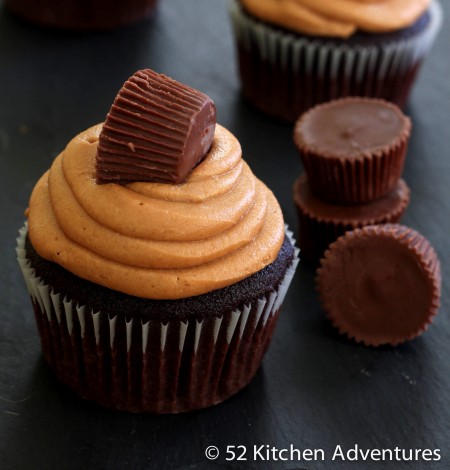 I decided to do a play on peanut butter cups and made these chocolate cupcakes and replace the salted caramel buttercream with a creamy peanut butter frosting. This frosting is pretty dreamy, especially for peanut butter lovers. One of my other coworkers hates peanut butter and chocolate together, but loved these, and realized a key difference: candy usually has a chalky peanut butter filling, while these are pure, creamy peanut butter goodness.
Peanut Butter Cup Cupcakes
Ingredients
Chocolate Cupcakes

1/2 cup Dutch-processed cocoa powder
1 cup boiling water
1 1/3 cups all purpose flour
2 teaspoons baking powder
1/4 teaspoon salt
1/2 cup (1 stick) unsalted butter, room temperature
1 cup sugar
2 large eggs
2 teaspoons pure vanilla extract

Peanut Butter Frosting

1 cup creamy peanut butter
1 cup powdered sugar
1/4 cup (1/2 stick) unsalted butter, softened
1/4 teaspoon kosher salt
3/4 teaspoons vanilla extract
1/2 cup heavy cream
Instructions
Prepare chocolate cupcakes:

Preheat oven to 375°F. Line cupcake tin with paper liners.
In a small bowl, stir together cocoa powder and boiling water until smooth. Set aside to cool.
In a medium bowl, stir together flour, baking powder, and salt. Set aside.
In a large bowl, beat butter and sugar together until light and fluffy. Add eggs, one at a time, beating in between until incorporated. Stir in vanilla.
Add flour mixture to butter mixture and beat until just combined. Add cooled cocoa mixture and mix until incorporated.
Fill each lined cupcake well 2/3 full. Bake around 18-20 minutes, until tops spring back when lightly touched (or a toothpick inserted in the middle comes out clean). Let cool completely before frosting.

Prepare peanut butter frosting:

In a large bowl, beat together peanut butter, powdered sugar, butter, and salt until creamy and smooth.
Add vanilla and cream and beat until frosting is light and smooth.
Spread or pipe onto cooled cupcakes.
http://www.52kitchenadventures.com/2013/03/04/peanut-butter-cup-cupcakes/