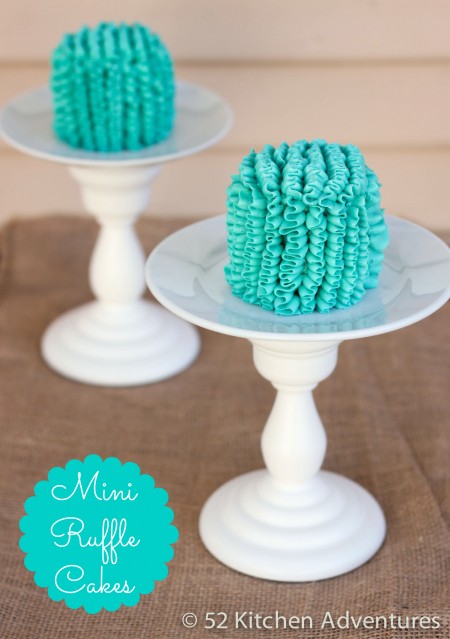 For months, I've been wanting to make a ruffle cake. Ever since I made the rose ombre cake, I've been meaning to tackle another fun (but easy) cake design. I was finally inspired by Martha Stewart Living's special collector's edition issue Cakes & Cupcakes. They sent me a copy to review, which I'm definitely keeping with my cookbooks. This issue is a little thicker and hardier than a typical magazine and should hold up well as a collector's item.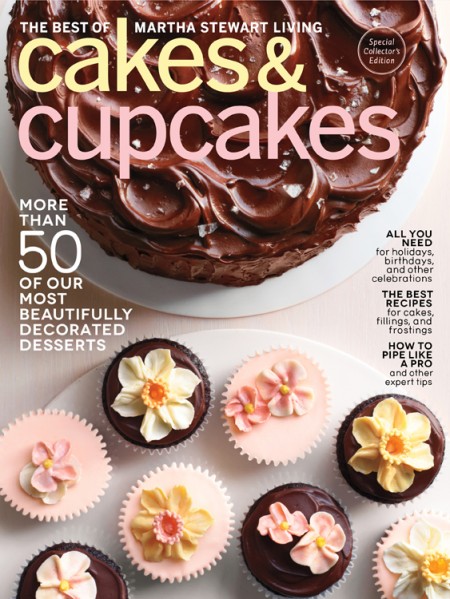 The magazine chock full of beautiful dessert inspiration. The first section is page after page of gorgeous dessert photos (53 in total). Next is "the basics," which include the kinds of equipment you'll need to make the desserts, plus tons of decorating techniques. The last section of the magazine has 53 cake and frosting recipes from the photos at the beginning.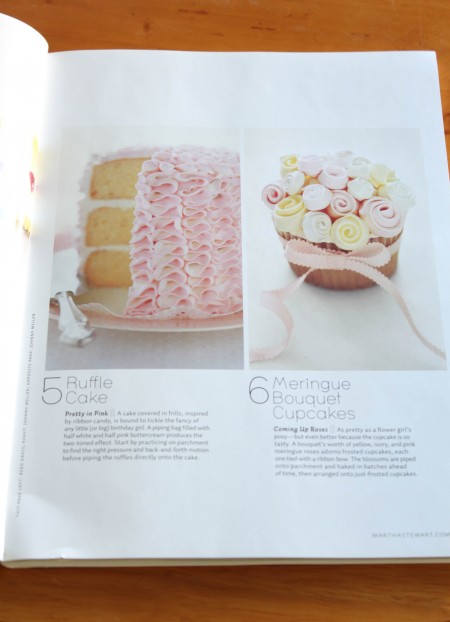 Here's where I got my inspiration, on page 11, but I didn't want to make a whole cake and wanted to put my own spin on the idea.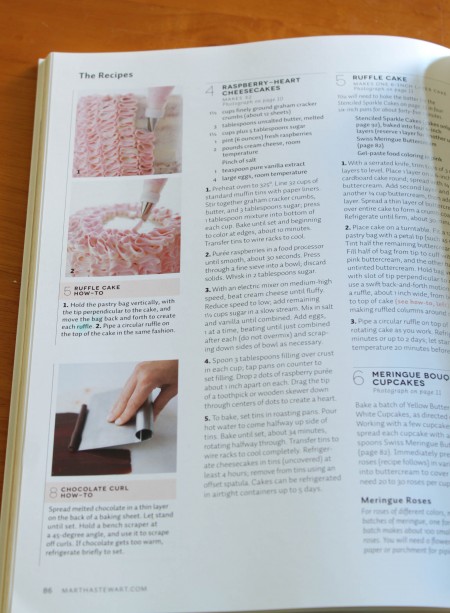 I learned the frosting technique from page 86, and set out to make my own mini version of a ruffle cake. After baking a batch of my very favorite vanilla cupcakes, I made Martha Stewart Living's go-to frosting, Swiss meringue buttercream. The silky, light texture of this frosting makes it ideal for piping designs like a ruffle. I dyed it with Wilton gel dye in teal and got to decorating.
The animated gif below will give you a little of an idea of how to make the mini ruffle cakes. Slice the rounded top off the cupcakes so they're flat. Pair them up like 2 cake layers and put a thin layer of frosting in between them. After putting a crumb coat (a thin layer of frosting) over the mini cake, fill a piping bag with a petal tip (like the Wilton 103). Hold the bag vertically, with the thin part of the tip facing outward from the cake. Start at the bottom of the cake and move the bag back and forth as you move it from the bottom to the top of the cake. Repeat, making ruffled columns around the cake, and then across the top.
Cakes & Cupcakes is on stands until May 13th, so go get yourself a copy for some baking inspiration!
Swiss Meringue Buttercream
From Martha Stewart Living
Ingredients
1 1/2 cups sugar
6 egg whites
1 pound (4 sticks) unsalted butter, room temperature
1 teaspoon pure vanilla extract
Instructions
Whisk together sugar and egg whites in a heatproof mixing bowl. Set bowl over a pan of simmering water. Whisk until mixture is warm and sugar is dissolved (around 2-3 minutes), then remove from heat.
With an electric mixer on medium speed, whisk egg-white mixture 5 minutes. Increase speed to medium-high, and whisk until stiff, glossy peaks form and meringue has cooled (around 6 minutes).
Reduce speed to medium and add butter a piece at a time, beating well after each addition. Mix in vanilla.
Notes
Store airtight in refrigerator up to 3 days. Bring to room temperature; beat until smooth.
http://www.52kitchenadventures.com/2013/03/10/mini-ruffle-cakes/
Martha Stewart Living provided me with a free copy of the magazine to review, but as always all opinions are my own.
More recipes you'll love: