Edited to add: click here to watch me making an Easter cupcake bouquet live on TV!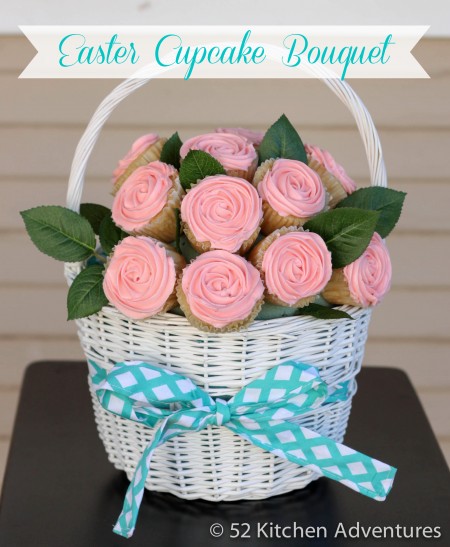 Almost a year ago, I posted my now Pinterest-famous guide to making cupcake bouquets. I had seen photos of similar bouquets floating around Pinterest, but never found a good tutorial on making them, so I figured it out and put together my own. I guess I wasn't the only one who loved the idea – I got an overwhelming response to the post (it's been pinned over 600,000 times!) and have been meaning to make a different version ever since.
After my last appearance on the local Fox morning show, they asked me to return in the spring and I knew this was the perfect opportunity to share how to make a cupcake bouquet and try out a new version! I'll be on this Friday, March 29th, at 9:20am PDT. Watch the livestream from wherever you in the world and see how I put together this Easter basket version of the cupcake bouquet.
If you want to try making your own, you'll need: a basket, green floral foam inserts that fit in it, toothpicks, fake (or real) leaves, cupcakes, frosting, and a piping bag with a tip like the Wilton 1M or Wilton 2D.
Get instructions on how to make a basic cupcake bouquet here.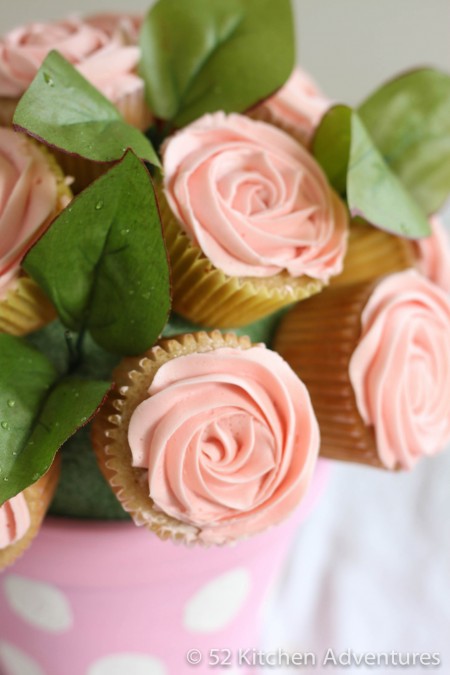 P.S. Here's another cupcake bouquet I can't help but sharing – a cute pink polka version from my best friend's baby shower!
More recipes you'll love: