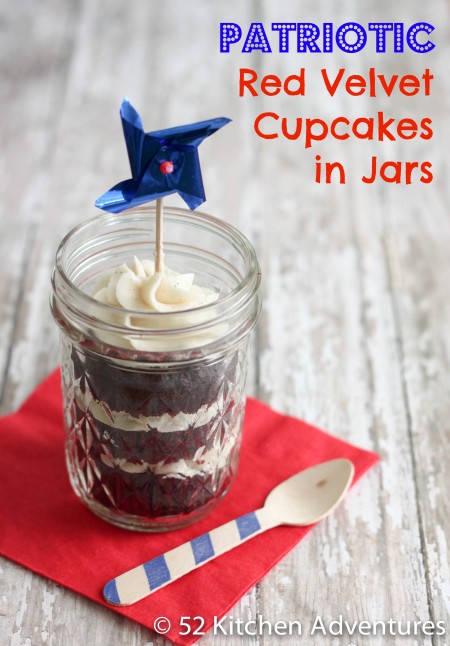 This red velvet cupcake in a jar don't necessarily have to be patriotic, but it lends itself to it, especially at this time of year. I made cupcakes in jars a few months ago, which made them easy to transport and fun to eat. With summer parties and BBQs coming up, I thought this would be the perfect dessert to revisit. I love making cupcakes for my friends, but they're always kind of a pain to carry to someone else's house and they can be messy to eat. Make them in a jar, and they're easy to eat with a spoon and carry around without smooshing the frosting.
You can click here to see step by step photos on how to make a cupcake in a jar or use this GIF to see how: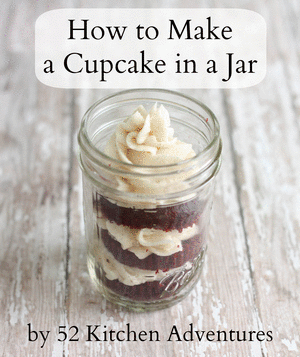 Here are the simple directions:
1. Bake cupcakes and slice them in half. Place 1 half at the bottom of the jar.
2. Pipe some frosting on top.
3. Place another cupcake half on top.
4. Pipe more frosting on top. Stop here if you're using a short 4 ounce mason jars. If you're using tall 8 ounce mason jars like the ones picture above, you can stop here or repeat steps 3 & 4 again.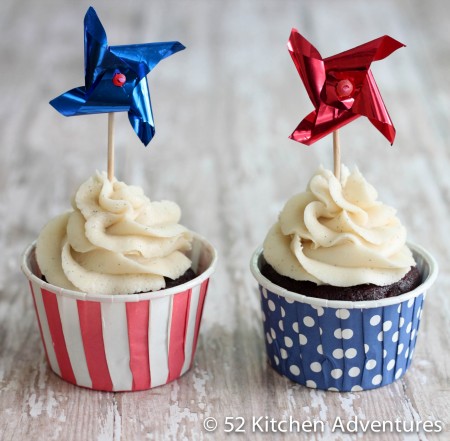 If you don't want to make them in jars, you can make them even more patriotic by using some cute cupcake liners (I got mine at TomKat Studio). Top them with fresh blueberries or something decorative like the flags on these cupcakes and they'll be perfectly festive for any patriotic celebration.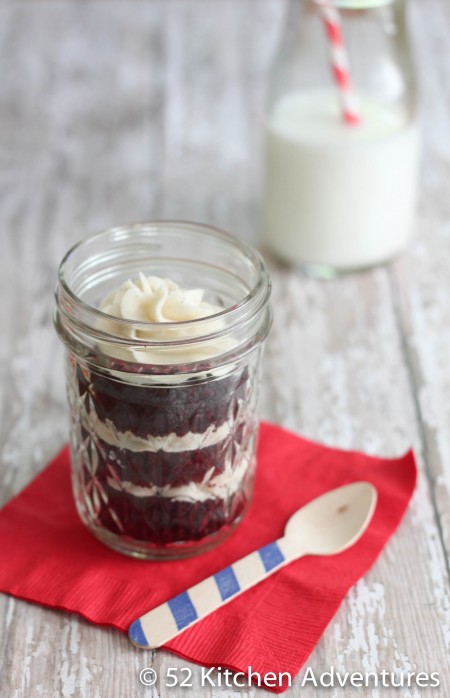 And of course, you can just enjoy the red velvet cupcakes, patriotic or not. I made this recipe for a wedding several months ago and they were a hit. Moist cupcakes with a hint of chocolate topped with a creamy cream cheese frosting – I mean c'mon, who wouldn't like that? I actually topped some of these with my favorite vanilla bean buttercream (you can tell by the tiny black specks of vanilla bean) and that was great as well.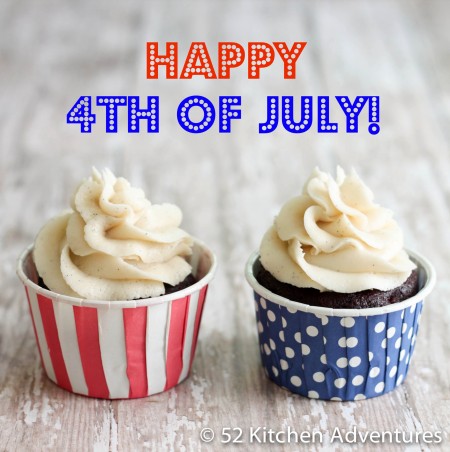 I hope you have a safe & happy Fourth of July! 🙂
Ingredients
Cupcakes

1 1/2 cups of sugar
1/2 cup of unsalted butter, room temperature
2 eggs, room temperature
2 1/3 cups of cake flour
2 tablespoons of Dutch-processed cocoa powder
1 teaspoon of baking soda
1 teaspoon of baking powder
1/2 teaspoon of salt
1 cup of buttermilk
1 1/2 tablespoons of red food coloring
1 teaspoon of vanilla extract
1 teaspoon of white vinegar (I've used apple cider vinegar instead too)

Frosting

8 ounces cream cheese, room temperature
1/2 cup of unsalted butter, room temperature
2 1/2 cups of powdered sugar
1 teaspoon of vanilla extract
Instructions
Cupcakes:

Preheat the oven to 350°F. Line a cupcake pan with paper liners.
Beat softened butter and sugar for a few minutes until light and fluffy. Add one egg at a time, mixing until each is fully incorporated.
In a separate bowl, combine cake flour, cocoa powder, baking soda, baking powder, and salt.
In another separate bowl, combine buttermilk, vinegar, vanilla, and red food coloring.
Add 1/4 of the flour mixture to the butter and sugar and stir until combined. Add 1/3 of the buttermilk mixture to the butter and sugar and stir until combined. Continue alternating adding wet and dry ingredients, mixing in between. End with the remaining dry ingredients.
Pour batter into prepared cupcake tin, filling a little over 1/2 full. Bake for 18-20 minutes, until a toothpick inserted in the middle comes out clean and the tops spring back when lightly touched.

Frosting:

Beat cream cheese and butter together for a few minutes.
Add vanilla and mix until combined.
Add powdered sugar and beat until combined. Add additional powdered sugar to taste.
Pipe or spread onto cooled red velvet cupcakes.
Notes
http://www.52kitchenadventures.com/2013/06/30/red-velvet-cupcakes/
More recipes you'll love: