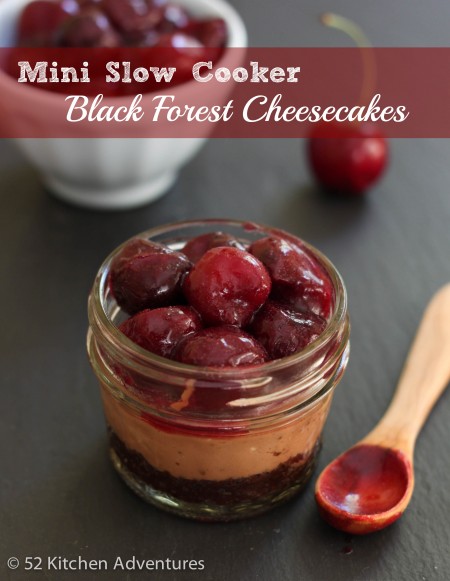 I can be kind of competitive. So when someone gives me a challenge, I can't turn it down. This blog actually started as a challenge to myself to try a new food once a week for a year (do you get the name now?). So when OXO and Northwest Cherry Growers asked me if I wanted to be part of their 10 pound cherry challenge, I couldn't say no. Then I spent a week constantly thinking cherries -and, honestly, worrying a little- what the heck was I going to do with 10 pounds of cherries?!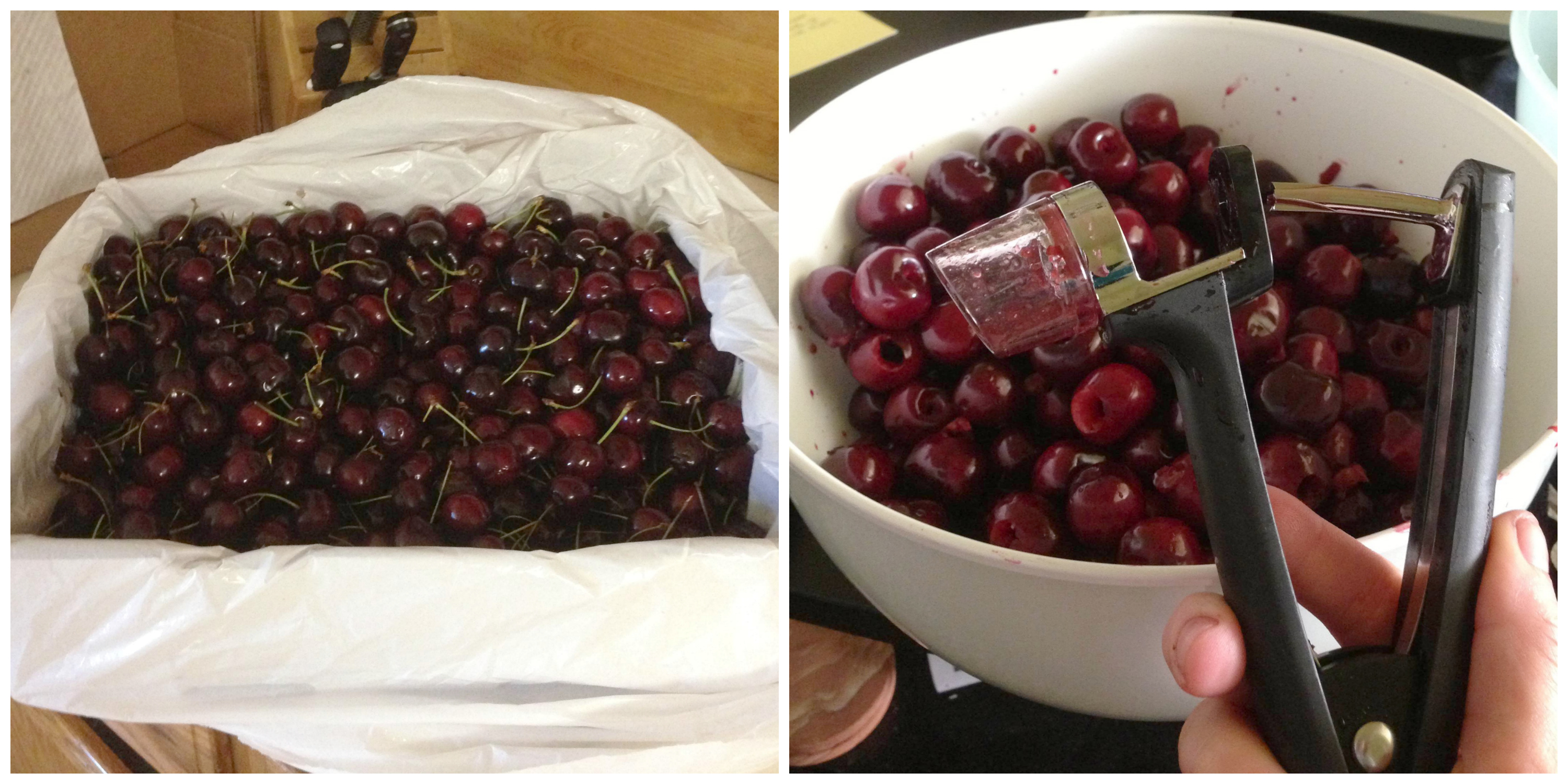 10 pounds of cherries. No match for me and my OXO cherry pitter!
Luckily, OXO sent me their cherry/olive pitter and a set of bowls and colanders. I put my new tools to good use immediately. Their pitter is great because it's easy to use and reduces mess with a splatter guard. When you pit multiple pounds of cherries and it doesn't look like you just murdered someone in your kitchen, you know you have a good tool!
I went through lots of cherry ideas, from pie to jam, but then it hit me – the perfect dessert. See, Russ' favorite dessert growing up was his grandmother's black forest cheesecake, and it's still his favorite flavor combo (we're even having black forest cake for our wedding cake). He also boldly declared these mini caramel mocha cheesecakes the best dessert I've made. It was obvious: time to mash those two together and make adorable mini black forest cheesecakes!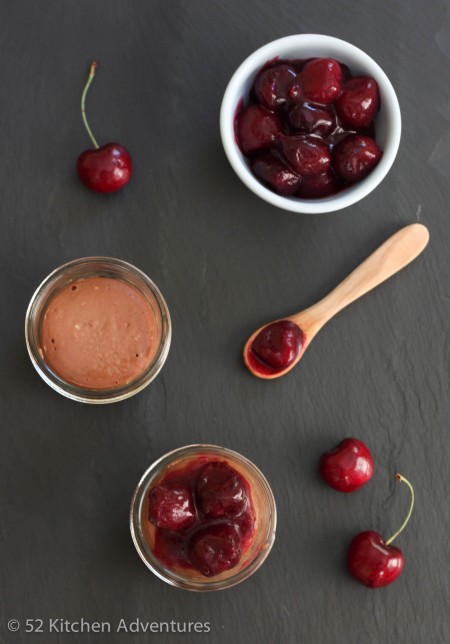 I texted my target demographic and peppered him with questions: plain graham cracker crust or chocolate? Regular cheesecake or chocolate cheesecake? Both chocolate? He hesitated – is that too much? (Um, is there such as thing as too much chocolate?) I reminded him that those awesome mocha cheesecakes were chocolate on chocolate and he quickly conceded. The cherry chocolate cheesecake was born.
Since it's August, I made these in the slow cooker to avoid heating up the house, which is so easy. You could also bake them in the oven if you prefer, and I've included directions on both methods in the recipe below. I love these mini cheesecakes because they give you automatic portion control and the serving is on the smaller side (aka less guilt). Really, they're rich enough that I find one little jar to be the perfect amount. And believe me, the chocolate on chocolate is not too much. The cherry sauce breaks it up anyway, and they combine to make the perfect cherry-chocolate combo – juicy sauce and creamy cheesecake.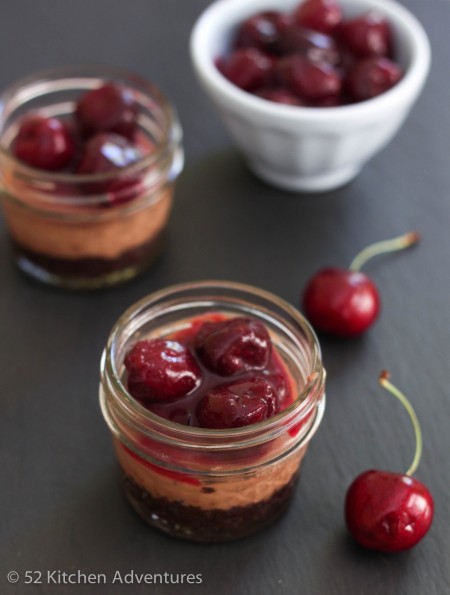 But that's not all! This only used up a small corner of that box of cherries. I have 2 more ways to enjoy them coming up later this week!
Mini Black Forest Cheesecakes
Ingredients
Chocolate cheesecake:

3/4 cup ground chocolate graham crackers or chocolate wafers

(I used chocolate Teddy Grahams)

1/2 stick (4 tablespoons) butter, melted
1/3 cup sugar
8 oz cream cheese, softened
1 large egg
1 oz bittersweet chocolate, melted and slightly cooled
1/2 teaspoon pure vanilla extract
1/8 tsp salt

Cherry sauce:

2 cups cherries, pitted
1/8 cup honey
1 tablespoon butter
1 teaspoon cornstarch
1 tablespoon water or lemon juice
1/4 teaspoon almond extract
Instructions
Prepare cheesecakes:

Lightly coat six 4-oz. jars with non-stick spray.
In a small bowl, mix ground chocolate crackers with butter and a pinch of salt.
Add a tablespoon plus 1-2 teaspoons of crust mixture to each jar. Push down crust into an even layer in each jar and set aside.
In a large bowl, beat sugar and cream cheese until smooth. Add egg and mixed until combined.
Mix in melted chocolate, vanilla, and salt.
Pour filling into each prepared jar until 3/4 full.

Bake in slow cooker:

Place jars into a large slow cooker. Carefully pour hot water around the jars until they are 3/4 submerged. Cover and cook on high for 1 to 1 1/2 hours (since slow cooker temperatures vary, check after 1 hour). When done, they should feel solid to the touch and not jiggle. Carefully remove jars from slow cooker and refrigerate for 2 hours.

Bake in oven:

Preheat oven to 350°F. Place jars into a large roasting or baking pan. Carefully pour hot water around the jars until they are halfway submerged. Bake for 20-30 minutes. When done, they should feel solid to the touch and not jiggle. Remove pan from oven, carefully transfer jars from pan and refrigerate for 2 hours.

Prepare cherry sauce:

In a small saucepan over medium heat, combine cherries and honey. Cook until it begins bubbling, then simmer while stirring occasionally for 5 minutes.
Add butter and stir until melts.
Combine cornstarch with water or lemon juice, then add to cherries. Stir together and cook for 2-3 minutes, until it thickens.
Add almond extract and stir together. Remove from heat and let cool, then refrigerate for an hour or 2 until it thickens up.
Serve chilled cheesecakes with a generous serving of cherry sauce on top.
http://www.52kitchenadventures.com/2013/08/07/mini-black-forest-cheesecakes/
Check out the other 10 Pound Cherry Challenge participants to see what they did with their cherries:
For more on the challenge, make sure to check out OXO (Facebook, Twitter,  Pinterest, Instagram) and the Northwest Cherry Growers (Facebook, Twitter, Pinterest, Instagram). For the ultimate guide to cherry dishes, follow the project-specific Pinterest board.
Northwest Cherry Growers provided me with the 10 pounds of fresh sweet cherries and OXO provided me with the tools needed (Cherry/Olive Pitter, 9 Piece Nesting Bowls and Colanders set, and Food Scale) for the challenge, but as always all opinions and text are my own.
More recipes you'll love: