Welcome to #IceCreamWeek! Kim of Cravings of a Lunatic and Jen of Juanita's Cocina have teamed up with more than 20 of their blog friends to bring you a week full of ice cream treats, including a special ice cream giveaway! Prepare to have your taste buds tempted with some of the best ice cream treats around! Make sure you enter the giveaway for a Cuisinart Ice Cream Maker and two fabulous ice cream cookbooks so that you can join in on the ice cream fun!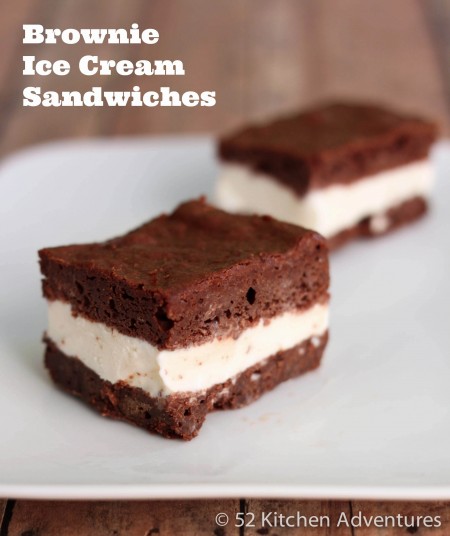 Happy Ice Cream Week! I'm so excited to share today and tomorrow's ice cream recipes with you. They're both related to other recipes I've shared recently. A couple of weeks ago I got slightly obsessed with these fudgy brownies – I made them into both the ultimate brownie sundae and cookie dough brownie bars. When I started thinking about Ice Cream Week, I still had brownies on the brain. That's when I discovered brownie ice cream sandwiches.
How I had never heard of these before?!
Chewy, fudgy brownies sandwiched around creamy ice cream. Yes, please!
They're easy too – just spread some ice cream on top of brownies and top with more brownies. I used my favorite fudgy brownies and split the batter in half, baking it into 2 slightly thinner layers of brownies. The thinner brownies are more prone to breaking, but it doesn't really matter because you can stick them back together with the ice cream and then frezee into place. But, if you want to go all out, by all means use 2 full sized brownies to make an even more indulgent brownie ice cream sandwich.
What ice cream flavor would you use in a brownie ice cream sandwich?
Brownie Ice Cream Sandwiches
I recommend lining pans with aluminum foil, leaving extra hanging off the sides to use as handles to remove from pan. Don't worry if it breaks – you can stick it back together with the ice cream.
Ingredients
Instructions
Prepare your brownies. Instead of pouring the batter into 1 pan, split it in half and pour half into 2 separate pans (the same size you would have used in the original recipe). Bake as directed, checking for doneness earlier than you would normally.
Let brownies cool completely.
Once cooled, removed ice cream from freezer to soften. In the meantime, carefully remove 1 set of brownies from the pan.
Spread softened ice cream on top brownies still in pan. Use the back of a spoon or your clean hands to spread it evenly across pan. Place the other set of brownies on top and press down lightly. Place in freezer for around 2 hours or fully frozen.
Remove from freezer and use a sharp knife to carefully slice into squares. Keep frozen until ready to serve.
http://www.52kitchenadventures.com/2013/08/15/brownie-ice-cream-sandwiches/
If you'd like to check out today's #IceCreamWeek recipes, drool over the blogs below: