Welcome to #cookieweek, post #2! Susan of The Girl In The Little Red Kitchen and Kim of Cravings of a Lunatic have joined together this week with 23 of their blog friends to present to you a week of cookie treats! We have every type of cookie you can think of listed this week, including something for our furry friends! Now is the time to bookmark these recipes for the upcoming holidays and cookie swaps or simply visit our Pinterest board!  Make sure you enter the giveaway with some fabulous prizes from KitchenAid, King Arthur Flour, OXO,Silpat and Zulka Pure Cane Sugar to help with your cookie making needs!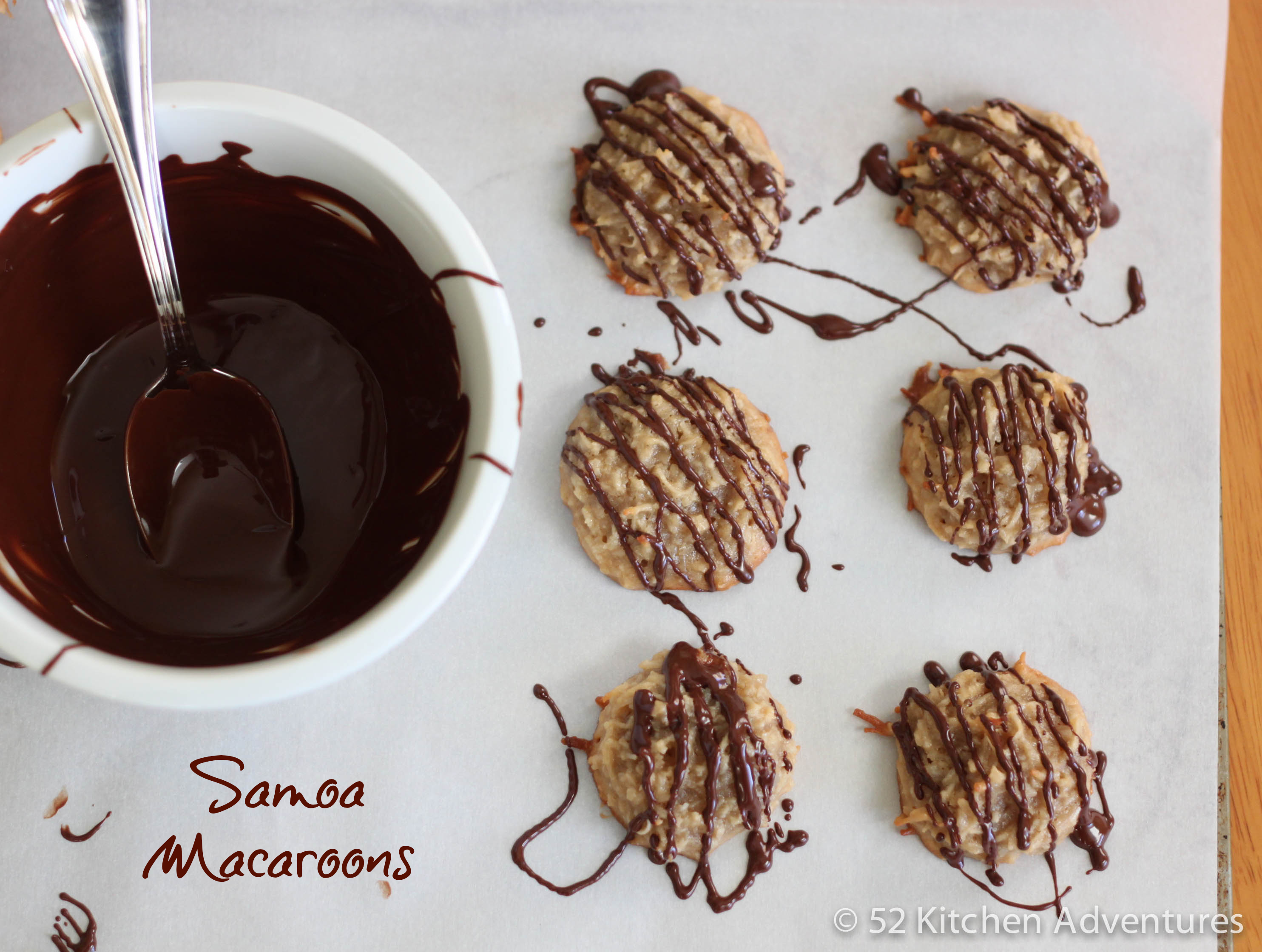 I'm bursting with excitement, you guys. This is my favorite recipe from the 3 I'll be posting for Cookie Week!
These pumpkin coconut macaroons got me thinking about different macaroon flavors. Before those, I'd only made plain coconut macaroons, sometimes dipped in chocolate. What else goes great with chocolate and coconut? Caramel, of course!
And then that got me thinking (I keep hitting traffic on my commute home, which gives me a lot of time to ponder baking) about Girl Scout Cookies. Everyone loves Girl Scout Cookies, but they're a little, well…underwhelming. (Don't kill me for saying that.) Don't get me wrong – I love a Thin Mint or 2, but I always felt like I could probably make a better version of their cookies in my own kitchen
Behold…the Samoa Macaroon idea was born! Samoas, also known as Caramel deLites, are crunchy cookies coated in caramel, topped with toasted coconut and chocolate. I took out the crunchy cookie factor, added a healthy dose of caramel into some macaroons and coated it with dark chocolate. Basically, a grown-up, gluten-free, and incredibly decadent version of Samoas.
All you have to do is take some incredibly easy 7 minute caramel sauce, mix it into macaroon batter and bake. Then: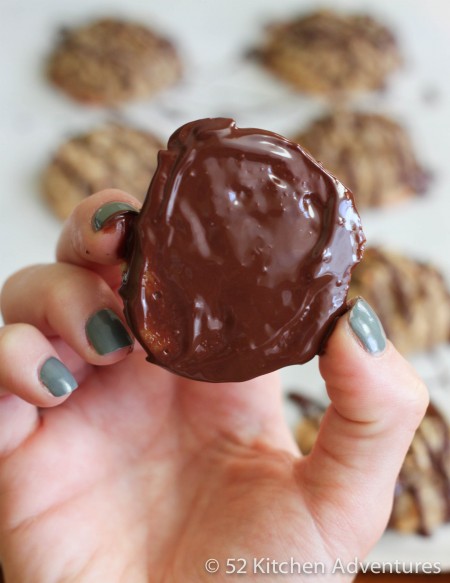 1. Dip the bottoms in melted chocolate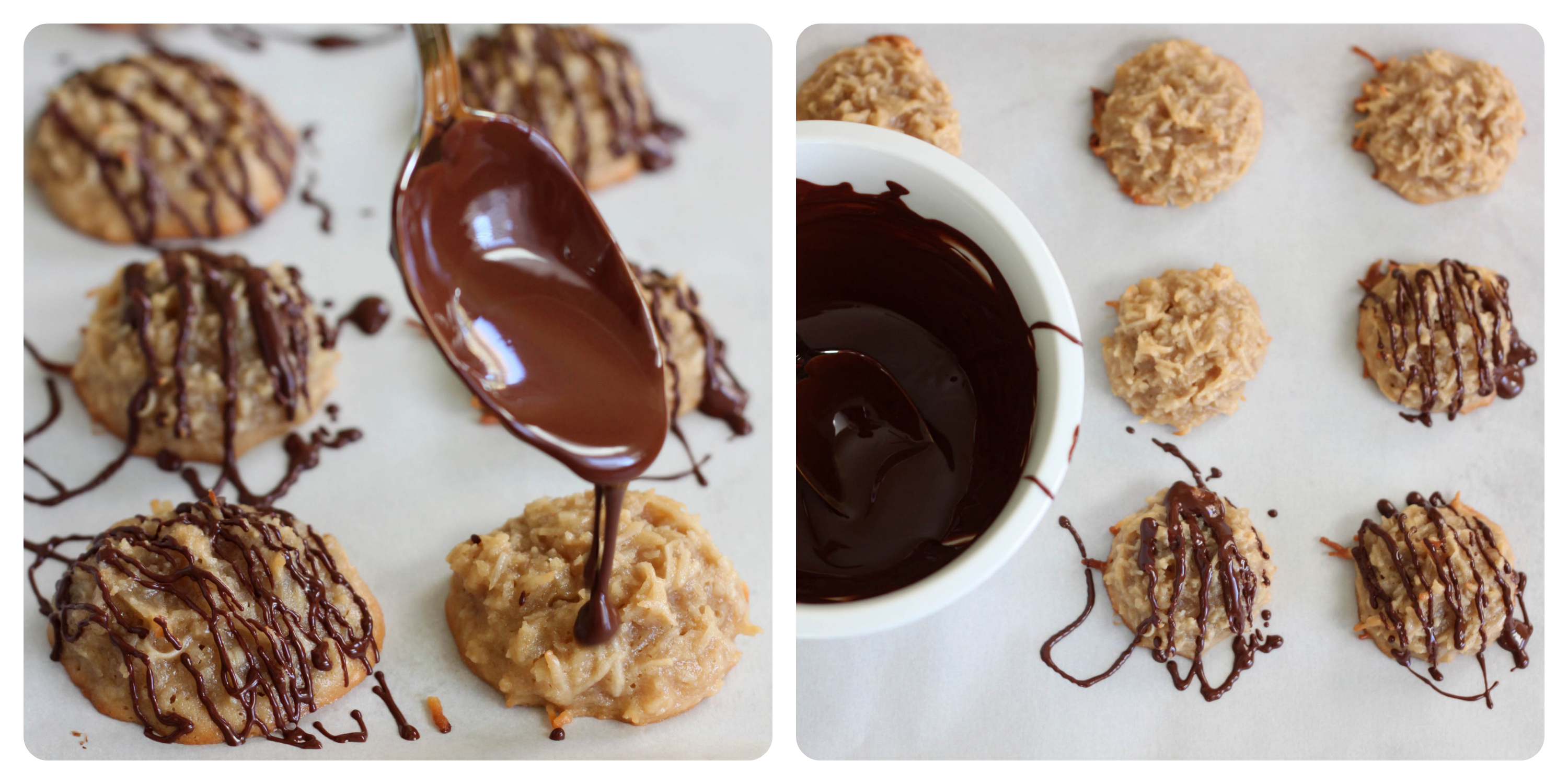 2. Drizzle melted chocolate on top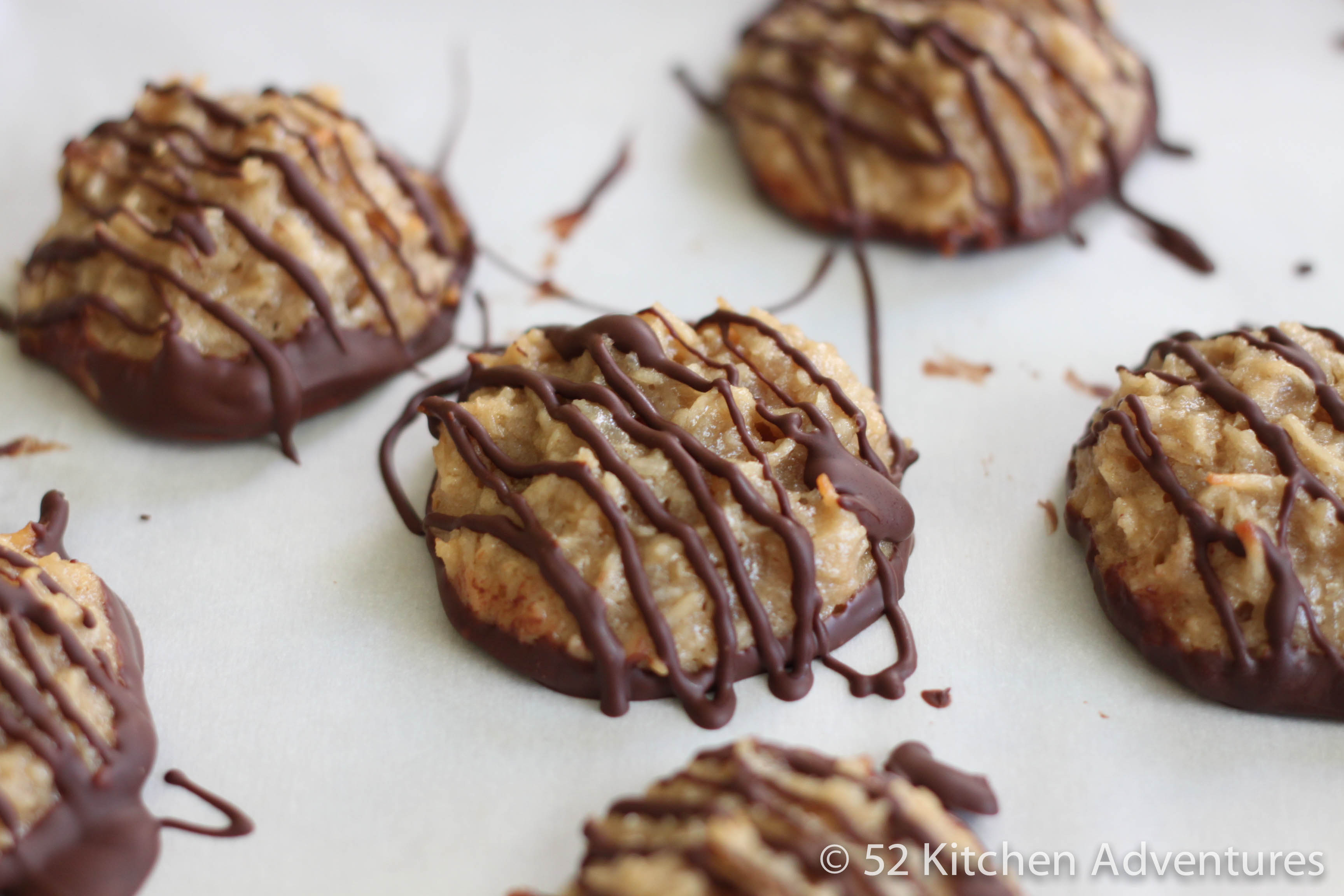 3. Let harden and enjoy!
That's it! Get the recipe below or try out this handy-dandy recipe card I made using PicMonkey (if you want to try making one, check out this great tutorial by Home Cooking Memories):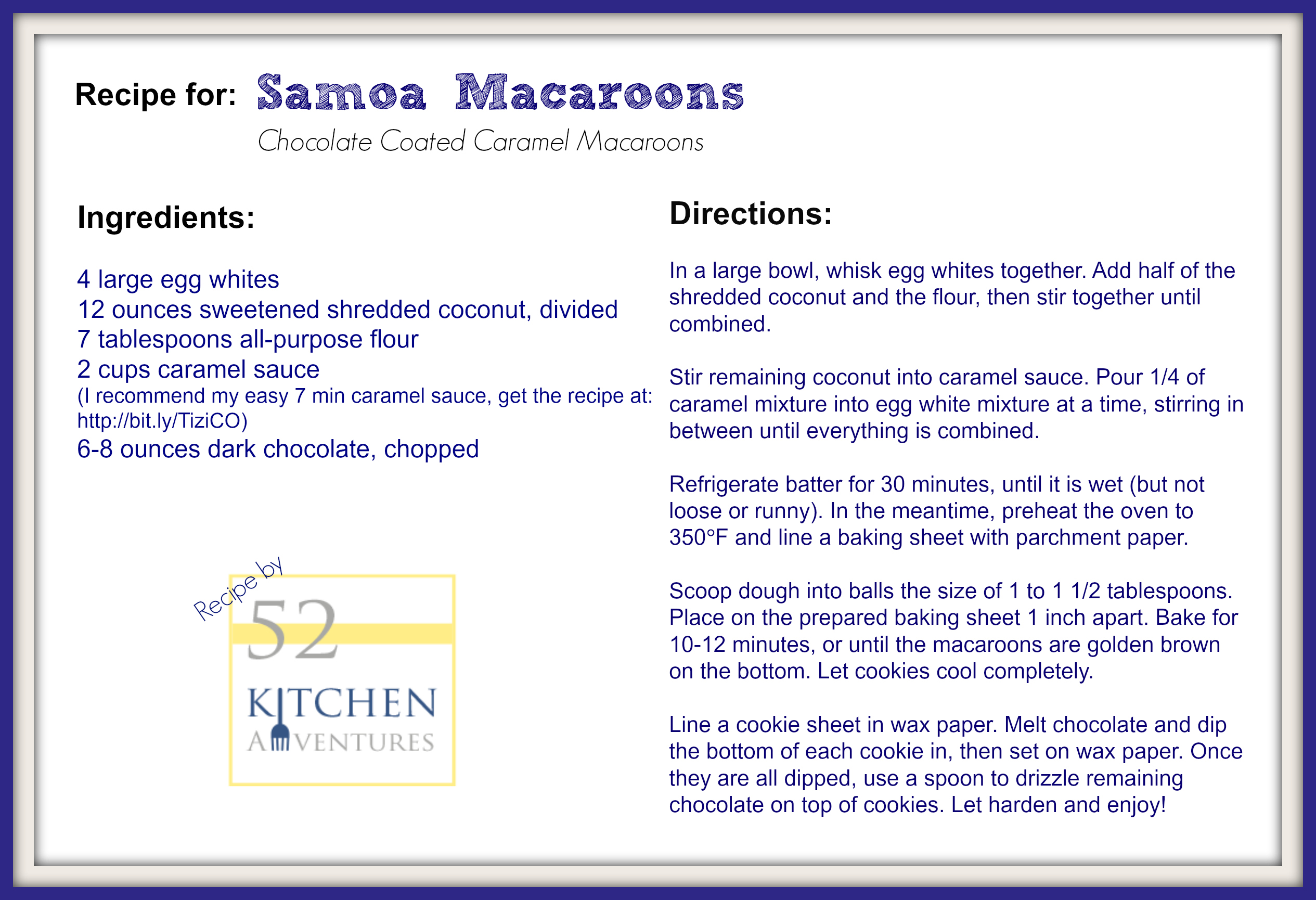 Caramel coconut macaroons dipped and drizzled in dark chocolate
Ingredients
4 large egg whites
12 ounces sweetened shredded coconut, divided
7 tablespoons all-purpose flour
2 batches of easy caramel sauce (or 2 cups of store-bought caramel sauce)
6-8 ounces dark chocolate, chopped
Instructions
Prepare the caramel sauce and set aside to cool.
In a large bowl, whisk egg whites together.
Add half of the shredded coconut and the flour, then stir together until combined.
Stir remaining coconut into caramel sauce. Pour 1/4 of caramel mixture into egg white mixture at a time, stirring in between until combined.
Refrigerate batter for 30 minutes, until it is wet, but not loose or runny.
In the meantime, preheat the oven to 350°F and line a baking sheet with parchment paper or Silpat baking mat.
Use a spoon or cookie scoop to scoop dough into balls* the size of 1 to 1 1/2 tablespoons. Place on the prepared baking sheet an inch apart.
Place remaining batter in fridge until ready to bake. Bake for 10-12 minutes, or until the macaroons are golden brown on the bottom and edges. The bigger the macaroons, the longer it will take.
Let cookies cool and line a cookie sheet in wax paper.
Melt chocolate in microwave in 15 second intervals, stirring between each, until fully melted and smooth. Dip the bottom of each cookie in the chocolate, then set on wax paper. Once they are all dipped, use a spoon to drizzle remaining chocolate on top of cookies. Let harden at room temperature (or pop cookies in the fridge to speed the process up).
Notes
*Traditionally, macaroons are slightly dome shaped, so you can shape them like this by hand if you prefer
Adapted from Craving Chronicles
http://www.52kitchenadventures.com/2013/11/14/samoa-caramel-chocolate-macaroons/
​Check out the other Cookie Week posts today:
And don't forget to enter the Cookie Week giveaway!