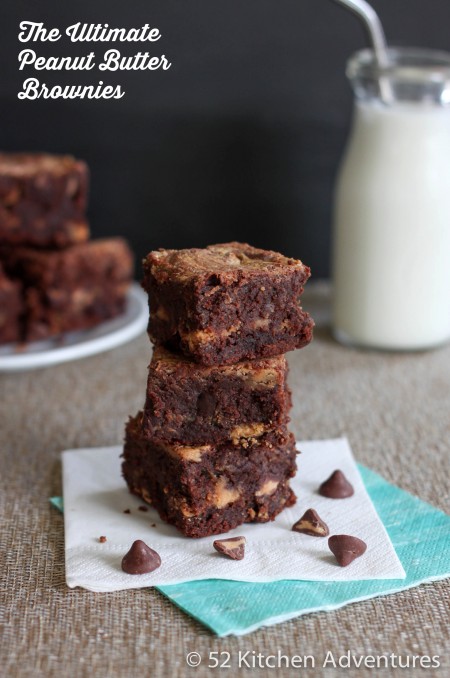 I have occasionally taken advantage of the word "ultimate" (e.g., the Ultimate Brownie Sundae and Ultimate Thin Mint Truffle Pops), but I want you to know that I don't take that word lightly. To me, the ultimate version of a recipe has to take a flavor or ingredients to the extreme. And I think I've done just that with these Ultimate Peanut Butter Brownies!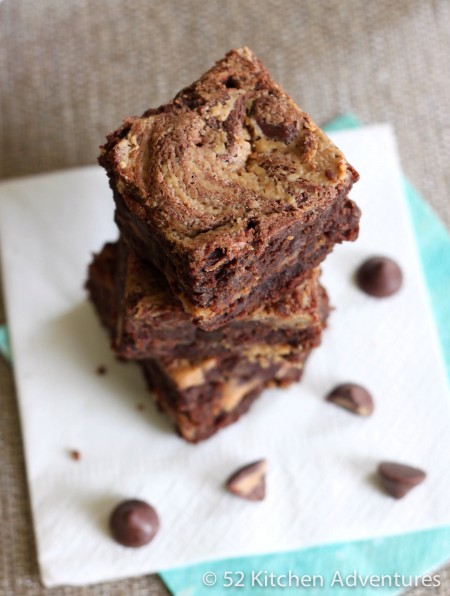 Not only is there a generous swirl of peanut butter filling throughout the middle and top of the brownies, but each bite includes a unique new peanut butter chocolate chip. We've all had peanut butter flavored chips and regular chocolate chips, but Nestlé® Toll House® created a hybrid that's better than both of those combined. Hard to believe, right?
Believe it.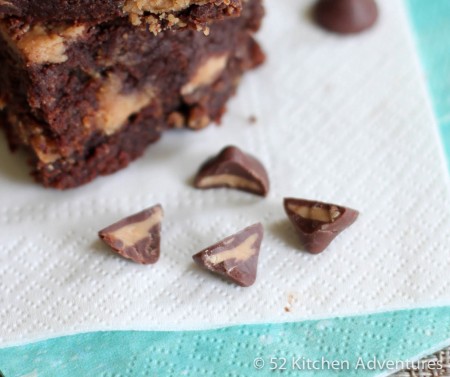 These are Nestlé® Toll House® DelightFulls™ Filled Baking Morsels – basically, milk chocolate chips FILLED with peanut butter…I know, right?! (I'm assuming you just reacted with joy and delight.)
To be honest, I wasn't really sure what to expect when I tried these. How much can really fit inside a baking morsel? I didn't know if there'd be much filling or if it would taste good. I was pleasantly surprised and absolutely delighted (sorry, had to use that word) when I took my first bite of this exciting new baking morsel.
We had just finished a large dinner when I opened the package of DelightFulls Filled Baking Morsels in milk chocolate with peanut butter, so Russ asked for just one to try. Then he immediately asked for more. I opened another bag (dark chocolate with mint filling), which tastes like a tiny peppermint patty. A handful (or two or three) later, we were hooked.
They're a little bigger than the average chocolate chip and the perfect size for baking (and let's be honest – for eating by the handful too). They also come in milk chocolate with caramel filling and dark chocolate with cherry filling, which I will definitely be scooping up as soon as possible (in fact, I just found a four pack with all 4 flavors of DelightFulls Filled Baking Morsels!).
I have so many ideas for these – bake the caramel DelightFulls Filled Baking Morsels inside a salted caramel mocha cheesecake, mix the peanut butter DelightFulls peanut butter truffle, sprinkle the cherry DelightFulls on top of a cake, use the mint DelightFulls in place of chocolate chips for a unique, flavorful twist on the perfect chocolate chip cookie…there are so many ways you could use them!
I love the surprise factor too; if you don't tell people, they'll think they're just eating a regular chocolate chip until that first delicious bite. DelightFulls Filled Baking Morsels are an innovative way to jazz up traditional holiday baking for sure! Get more baking inspiration from Nestlé Toll House at Very Best Baking.
The Ultimate Peanut Butter Brownies
Ingredients
Brownies

4 large eggs
1 cup sugar, sifted
1 cup brown sugar, sifted
8 ounces melted butter
11/4 cups cocoa, sifted
2 teaspoons vanilla extract
1/2 cup flour, sifted
1/2 teaspoon kosher salt
1 cup peanut butter DelightFulls Filled Baking Morsels

Peanut butter swirl

4 tablespoons unsalted butter, melted
1/2 cup powdered sugar
3/4 cup smooth peanut butter
1/4 teaspoon salt
1/2 teaspoon vanilla extract
Instructions
Prepare brownies:

Preheat oven to 300°F. Lightly grease an 8-inch square pan with butter or non-stick spray.
In a large bowl, beat eggs at medium speed until light yellow.
Add sugar and brown sugar, mix until combined.
Add melted butter, cocoa, vanilla, flour, and salt. Beat until just combined.
Stir in DelightFulls Filled Baking Morsels until distributed throughout batter. Set aside.

Prepare peanut butter swirl:

In a large bowl, stir butter, powdered sugar, peanut butter, salt and vanilla together until smooth.

Assemble the Ultimate Peanut Butter Brownies:

Pour 1/2 of brownie batter into prepared pan and spread into an even layer.
Drop spoonfuls of peanut butter filling on top of batter, about 1/2 inch apart.
Pour remaining brownie batter on top and gently spread across the pan. Drop spoonfuls of remaining peanut butter filling on top.
Using a butter knife, gently swirl the peanut butter filling into the batter by running it lengthwise and crosswise through the layers.
Bake 45-50 minutes, or until a toothpick inserted in the middle comes out clean. Let cool completely before slicing.
Notes
http://www.52kitchenadventures.com/2014/12/10/ultimate-peanut-butter-brownies/