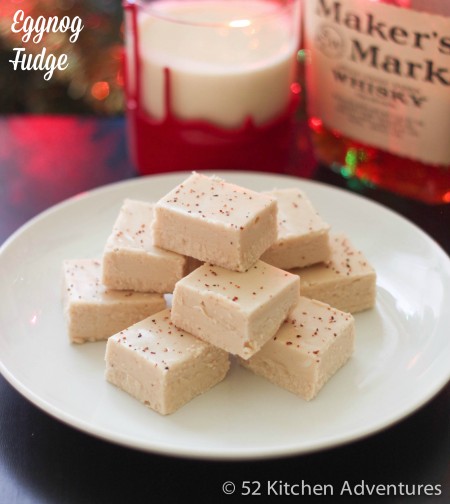 I have a confession to make: I've never been a huge fan of eggnog. It's grown on me over the years, but it's never been my go-to holiday beverage. Then I discovered boozy eggnog and that was a little better…and then I made it into fudge and found it's true calling 😉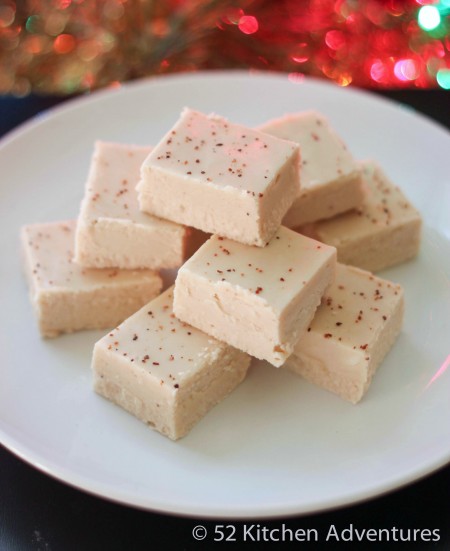 I love traditional chocolate fudge and haven't experimented much with other flavors, but I have to admit that you can't get more Christmas-y than eggnog fudge. This fudge is filled with white chocolate, eggnog, and a touch of fresh nutmeg and Maker's Mark Bourbon. It's very sweet and not very boozy (I'm tempted to add more Maker's Mark next time), making it pretty kid-friendly. You can omit the alcohol if you're concerned, but I was aiming to make a dessert inspired by a classic cocktail…and I think I succeeded!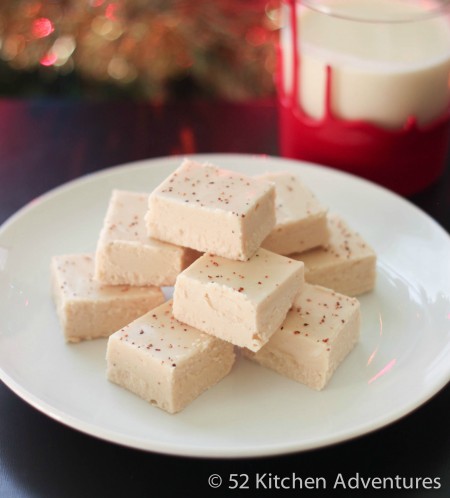 I love that this eggnog fudge has the traditional creamy, almost crumbly fudge texture (unlike the chewy chocolate + sweetened condensed milk version I also tried this year) and the flavor is perfect for the holidays. Now I want to try making more types of fudge. What's your favorite fudge flavor?
Ingredients
2 cups sugar
1/2 cup butter
3/4 cup regular eggnog
10.5 ounces white chocolate chips or chopped white chocolate
1/2 teaspoon freshly grated nutmeg, plus a little more for the top of the fudge
One 7-ounce jar marshmallow creme
1 tablespoon Maker's Mark Bourbon
Instructions
Line an 8″ square pan with aluminum foil, letting the extra hang over the sides.
Place a heavy saucepan over medium heat. Combine sugar, butter and eggnog and bring to a rolling boiling, stirring constantly. Continue to boil and stir constantly for around 8-10 minutes, until candy thermometer reaches 234°F. Remove from heat.
Stir in white chocolate and nutmeg with a wooden spoon or silicone spatula. Stir until chocolate is melted and smooth – if mixture starts to seem grainy or dry, add 2-3 tablespoons of water.
Add marshmallow cream and Maker's Mark and stir until incorporated. Pour into prepared pan and sprinkle some freshly ground nutmeg on top.
Let cool at room temperature (you can refrigerate to speed up the process). When it is completely cool, cut into squares and store in a covered container.