This post is sponsored by M&MS, but as always, all opinions and text are my own.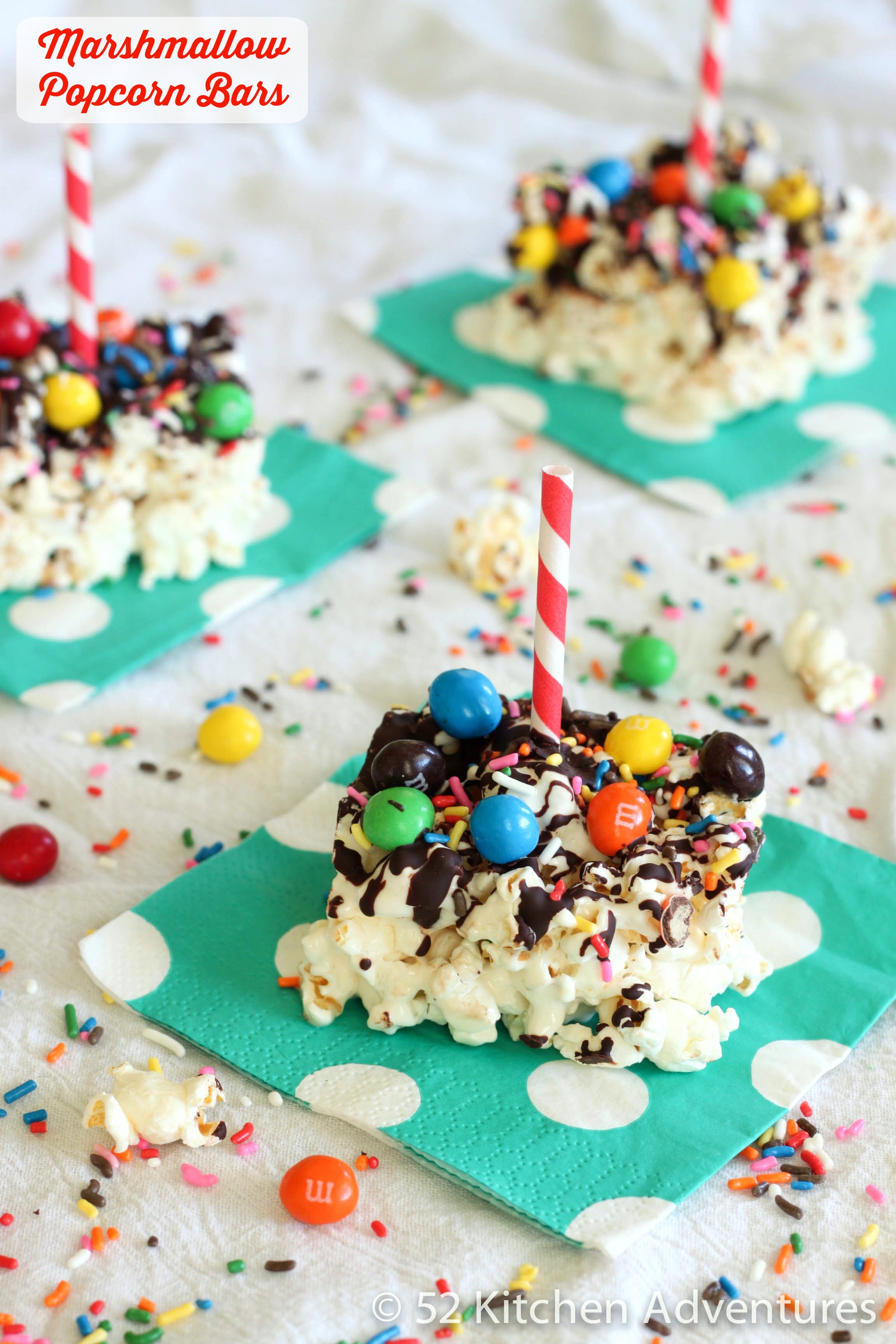 Before we get to the main event, I have to tell you something I just discovered: M&M'S Crispy are back!! I'm not one to obsess over certain types of candy, but M&M'S Crispy are somethin' special. They were discontinued in 2005 and just returned last month. If you've never had them, go treat yoself to a bag – they have the traditional M&M'S chocolate and candy coating, but the filing is crispy, crunchy rice instead of chocolate or nuts. I'm semi-obsessed.
Annnyway, with the Oscars coming up this weekend, I wanted to come up with a fun treat to share at a party for the biggest award show celebration of the year. When I think about movie food, two things immediately come to mind: popcorn and candy. It's a tradition for a reason, right? Salty popcorn + sweet candy make a fantastic combo.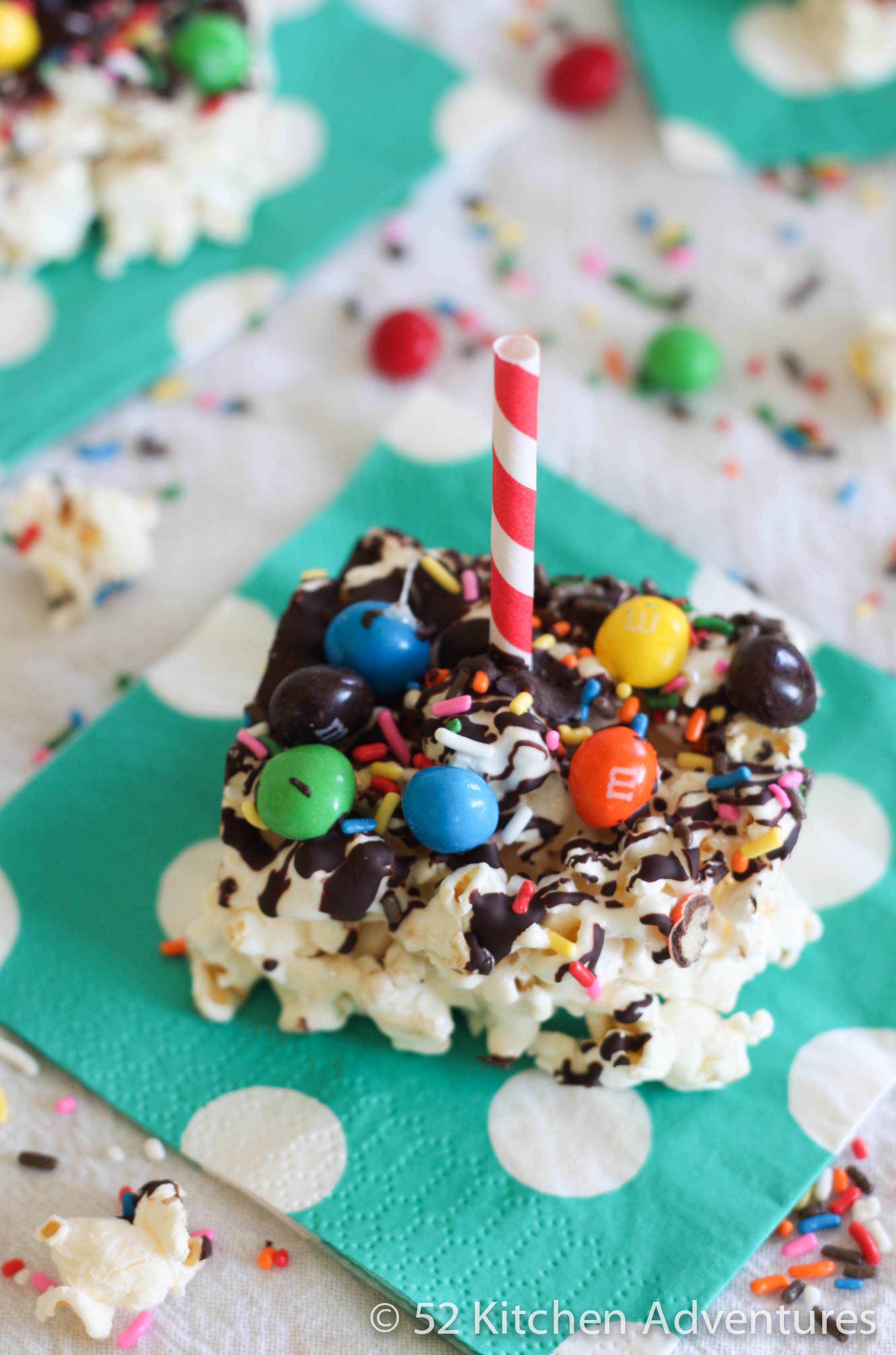 I've made flavored popcorn before, but that didn't seem festive enough (or easy enough for guests to enjoy at a party), so I started brainstorming other ideas. I'd never really thought of using popcorn in a dessert before, but once I found this idea for marshmallow popcorn bars, I was hooked. Popcorn and marshmallow together? Sounds good to me!
I couldn't just stop there though. I topped the bars with dark chocolate, M&M'S Crispy, and rainbow sprinkles. Then I used some red and white striped straws as sticks to make the bars even easier for party guests to enjoy – no sticky hands here! All of these colorful elements together make the bars look like a party in a pan.
One of the best parts about these marshmallow popcorn party bars, besides eating them of course, is that they couldn't be easier to make. It can get a little messy and sticky, but there's only four major steps in the recipe and no baking required. The popcorn can get a little stale after a couple days, so I recommend making these the day you're going to serve them.
Add some of your favorite people, a fake red carpet, and you've got the perfect Oscars viewing party. I rounded up some more party recipes using M&M's from some of my favorite food bloggers to bring you some more ideas for your movie and Oscar watching spreads below. Tell me in the comments – what are your favorite awards show tips, traditions, and snacks using M&M'S?
Marshmallow Popcorn Bars Recipe
By Stephanie Saunders
Published: February 19, 2015
This post is sponsored by M&MS, but as always, all opinions and text are my own.Before we get to the main event, I have to tell …
Ingredients
Instructions
Butter a 8″x8″ or 9″x9″ pan.
Pop your popcorn kernels on the stovetop or in an air popper or other popcorn machine. Set aside.
In a medium saucepan over medium heat, combine marshmallows, butter and salt. Stir frequently with a wooden spoon until fully melted with no lumps.
Pour melted marshmallows over popcorn and stir until all the popcorn is coated. Pour popcorn mixture into the prepared pan, spread out and press down into an even layer (you can use saran wrap coated with non-stick spray to press the bars down).
Melt chocolate by microwaving it in 30 second bursts, stirring in between. Drizzle over bars, then sprinkle M&M'S and rainbow sprinkles on top.
Optional: cut straws or lollipop sticks in half. Dip one end in melted chocolate and insert into the bars. Repeat for as many bars as you want to make.
Let bars cool, then slice into 9-16 pieces depending on what size you'd like.