About 6 months ago, we used canned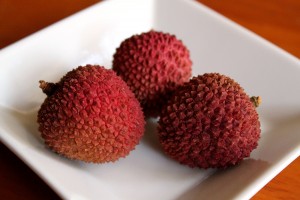 lychees as the unusual ingredient for the 8th Kitchen Adventure and made a simple mango and lychee cake. I recently discovered fresh lychees in stock at the store and couldn't resist revisiting them in a new way. Fresh lychees were surprisingly similar to canned, although the fruit is more firm with a less sugary and more natural flavor, as it is not coated in syrup.
When shopping for fresh lychees, look for pink/red (not green) skin that gives just a little when you touch it. If the skin is very soft, the fruit is overripe. Until you are ready to eat the lychees, I recommend storing them in a paper bag in a cool place or refrigerator. To prepare a lychee for eating, cut the top of the fruit with a knife and peel the skin away with your fingers. It should come off fairly easily.
You'll be left with what looks and feels like an off-white peeled grape. Inside there is a smooth, hard stone, so either break the fruit open with your hands or cut in half to remove it.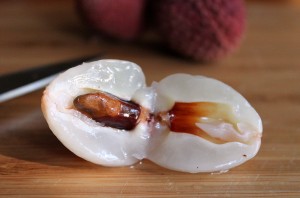 If you are eating them plain, you can treat them like cherries and spit out the stone, but the stir fry recipe below calls for lychees to be cut into fourths, so I recommend cutting them up with a knife.
To get out of my comfort zone and do something more interesting, I forced myself to make a savory dish with the fresh lychees instead of making a sweet dessert. Russ came to my rescue and helped me create a simple spicy stir fry that could be made with seafood, chicken or tofu. It is very spicy though, so reduce the amount of Srircha fresh ground chili paste and white pepper or omit altogether if you want yours to be mild. The lychees do help balance out the heat of the dish and add a little bit of sweetness to the otherwise savory and spicy entree.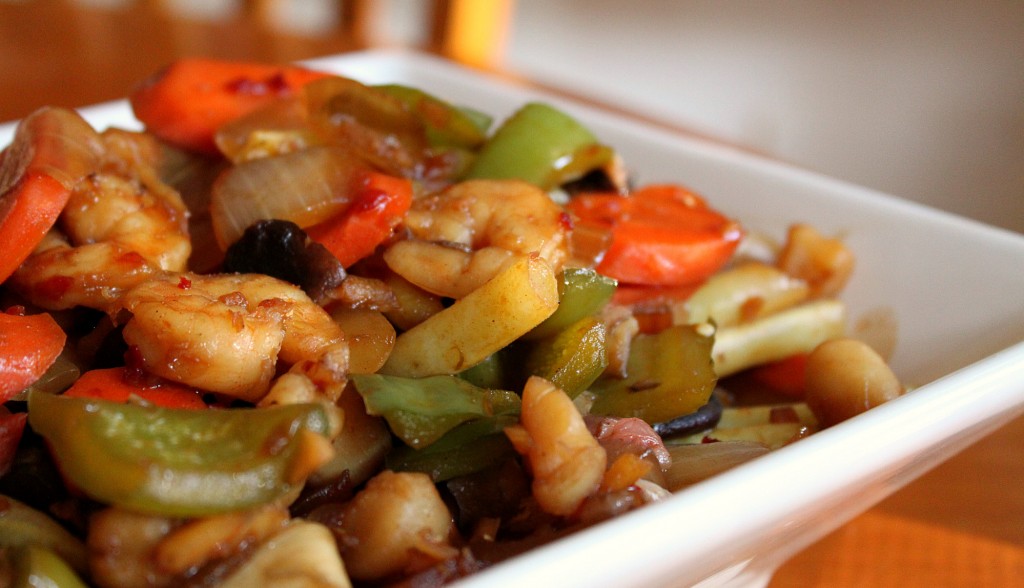 Spicy Seafood Stir Fry with Lychees
1 lb. shrimp or other seafood (we used a mix of shrimp, calamari and small scallops) or chicken or tofu
5 T sesame oil, divided
2 T rice wine
1 T rice vinegar
5 T reduced sodium soy sauce, divided
1 inch fresh ginger, minced
5 cloves of garlic, peeled and minced
2 T Srircha fresh ground chili paste (if you want spicy!)
1 large white onion, diced
2 green bell peppers, cut into 1/4 inch strips
1/2 lb. white sting beans
2 large carrots, peeled and sliced
1/3 lb. shiitake mushrooms, sliced
1 dozen lychees, peeled and quartered
1 T white pepper, freshly ground (if you want peppery and spicy)
1/2 C brown rice per person for serving
Heat a large wok over medium-high heat. Add 2 T of sesame oil and cook seafood or meat until done, then set aside for later use. Empty wok and wipe out, then return to heat and add 3 T of sesame oil. Place ginger, garlic, and chili paste in oil and cook 2-3 minutes, until fragrant. Add onion, rice wine, rice vinegar and 1 T soy sauce, and cook until tender. Add bell peppers and 1 T soy sauce, cook until tender. Add white string beans and 1 T soy sauce, cook until tender. Add carrots and and 1 T soy sauce, cook until tender. Add shiitake mushrooms and 1 T soy sauce, cook until tender. Mix in lychees, white pepper and seafood or meat (or tofu). Remove from heat and serve over brown rice.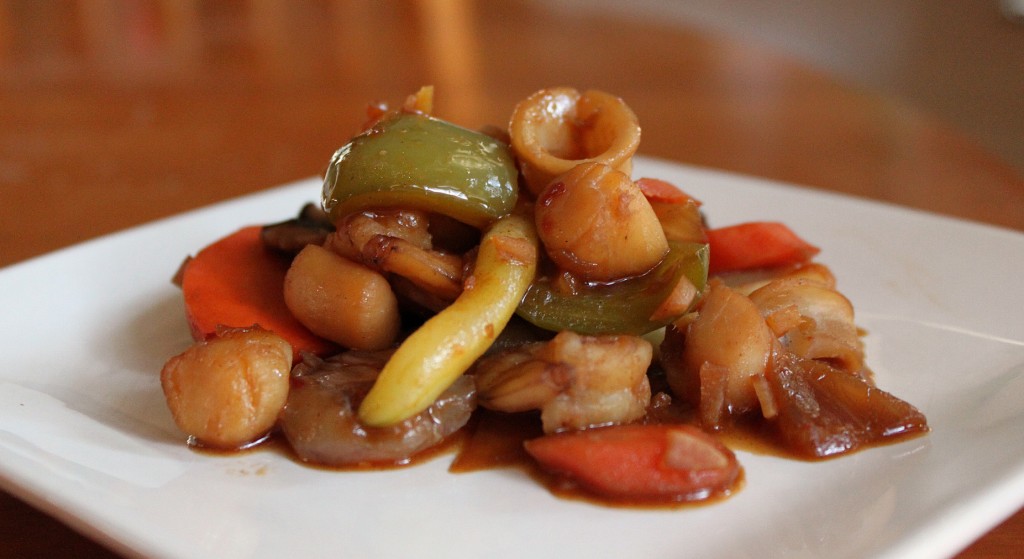 More recipes you'll love: