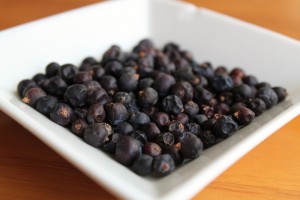 Before I saw juniper berries in the spice section, I only associated juniper as the flavoring behind gin. Turns out the berries, which are actually the female seed cone (a modified conifer cone, like a pine cone), can be used to flavor many hearty dishes.
As you can see on the right, juniper berries look remarkably like peppercorns, except they vary quite a bit in size and some are indented. While they're now used to season cabbage, sauerkraut and meat dishes, in the past they were used to treat several health conditions. In the 1600s, the Dutch used juniper berries to flavor because they are a diuretic and also believed to be an appetite stimulant as well as a cure for arthritis and rheumatism. Native American tribes used juniper berries as an appetite suppressant and female contraceptive. In recent times, juniper berries have been looked at as a way to control diabetes by diet, as they insulin from the pancreas and decrease hunger.
For cooking, you want to use mature, black berries (gin is typically flavored with fully grown but immature green berries). Juniper berries have more flavor and odor when they are fresh, but are easier to find dried. They need to be crushed when you are cooking with them, as the outside shell has little flavor. Once crushed, they impart what is often described as a "clear" and fresh flavor, complimenting hearty meats and cutting the gaminess of game.
Juniper berries are often paired with gamey meats such as wild bird, venison, and boar. Here, I've used them in a classic Italian recipe with lamb. This dish requires a bit of time but is extremely simple and easy to execute. You basically drop all the ingredients in a pot and let them cook for a couple of hours, turning the meat every half hour. It's the perfect dinner for a lazy Sunday or any time you are home in the afternoon. The meat was literally falling off the bone and was incredibly tender and flavorful. I served it along with roasted potatoes and mushrooms for a hearty, comforting dinner.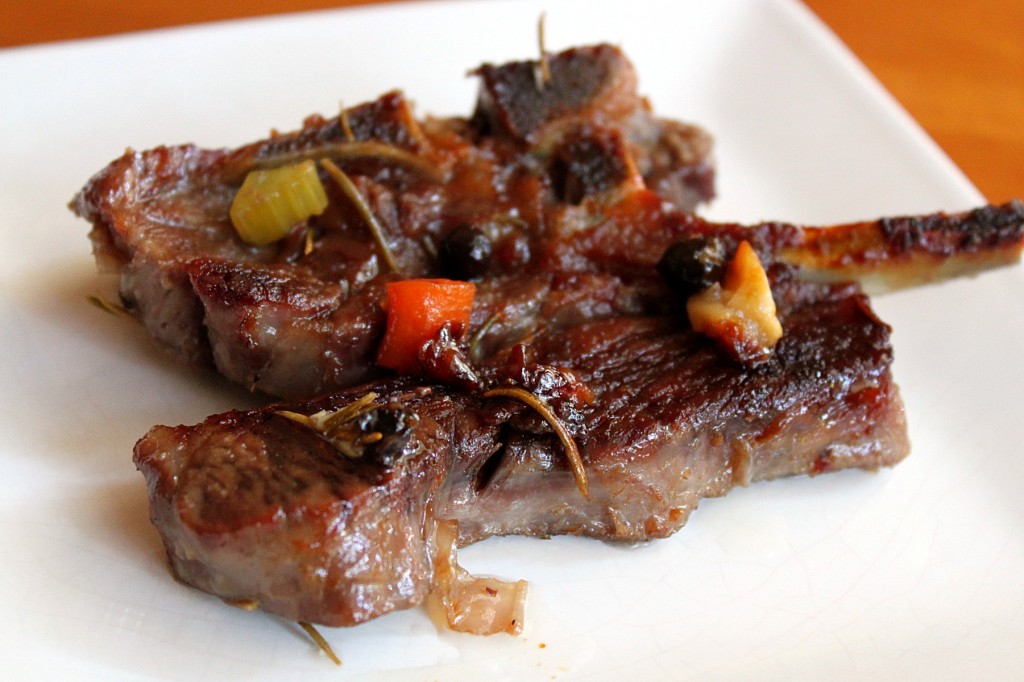 Pan Roasted Lamb with Juniper Berries
2-2 1/2 lbs. lamb shoulder chops, bone-in
1 T celery, chopped
1 T carrot, chopped
2 T onion, chopped
2 garlic cloves, skin removed and lightly mashed
1 1/2 t juniper berries, lightly crushed
2 t dried rosemary or 1 sprig of fresh rosemary
1 C dry white wine (I used sauvingon blanc)
Salt and pepper to taste
Place all the ingredients in a large pot over medium-low heat. Cover the pot and turn the lamb pieces over every 30 minutes.
Cook for 1 1/2 to 2 hours, until liquids have reduced by at least 1/2. If there are still a lot of juices at the bottom of the pan after 2 hours, set the pot's cover slightly ajar and continue cooking at a slightly high heat. Continue to turn the meat occasionally. Once the meat is tender and the liquids are reduced, remove pot from heat (if liquids still haven't reduced, increase heat again to cook to a less runny consistency).
Add more salt to meat if needed. Spoon off any liquified lamb fat and transfer everything onto a platter to serve at once.
More recipes you'll love: