I realize we keep doing fungi here; first morels, then candy caps, now truffles. We bought a small jar of black summer truffles at Sur La Table not too long ago, and Russ has been itching to use them. I, on the other hand, have to admit that I think truffles smell absolutely horrible. I was nervous about not enjoying our truffled food, but the risotto Russ prepared was quite good.
A little background on truffles: as you probably know, truffles are extremely expensive. They have limited seasons (winter or summer) and are limited to certain countries and even more specifically to growing with certain types of trees. In addition, production has decreased substantially over the past century.
Truffles are fungal fruiting bodies that grow underground and rely on animals that feed on fungi for spore dispersal and live symbiotically with trees. There are hundreds of species of truffles, but only a few are a highly prized and sought after food item.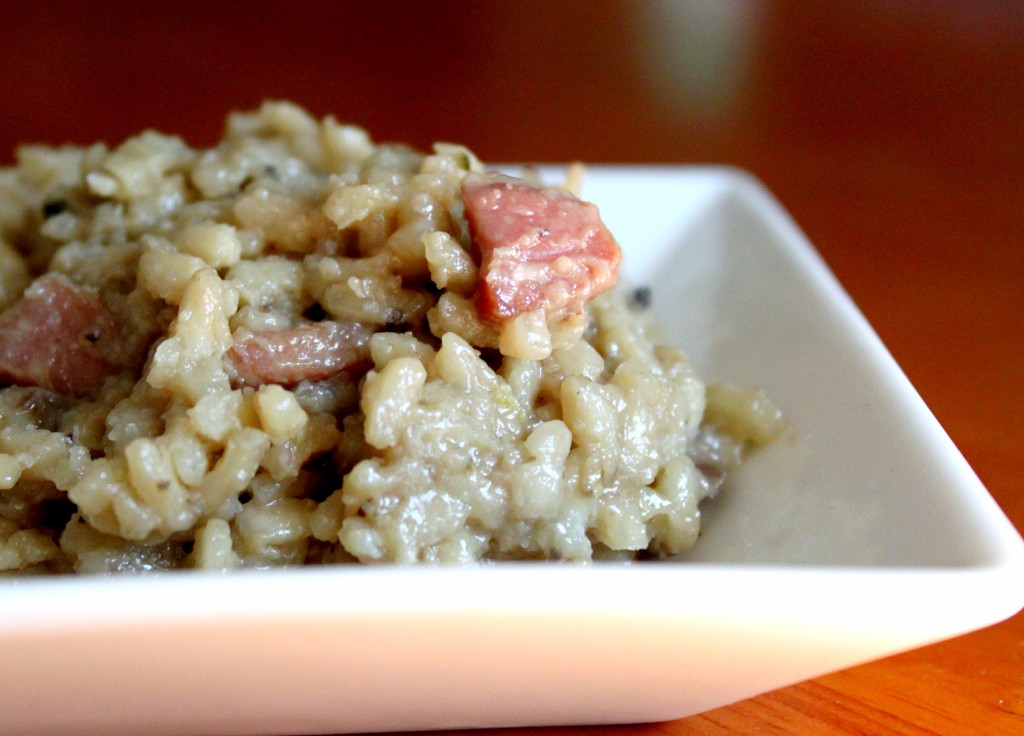 Black Truffle Risotto
2 T olive oil
1/2 lb. pancetta, chopped into small squares
1 shallot, diced
3 garlic cloves, minced
1/3 lb. white button mushrooms, sliced
1/3 lb. crimini mushrooms, sliced
2 C arborio rice
1 pinch of saffron
10+ C chicken stock
1/2 C parmesan, grated
1 black summer truffle, very finely minced
1 T white truffle oil
1/2 bunch of parsley, roughly chopped
Salt and pepper to taste
Place olive oil in a large saucepan, over medium-low heat. Add the pancetta and simmer until all the fat is rendered out. Add shallot and garlic, cook until translucent and fragrant, then add the mushrooms. Push everything to one side of the pan and pour the rice into the empty space. Toast until lightly browned then combine with other ingredients. Add saffron and chicken stock, 1/2 cup at a time, stirring constantly and adding more once all the liquid has been absorbed. Each time you add chicken stock, sprinkle in a bit of parmesan until you use it all.
Once the risotto is almost done (just a little crispy in the middle of rice), stir in the black truffles and continue stock until rice is completely tender. Mix in white truffle oil and parsley and serve.
More recipes you'll love: