A few weeks ago I found myself with a little free time in San Francisco. I heard good things about a food co-op nearby, so I wandered in and was rewarded with one of the most extensive bulk sections I've ever seen. There I came across some odd looking dried fruit. Labeled "inca berries," they were round and wrinkled golden brown berries the size of a large raisin. I had no idea what they were, but picked some up anyway, cause it's always fun to try something new (and, you know, cause I have to come up with something unusual each week). Turns out they're one of those "super foods" – they are high in several vitamins, including B12, phosphorus and a good source of protein and bioflavonoids, which have antiviral, antioxidant and anti-inflammatory properties.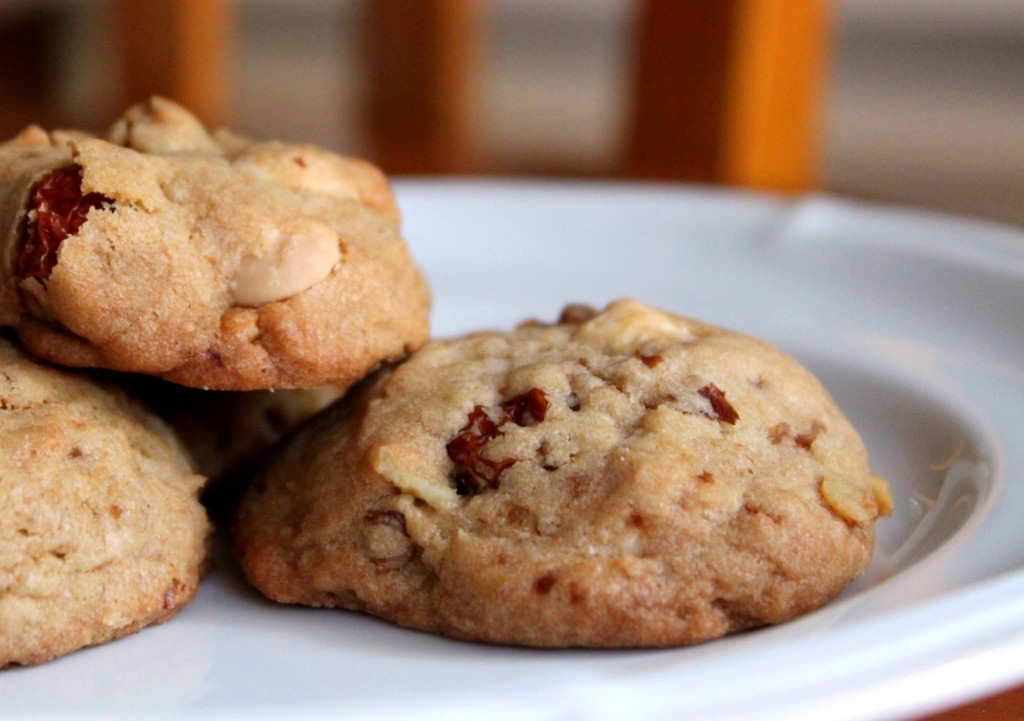 Also known as cape gooseberry or agauaymanto berry, these super berries are indigenous to South America. They have a texture similar to sun dried tomatoes and a very tangy taste. I opted to use them in cookies, replacing what is often cranberries with an even tangier flavor. The toasted walnuts give a nice crunch while the white chocolate chips have a nice sweetness to balance the tart berries.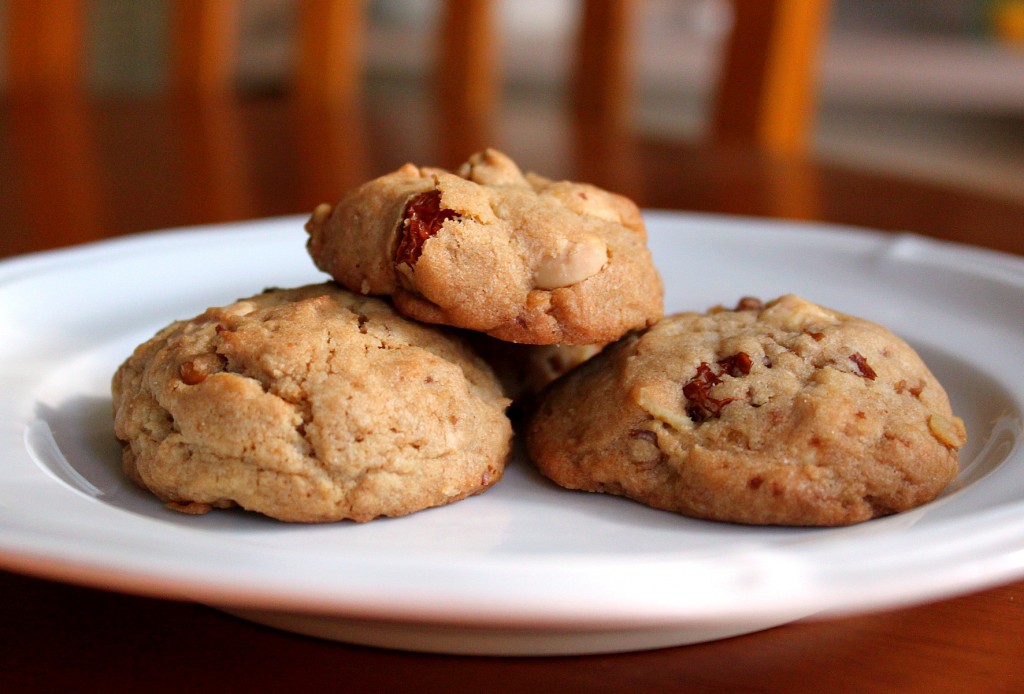 White Chocolate, Walnut and Inca Berry Cookies
1/2 C unsalted butter, room temperature
1/2 C golden brown sugar, packed
1/3 C sugar
1 eggs
1 /2 T vanilla extract
1 1/2 C flour
1/2 t baking soda
1/2 t salt
3/4 C white chocolate chips
3/4 C dried inca berries
1/2 C toasted walnuts, roughly chopped*
Preheat oven to 350°F. Line baking sheets with parchment paper or nonstick baking mats.
In a large bowl, beat butter until fluffy. Add white and brown sugar and mix until combined. Mix in egg, then add vanilla.
Combine flour, baking soda and salt in a medium bowl. Add dry ingredients to bowl of wet ingredients and mix until just combined. Using a spatula, fold in white chocolate chips, inca berries and walnuts.
Drop batter by tablespoonfuls onto prepared baking sheets, spacing apart. Push inca berries into the batter (if they are on the outside of the cookies, they expand in size and lose flavor). Bake for 15-18 minutes, until cookies are just golden.
*Toast walnuts by placing them in one layer onto a baking sheet and baking at 350°F for 8-10 minutes, until just lightly golden brown and aromatic.
More recipes you'll love: