Only 10 more weeks until the end of this project (and the end of 2010)! Are there any unusual ingredients you want me to cover before the end? Contact me soon!
This week, I discovered kiwi berries at the store. These green or purple berries are smaller versions of kiwis, without the fuzzy surface. They're about the size of a large grape, and can be eaten just like a grape, skin and all. Also known as baby kiwi and hardy kiwifruit, they are a bit sweeter and tangier than regular kiwis.
Kiwi berries are native to Korea, China and Russia, although they are now grown in many places throughout the world, including New Zealand and the United States . They are high in fiber and contain high levels of vitamins A, C, and E, as well as calcium, magnesium and iron.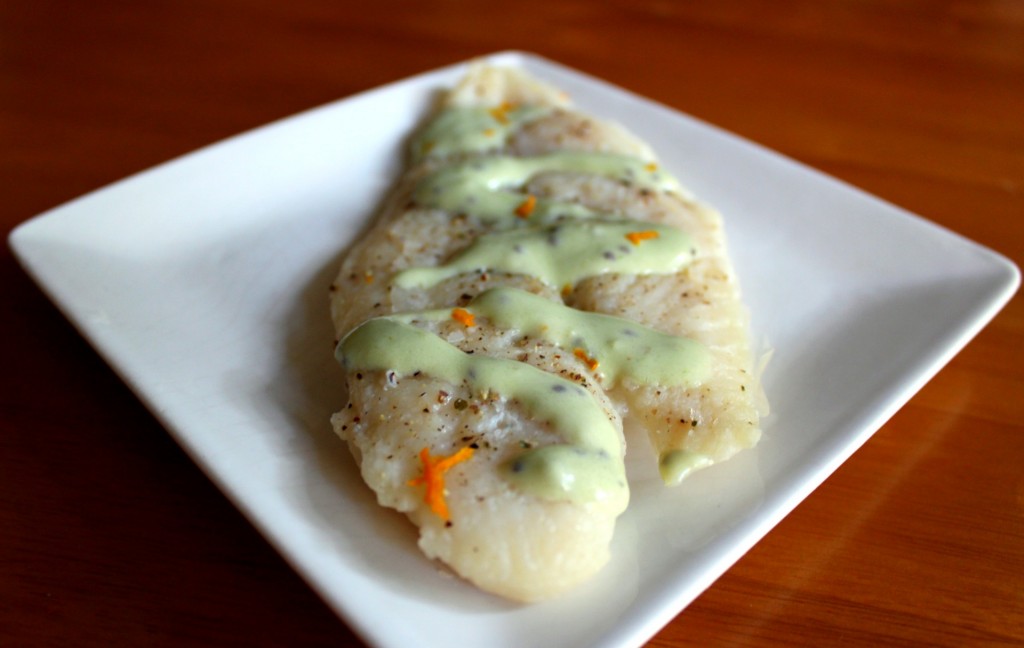 I pureed my kiwi berries in the food processor, then added an equal amount of sour cream (turning the sauce from bright green to an unnatural looking sea foam green). With a touch of honey and triple sec, the sauce is a nice addition to a mild fish like tilapia. A fish with a stronger flavor would overpower this delicate sauce.
Tilapia with Kiwi Berry Sauce
Serves 4
4 tilapia fillets
1/2 C kiwi berry puree*
1/2 C sour cream
1/2 T honey
1/2 t triple sec
Orange zest, for garnish
Preheat oven to 375°F. Place fillets in a large baking dish and generously season with salt and pepper. Place a small pat of butter on each fillet and bake around 20 minutes, or until fish flakes easily.
In the meantime, prepare the sauce. Combine kiwi berry puree, sour cream, honey and triple sec in a medium bowl. Pour over prepared fish, then grate a little orange zest on top (be careful not to put too much, as it overpowers the flavors of the sauce).
*To make the puree, simply pop some fresh kiwi berries in a food processor or blender. No need to skin them or remove the seeds – very simple!
More recipes you'll love: