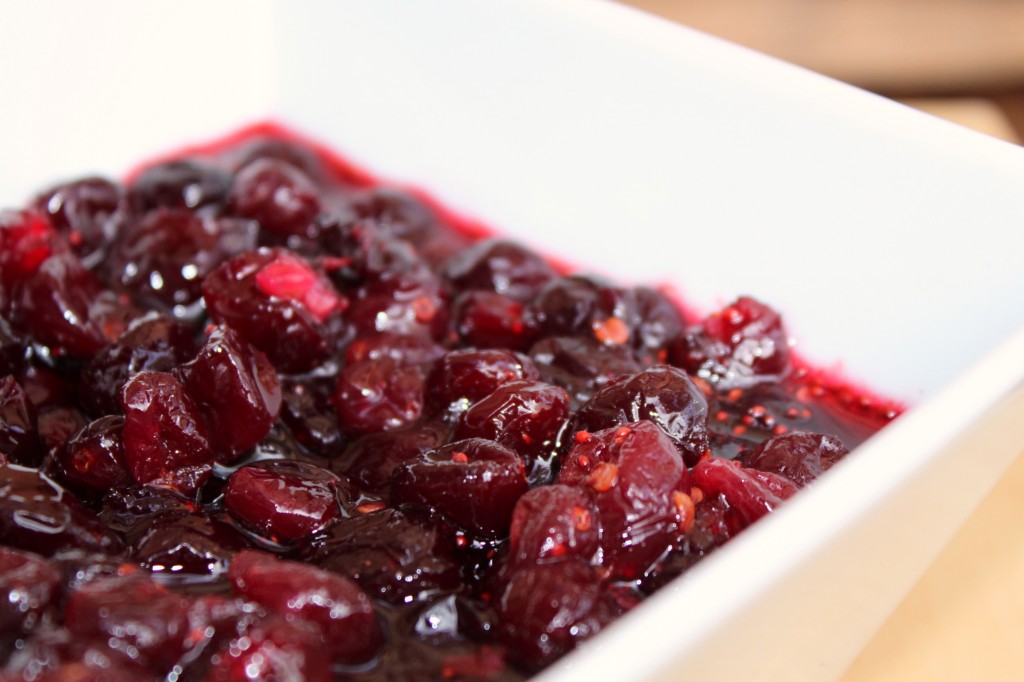 Odds are the majority of you (excluding the Canadians and readers from a handful of other countries) had cranberry sauce a few days ago at Thanksgiving. Cranberry sauce has gained a poor reputation due to the unappealing can-shaped jelly version (you know, the kind you can slice – doesn't seem natural!). It's actually surprisingly easy to make cranberry sauce from scratch, but this here is no ordinary cranberry sauce. Look a little closer…
Among the tiny cranberry seeds, see the bigger orange seeds? Those come from dried puya chilies. That's right, this is not your mother's cranberry sauce. It's a spicy, smoky, savory version of the often sickeningly sweet dish that few look forward to at the holidays. The puya chilies came from Marx Foods, who sent me and other food bloggers a sampling of their extensive selection of chilies, along with a challenge to create a dish that is eaten with a spoon.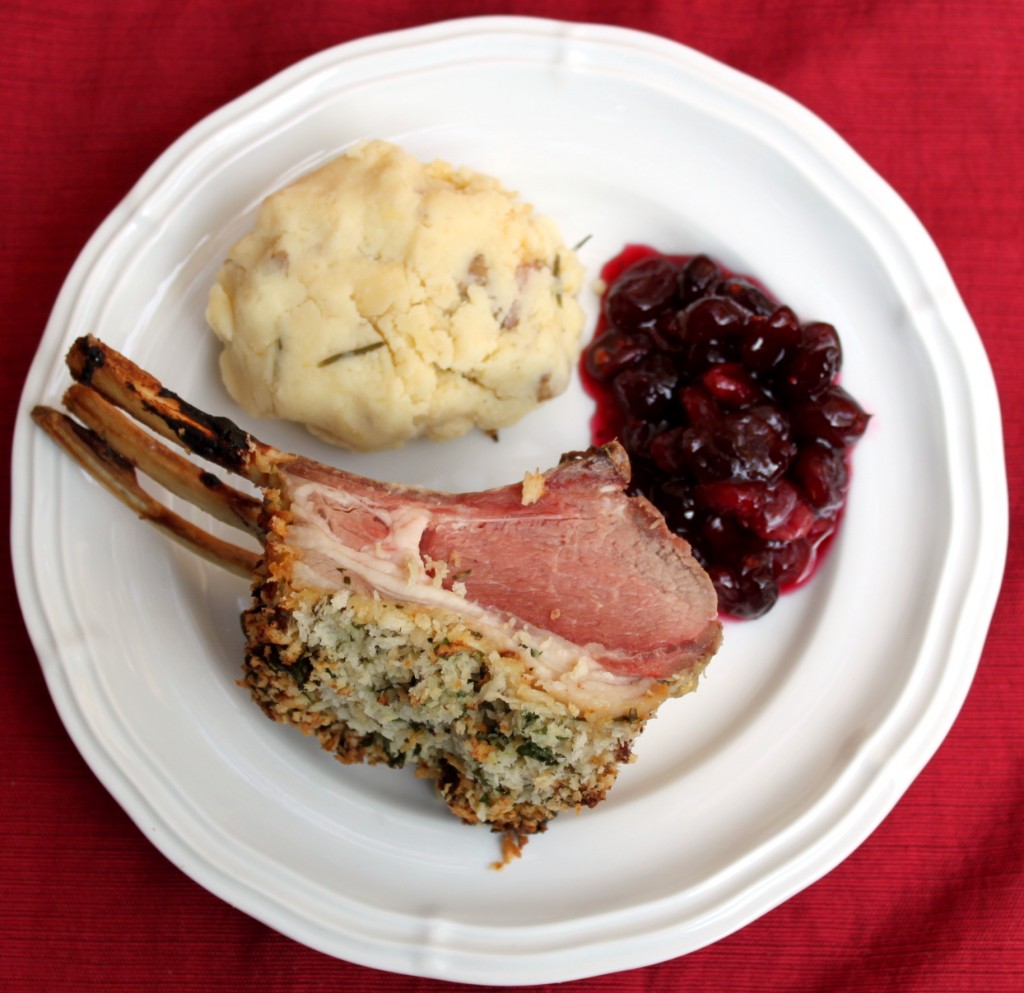 The chilies came right in time for Thanksgiving, and I was looking for a way to revolutionize cranberry sauce, which just happens to be a spoon food – it was meant to be! By adapting an old recipe from Bon Appetit, I created this new version of a classic, which was declared the best version I've ever made (I typically make a different version of cranberries each year). Here is our somewhat unconventional Thanksgiving dinner – rack of lamb, mashed potatoes, and spicy cranberry sauce. This sauce compliments the mild potatoes, and goes well with hearty meats.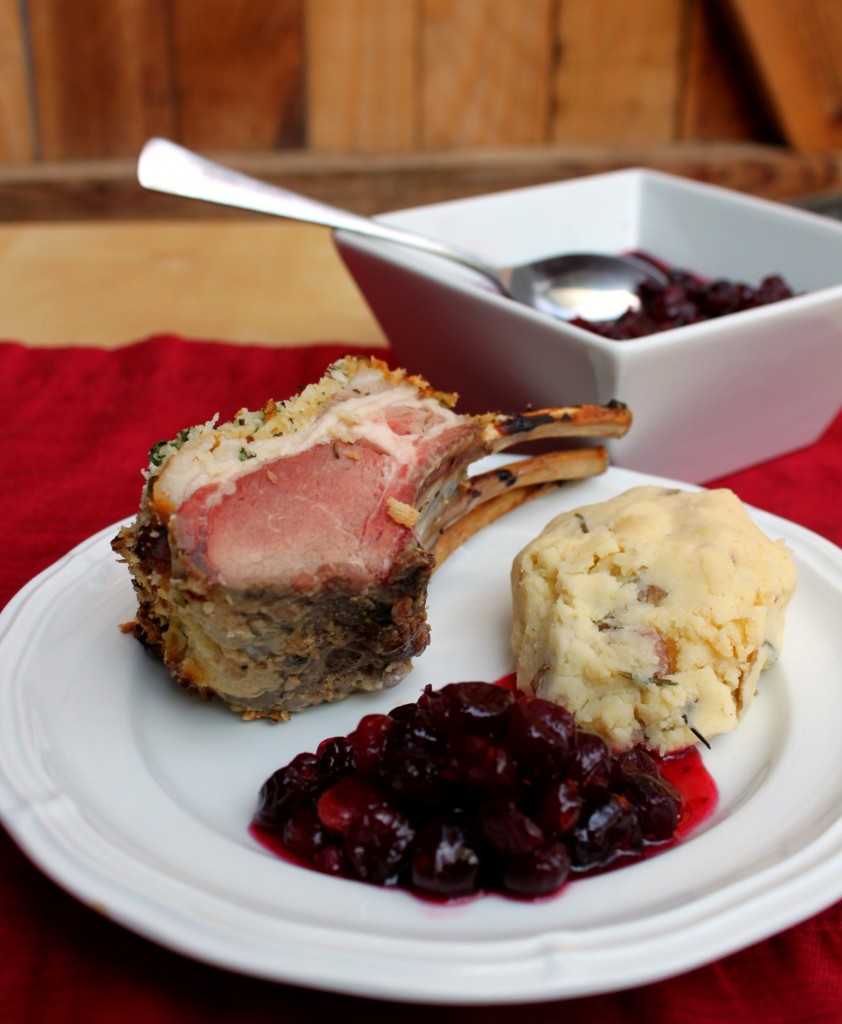 Puya chilies have a similar fruity flavor as guajillo chilies, but with more of a kick. They rate as a 5000-8000 on the Scoville heat scale (medium heat). The long, flat and smooth dried chilies are a deep maroon color. You can add them to mole, tomato soup, any recipe calling for guajillos, or anywhere you want a little extra heat.
Not Your Mom's Cranberry Sauce (A Spicy, Smoky, Savory Relish)

2 dried puya chilies
12 ounces fresh or frozen cranberries
Juice of 1 small lemon
1 C sugar
1 small garlic clove, finely diced
1/4 t ground cinnamon
1/8 t ground cumin
In a medium saucepan, bring water to a boil. Add in puya chilies and simmer for 1 hour. Drain water and add in cranberries, lemon juice, and sugar. Cook over medium heat, stirring until sugar is dissolved. Bring to a boil and reduce heat to a simmer. Cook until cranberries start popping, then add in garlic, cinnamon and cumin. Simmer for at least 5 more minutes, until sauce thickens, stirring occasionally. Remove chilies*, cover and refrigerate. Bring to room temperature to serve. Can be made several days ahead of serving.
*When I made this, the chilies opened up and the seeds came out. If yours remain intact, you can remove them at this point and either leave the relish as is or chop the chilies and add them back in (seeds optional, depending on how hot you want to make it).
More recipes you'll love: