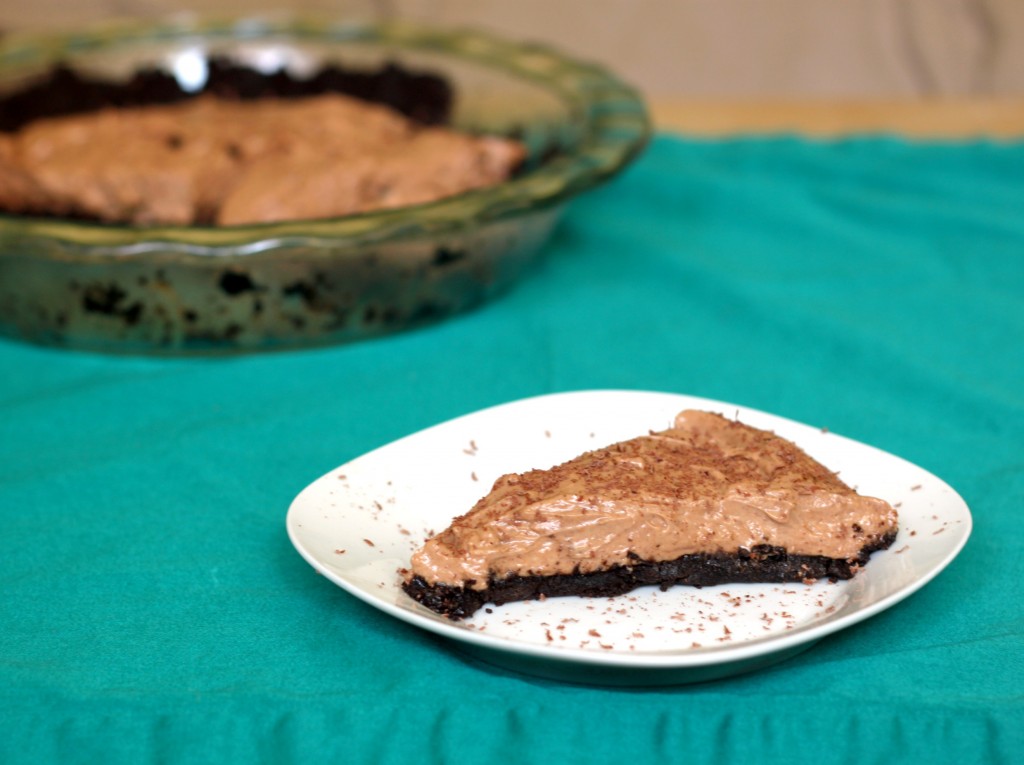 Imagine sinking your teeth into a creamy pie filling with the enticing flavors of chocolate and hazelnut. The surrounding crust gives with a slight crunch and chocolate cookie crumbles in your mouth.
You would never guess that it was a very simple no-bake pie with only a handful of ingredients. I used my homemade Nutella to make this creamy pie. You can also use store bought Nutella, and then you won't need to add any additional sugar (it's sweeter than my homemade version).
This used almost all of my homemade Nutella, but it was definitely worth it. It's thick, sweet, creamy and completely satisfying. I usually prefer cake over pie, but not in this case!
Recipe:
Whipped Nutella Pie with Oreo Crust
Adapted from the Flavors of Abruzzo
Makes 1 9″ pie
25 Newman-Os or Oreos (around 2 1/4 C of crumbs)
2 oz. butter, melted
8 oz. cream cheese, softened
3/4 C homemade Nutella*
1/2 C powdered sugar
1 C whipping cream
In a food processor, process cookies until finely ground. Combine with melted butter in a medium bowl. Lightly coat a 9 inch pie plate with non-stick spray. Firmly press cookie mixture in an even layer onto the pie plate. Place in fridge to harden.
In the meantime, in a large bowl beat the cream cheese, Nutella and powdered sugar together until thoroughly combined and smooth. In a separate bowl, whisk whipping cream until it becomes thick whipped cream. Fold into the Nutella mixture. Scoop into hardened pie crust, then refrigerate until pie firms up. Garnish with grated dark chocolate if desired. Serve cold and store pie in fridge.
*If using store-bought Nutella, you probably won't need to add any sugar as it's much sweeter. Add as needed to taste.