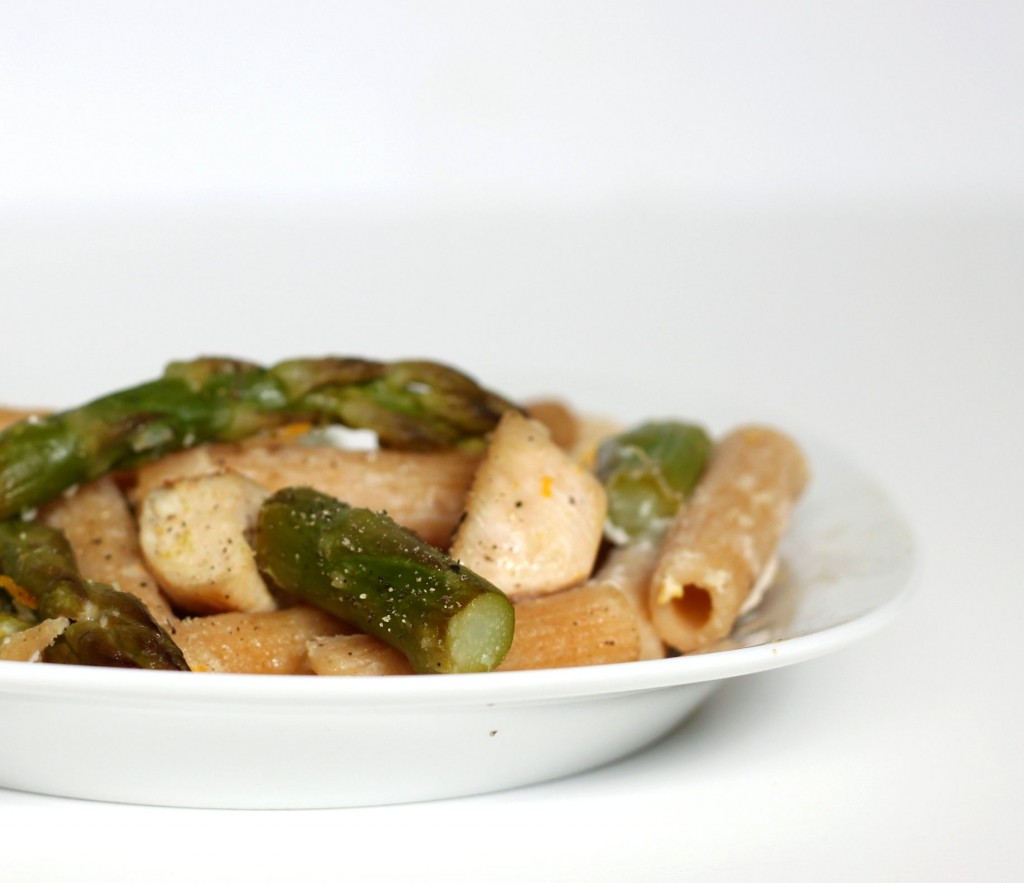 It's finally spring and I'm so excited to greet some favorite produce again at the farmer's market! I've already gone through 2 bunches of asaparagus in the last week and a half and I'm anxiously awaiting ripe local strawberries. The other day someone left a large bag labeled "free lemons" at work, and I was pleasantly surprised to find a small mountain of Meyer lemons inside. I brought several home and immediately began planning dinner around them and my current favorite green vegetable.
I came up with a healthy and easy pasta dish that can be easily made vegetarian by omitting the chicken. Whole wheat pasta, steamed aparagus and chunks of chicken are coated with freshly grated Parmesan, Meyer lemon zest and juice, sour cream or yogurt, and freshly ground pepper, creating a very light cream sauce with bright notes of citrus.
An even simpler way to enjoy asparagus is to grill or roast them until fork tender with good olive oil, salt and pepper. A quick side dish that's not only delicious, but has loads of health benefits: asparagus has high levels of folate, vitamins A and C, as well as many other antioxidants and nutrients that are anti-inflammatory, plus it is a good source of fiber.
Recipe:
Whole Wheat Pasta with Meyer Lemon & Asaparagus
1 lb. whole wheat pasta (I used rigatoni)
1 lb. asparagus
1 lb. skinless, boneless chicken breast, cut into 2″ chunks
2 T olive oil
2 Meyer lemons, zested and juiced
1/3 C Parmesan, grated
3/4 C sour cream or plain yogurt
Bring a large pot of salted water to a boil and cook pasta according to the package directions (when finished, reserve a cup of cooking water before you drain). Meanwhile, steam asparagus and cook chicken. In a medium skillet, heat olive oil over medium heat. Season chicken with salt and pepper, then add to skillet. Squeeze juice of 1 of the lemons over the chicken, then cook until done.
Place cooked chicken in a large bowl with the zest of both lemons and grated Parmesan. Once the asparagus is done, slice into 1″ pieces and put into bowl as well. Add cooked pasta to bowl, along with a small splash of cooking water and sour cream or yogurt. Add more sour cream or yogurt if sauce is too thin, or more pasta cooking water if sauce is too thick. Serve immediately, with a sprinkle of grated Parmesan and freshly ground pepper on top.
More recipes you'll love: