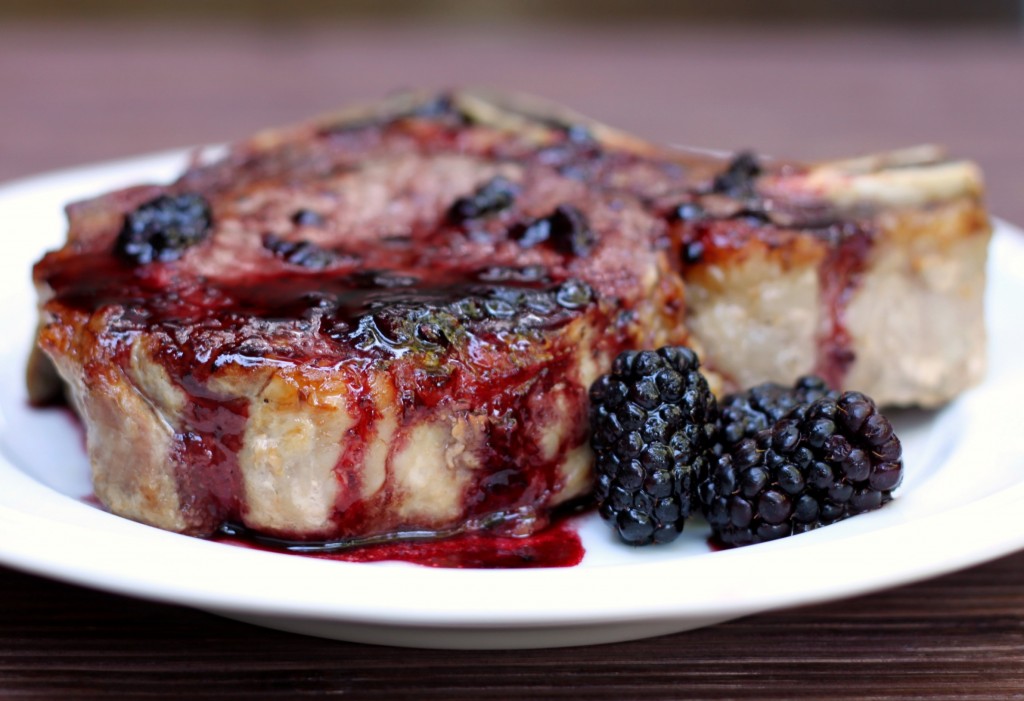 This might be the last unhealthy post for a while (I know, what am I thinking? I'm a terrible food blogger)*. I'm doing Jillian Micheal's Ripped in 30 Days DVD and it comes with a meal plan. I'm sticking to the plan as much as possible, with the occasional jaunt to eat out with friends. The meal plan isn't so bad – it includes a lot of food I eat anyway, from hummus and veggies to black bean chicken burritos. I'm putting my own spin on some of the recipes and I'll have to share a few with you, along with what I think of both the workouts and the meal plan.
For now, I share with you a big ol' hunk of meat that I smothered in fresh blackberry sauce. On Wednesday I told you about the picking blackberries at a local farm. I was determined not to make jam or bake a dessert with the berries. Too easy and typical for me. Instead, a savory meat dish seemed like a great alternative. While the sauce itself is on the sweeter side of things, it's cooked down with vermouth, balsamic vinegar, fig jam and honey, and the flavors really compliment the pork chop.
Besides making jam, what do you like to do with summer fruit?
Recipe:
Pork Chops with Blackberry Sauce
Adapted from the Meat and Potatoes Foodie
Makes 2 servings
2 pork chops
Salt and pepper to taste
2 T butter, divided
1 T olive oil
1 C fresh blackberries
1/2 C vermouth
1 T balsamic vinegar
1 t honey
1/2 t jam (fig if you have it)
Pinch of pepper
Preheat oven to 200°F.
Generously season pork chop with salt and pepper on both sides. Over medium high heat, place 1 tablespoon of butter and olive oil in large rimmed skillet. Lower heat slightly and add season pork chops, cooking 3-4 minutes until there is a crust, then flipping over and cooking a few more minutes until cooked through (I used bone in and it wasn't cooked through at this point, so I increased the oven temp to 300°F and cooked until the pork reached 260°F in the middle). Place chops on a pan in the oven to keep warm.
In the meantime, prepare the blackberry sauce. Drain excess fat from the pan and add 1 tablespoon of butter. Place over medium heat and add berries. Cook for around 4 minutes, stirring frequently. Add vermouth to pan and bring to a boil, then lower heat slightly and simmer until liquid is reduced by half. Add balsamic vinegar, honey, jam and pepper and cook a minute or 2 more, until sauce is slightly thickened.
Remove chops from oven and pour sauce over them. Serve immediately.
*I take that back. There will probably be sorbet, popsicles and cupcakes coming up in July. So that should hold you over!