On Monday I shared a slow cooker recipe for apple butter with the promise that pumpkin butter was coming next. You can also make pumpkin butter in a Crock-Pot, but I chose to do this one on the stovetop. It was almost as easy as the slow cooker apple butter, but required a little more attention.
The other big difference between the 2 recipes is that you can process the apple butter in boiling water to keep it in jars at room temperature, but you can't do that with pumpkin butter. Pumpkin is too dense for safe canning, so it's best stored in the fridge and enjoyed now or frozen for later. I still put mine in little jars so I can give it to friends and family, and I'll just explain that it's perishable.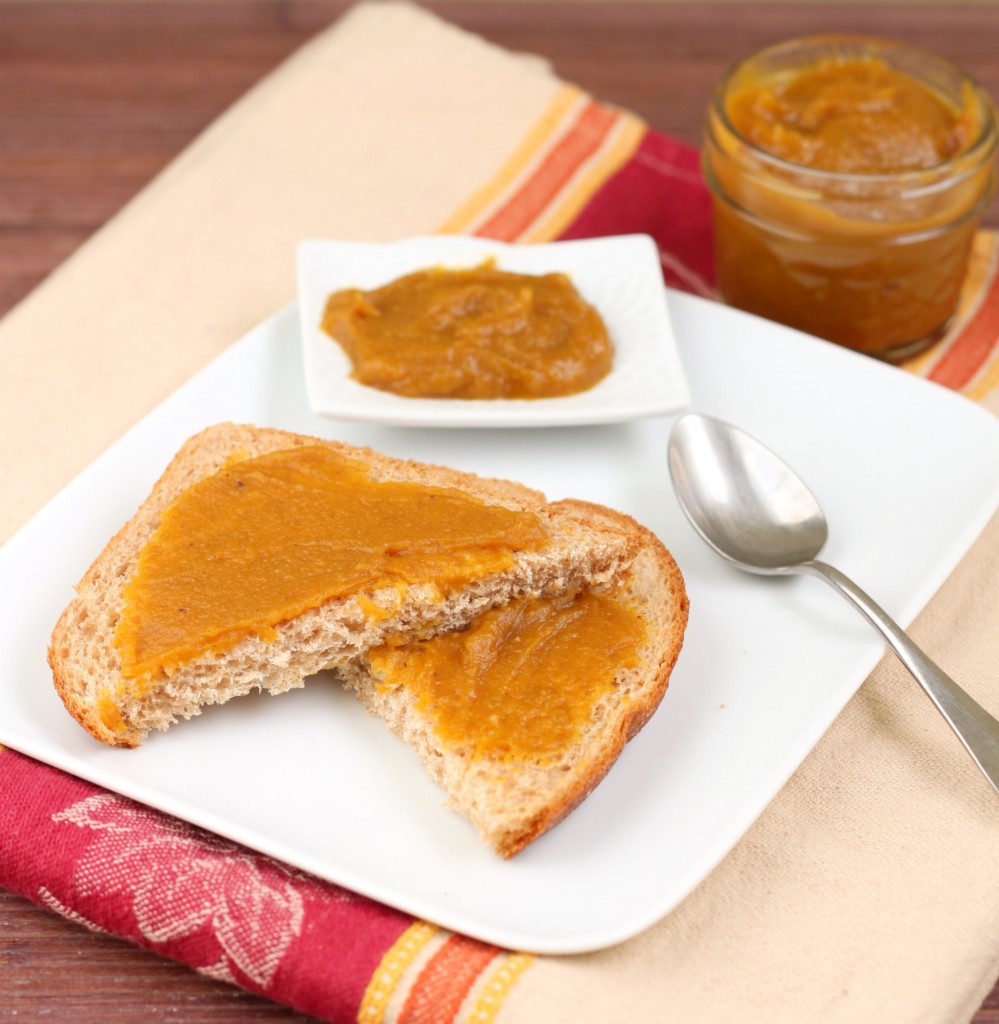 As I mentioned in the apple butter post, fruit butters don't actually contain butter. Instead, it's when fruit is cooked down then pureed into a thick, creamy spread. You can spread it on toast, scones, and biscuits or stir it into oatmeal and yogurt. How do you eat fruit butter?
Recipe:
Pumpkin Butter
1 medium sugar pumpkin (about 2 1/2 pounds)
1 ½ cups apple cider
1/3 cup maple syrup
1/3 cup light brown sugar, lightly packed
1 1/2 teaspoons ground cinnamon
1 teaspoon ground ginger
1/4 teaspoon freshly grated nutmeg
Pinch ground cloves
Wash your pumpkin and cut it in half. Remove the seeds and stringy pulp, then peel with a vegetable peeler or sharp knife (you can peel it before cutting it in half if that's easier for you). Cut pumpkin flesh into 1 to 1 1/2 inch cubes. Place them in a large saucepan or Dutch oven in a single layer. Pour apple cider over pumpkin cubes. They should be covered about halfway, but if not add water.
Bring pumpkin and cider to a simmer over medium-high heat. Reduce heat to medium-low and cover pot. Cook around 30 minutes, stirring once or twice, until pumpkin is very soft. Puree using a hand blender or by transferring to your blender in 2 batches and returning to pot.
Stir in maple syrup, brown sugar and spices. Over medium-low heat, simmer very gently while uncovered. Continue to cook, stirring and scraping the bottom occasionally, for around 40 minutes. Butter should thick and spreadable and bubbles that form in it will burst very slowly.
Remove from heat and let cool. Store in an air-tight container in the refrigerator.