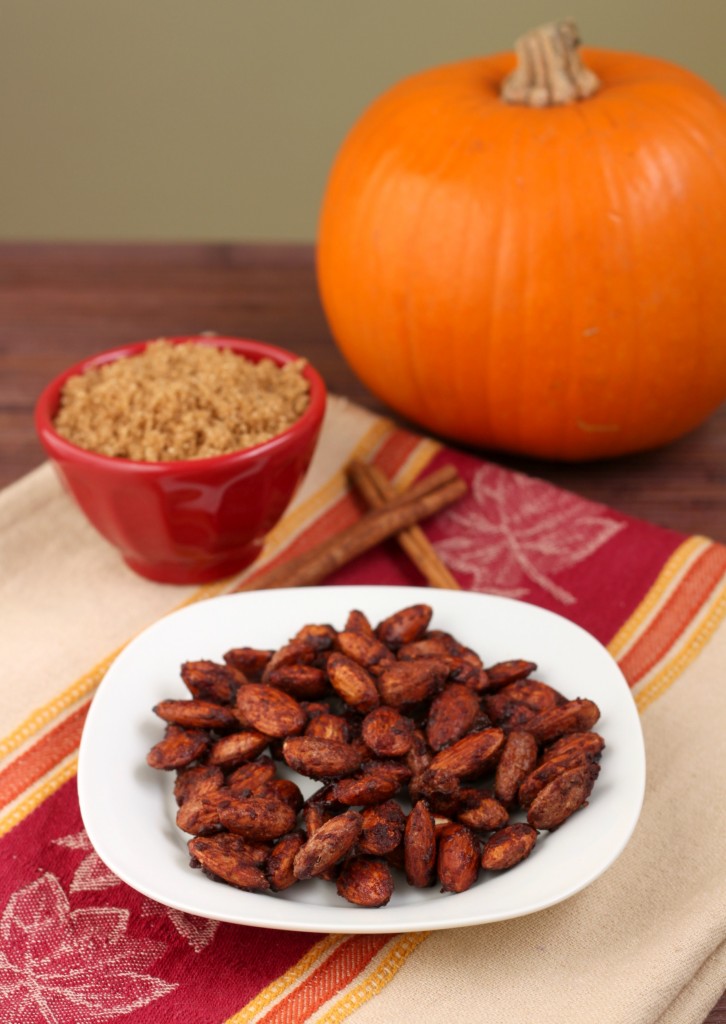 It's almost Thanksgiving, which means all things Christmas are right around the corner, including peppermint and chocolate desserts. I'm not quite sure why those flavors go with winter and the holiday season, but they're my favorite flavor combo so I just go with it.
Before we get slammed with holiday decorations and flavors, I wanted to pay one last homage to fall. Pumpkin and it's accompanying spices are pretty wonderful and they deserve some extra attention before we move on to the holidays. These pumpkin spice nuts aren't pumpkin flavored, but full of all the spices you taste in pumpkin pie, plus a little sweetness from a touch of maple syrup and brown sugar.
All you have to do is coat raw nuts in spices and a little sugar and roast them. Before you know it, you've made a snack that is reminiscent of pumpkin pie but is much healthier and has a satisfying crunch.
Are you craving more fall flavors? Check out my recipes for: pumpkin spice latte, mini pumpkin pies, apple butter, pumpkin butter, roasted pumpkin seeds, spicy pumpkin soup, pumpkin bread, self-frosting pumpkin Nutella cupcakes, and squash lasagna.
Recipe:
Pumpkin Pie Almonds
2 cups raw almonds
3 tablespoons pure maple syrup
1 tablespoons brown sugar, packed
1 teaspoon pure vanilla extract
2 teaspoons ground cinnamon*
1 teaspoon ground ginger*
1/2 teaspoon ground cloves*
1/4 teaspoon ground nutmeg*
1/4 teaspoon sea salt
Preheat oven to 325°F. Coat baking sheet with olive oil or non-stick spray.
Place almonds in medium bowl and add in remaining ingredients. Toss to coat almonds as evenly as possible. Spread in a single layer over prepared baking sheet. Cook for 18-22 minutes, stirring and flipping halfway through, until almonds are roasted. Let cool, then store in airtight container.
*Or you could use 3-4 teaspoons of pumpkin pie spice