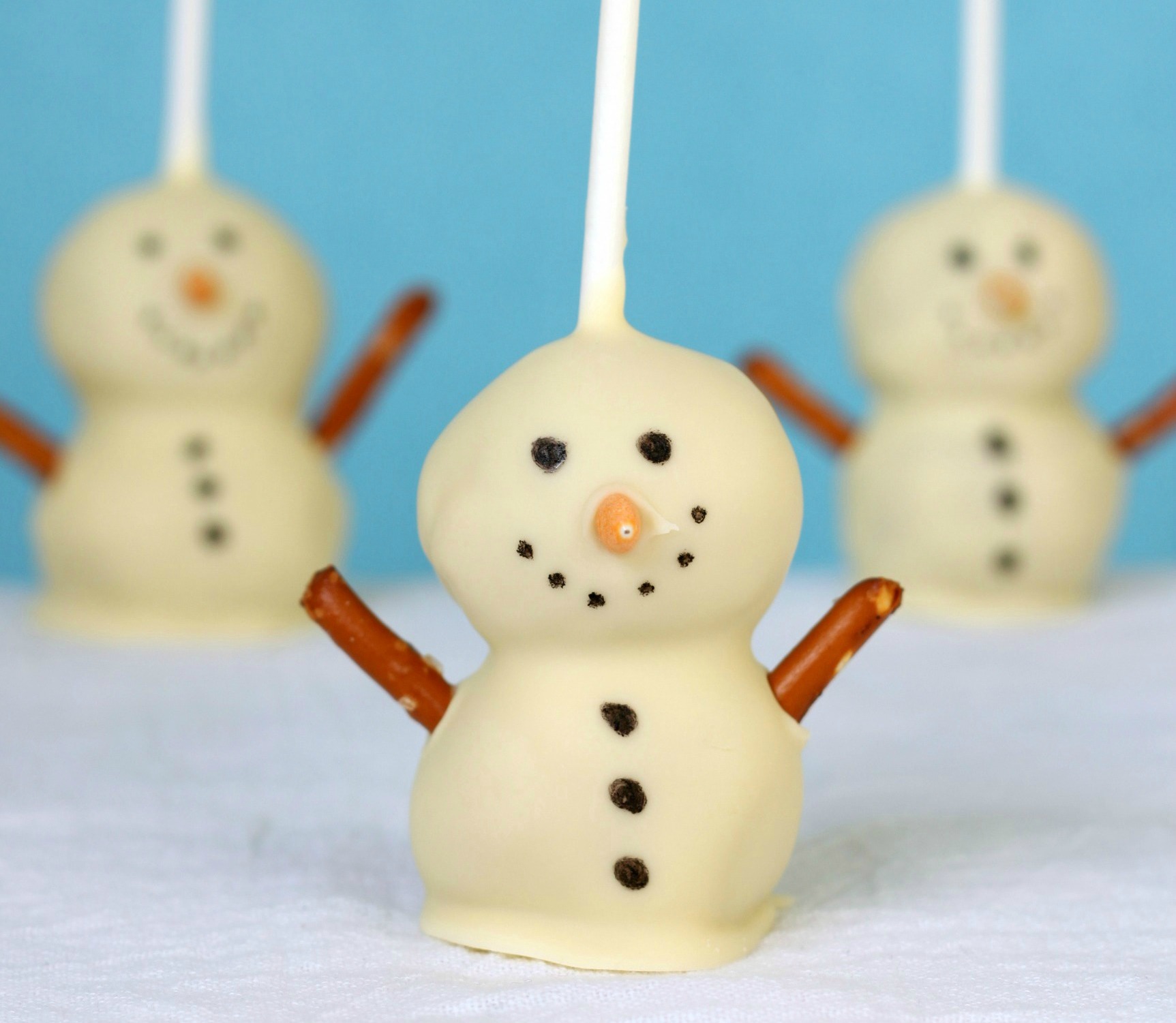 Whew! Christmas is over. No more shopping (except after-Christmas sales). No more parties (until New Years). No more holiday desserts (except on this blog)…maybe things won't change that much after all.
I have a couple of desserts from the holidays to share with you this week. The first are these adorable snowmen cake pops. I made them for a holiday party, where they got many oohs and aahs before being quickly scooped up.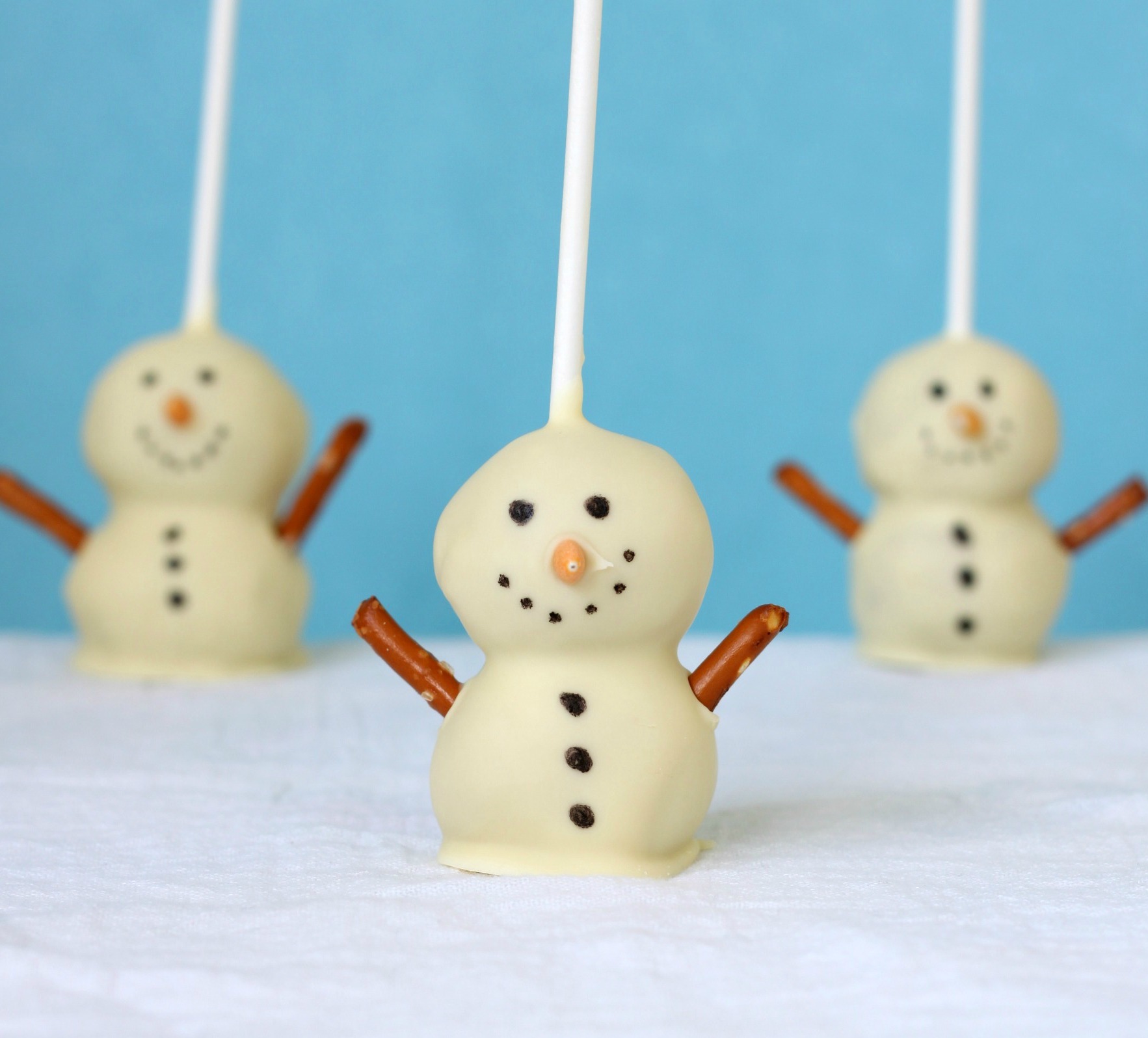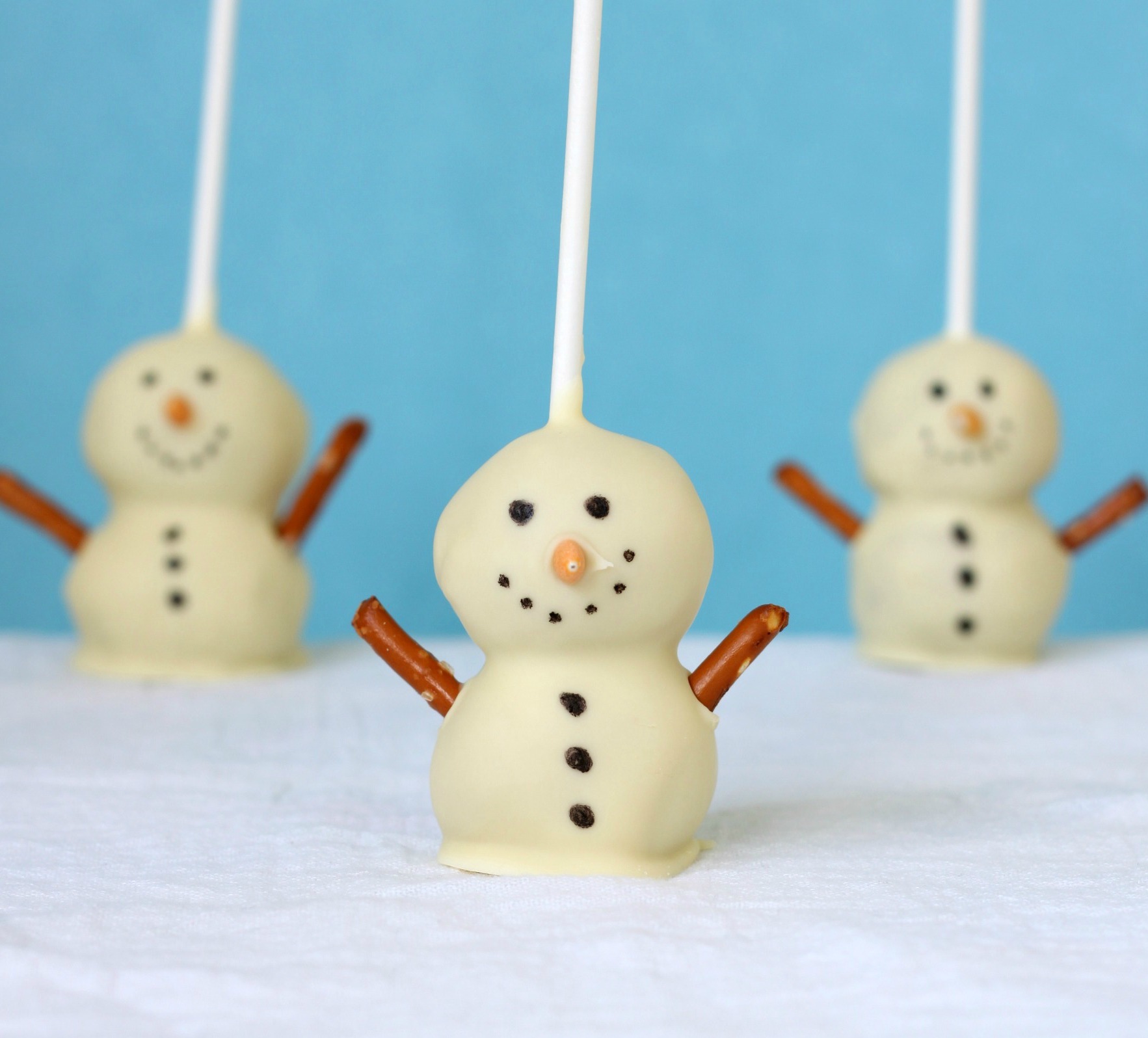 At their core, they're your basic cake pops: cake crumbled and then mixed with frosting then rolled into balls and put onto lollipop sticks. I made vanilla cake and buttercream, then dipped them into melted white chocolate. Add some pretzels, edible ink and chocolate covered sunflower seeds and you've got an unmistakeable snowman – except they're tiny and delicious.
Mixing frosting and cake together makes cake pops incredibly moist and dipping it all into melted chocolate turns them into an even more decadent dessert. On top of that, no one can resist a fun cake pop, especially one dressed up as a cute snowman.
Recipe:
Snowmen Cake Pops
Makes around 60 cake pops (30 snowmen)
Vanilla Cake
Adapted from King Arthur's Flour
Makes 1 9″x13″ cake
2 cups sugar
3 1/4 cups flour
2 1/2 teaspoons baking powder
1 teaspoon salt
3/4 cup unsalted butter, soft
1 1/4 cups milk, at room temperature
2 teaspoons vanilla extract
4 eggs
Preheat the oven to 350°F and lightly grease a 9″ x 13″ pan.
In a large mixing bowl, combine sugar, flour, baking powder, and salt.
Add butter to the dry ingredients and mix at low speed until the mixture looks sandy.
In a small bowl or measuring cup, combine milk and vanilla. Add to sand-like mixture and mix for a couple of minutes at low speed.
Turn mixer to low speed and add 1 egg while it's running. Increase speed to medium and beat for 30 seconds. Repeat method 3 more times with each egg.
If needed, scrape the sides of the bowl and mix for at medium-high speed for 30 more seconds.
Pour batter into prepared pan and bake for around 27 minutes. Cake will be golden brown and just beginning to pull away from edges of pan when done. You can also test it by inserting a toothpick, which should come out clean.
Vanilla Frosting
3/4 cup unsalted butter, at room temperature
1 teaspoon vanilla extract
3 cups powdered sugar
1-2 tablespoons of milk
In a large bowl, cream butter and vanilla until combined.
Adding 1 cup of sugar at a time, mix into butter until thoroughly combined.
Mix in milk until you reach the desired consistency.
Assembling the cake pops:
White chocolate (I went through around 20 ounces)
Canola oil (optional)
6″ lollipop sticks
Pretzel rods, broken into thirds
Black edible ink pen
Chocolate covered sunflower seeds
Once cake is completely cooled, cut into 6 pieces. Using your hands, crumble each piece into a large bowl (or you could use a food processor instead).
Add frosting to bowl and mix with the back of a spoon or your clean, dry hands until thoroughly combined.
Roll into 1 1/2-inch balls.
Place cake balls on a baking sheet covered in wax paper and chill for several hours in the refrigerator or for 15 minutes in the freezer. (If you put them in the fridge, I recommend freezing them for 10 minutes while you melt the chocolate.)
In a double boiler or in a microwave, melt the chocolate, stirring until all lumps are gone. Stir in a 1-2 tablespoons of oil to thin the chocolate if desired (the more you add, the thinner the coating will be).
Once chocolate is melted, remove from heat and pour into a cup. Let cool for a few minutes.
Remove cake balls from freezer. Working with 2 balls at a time, stack them. Dip one end of a lollipop into the melted chocolate, then stick it straight down into the stacked balls.
Holding the lollipop stick, dip both cake balls into the melted chocolate until they're completely covered and quickly remove.
Hold pop over cup while excess chocolate drips off (if needed, tap your wrist with the opposite hand to help the process).
Place onto wax paper. Push 2 pretzel pieces onto opposite sides of bottom ball and 1 orange chocolate covered sunflower seed onto the middle of the top ball.
Once chocolate has hardened on all pops, use edible ink pen to draw eyes, mouth and buttons.
Store covered in fridge until ready to serve.
More recipes you'll love: