It's over 2 weeks into January so it's ok for me to post desserts again, right? We've had time to recover from indulging over the holidays and work on New Year's resolutions. (If you're still working on healthy eating and exercise resolutions, check out my post on healthy snacks and enter a giveaway to win a year membership to a new fitness website that lets you stream workout videos anywhere you are!)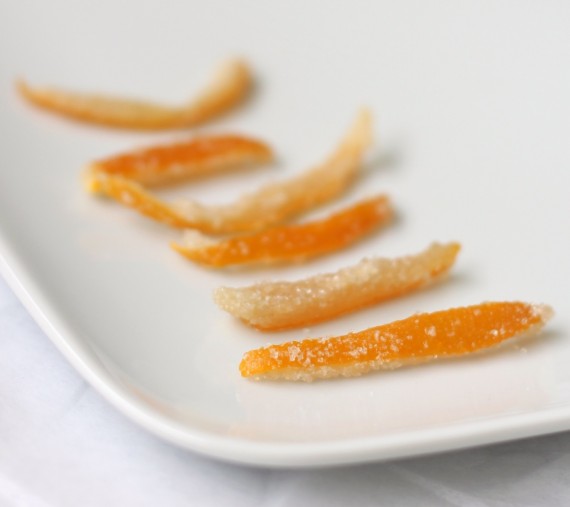 Let's ease into things with something sort of healthy: Meyer lemon peels turned into candy. (Which I may or may not have used to top lemon cupcakes – you'll just have to wait and see what I post later this week…)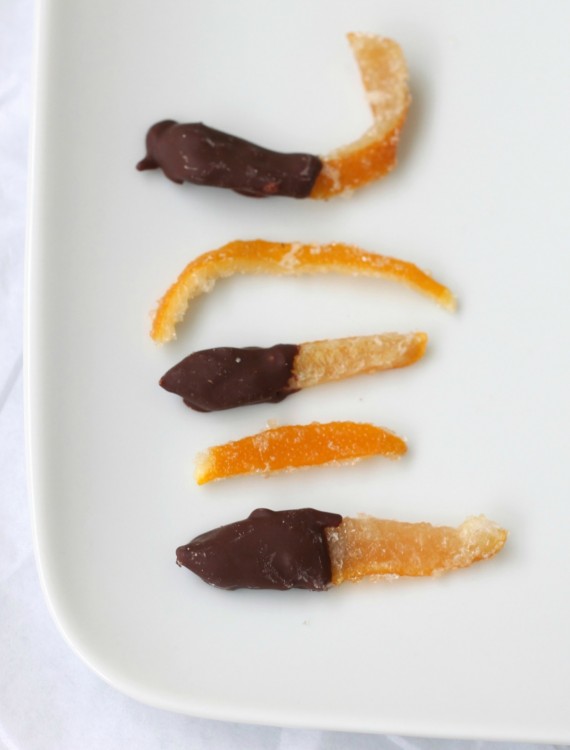 Ignore the fact that I dipped some in chocolate. There's lots of Vitamin C in the peel, which makes this a healthy-ish dessert…right?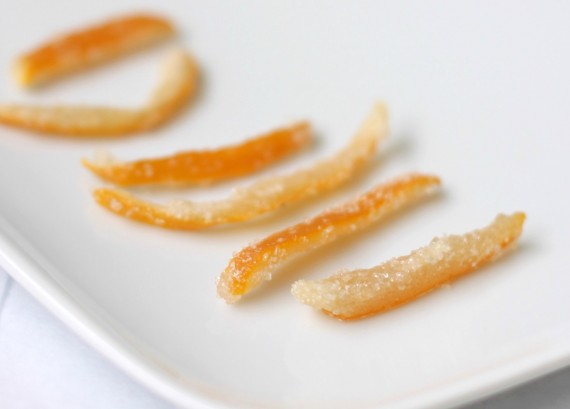 See, you can leave it plain too. Either way, they're delicious. Blanching the peels (cooking them briefly in boiling water) 3 times removes the bitter flavor of the pith. It may seem like a lot of work, but it's really easy to put them in a pot of water, bring it to a boil, then dump the water and repeat. Then you cook them in simple syrup (equal parts sugar and water) and roll them in granulated sugar. You're left with a chewy, sweet and crunchy treat that has a great lemon flavor.
Did you make any resolutions? How are you doing with the changes? I didn't make any major resolutions this year but last year I gave up sugar for a month and the year before I started this blog as a way to get myself to cook more and try new foods.
Recipe:
Candied Meyer Lemon Peels
3 organic Meyer lemons, rinsed and dried (you can use regular lemons too)
2 1/2 cups sugar, divided
Semi-sweet chocolate (optional)
Cut lemons in half and juice (reserve for other use, like vegan Meyer lemon cupcakes or limoncello & Meyer lemon cupcakes). Using a sharp paring knife, remove flesh from skin and discard (leave white pith attached to peel). Slice peel into strips.
Place strips into a saucepan and fill with water. Bring to a boil and simmer for a few minutes. Drain water and repeat two more times.
After draining the last batch of water, place peels aside. Combine 2 cups of water and 2 cups of sugar in saucepan and bring to a boil. Stir until sugar has dissolved and reduce heat to medium-low. Add peel strips and cook, stirring occasionally, until soft and transparent, about 15-20 minutes. Drain (reserve liquid for other use – this lemon simple syrup can be used to sweeten drinks or desserts).
Pour remaining sugar in a bowl and toss strips until coated with sugar. Place coated strips onto a sheet of wax paper and let dry overnight (if you're impatient, you can dry it in a 200°F oven for an hour, checking frequently).
If you want to cover in chocolate: once peels feel dry to touch, dip in melted chocolate and let dry on wax paper.
Store in airtight container at room temperature.